Many press releases from Whisky PR firms come with a cocktail recipe or two. Rather than waste the hard work of bartenders who created those recipes, we're sharing them with the WhiskyCast community here. Recipes provided by whisky companies and their PR firms will be identified as such, and just because a recipe specifies a certain brand doesn't mean you can't use what you already have at home.
May 14, 2018 – Whyte & Mackay shared these three cocktails created by noted New York City bartenders in time for World Whisky Day on Saturday, May 19. Patrick Smith of The Modern at The MOMA created The Dead Ringer using Jura 10-year-old, along with absinthe, Grand Marnier, and Amontillado sherry. Punch And Pie head bartender Logan Ronkaiken used Shackleton Whisky and Blue Curacao in his Arctic Seals cocktail, and the bar team at the Baccarat Hotel created La Dame de Coeur using The Dalmore 12-year-old (with a little bit of help from another single malt).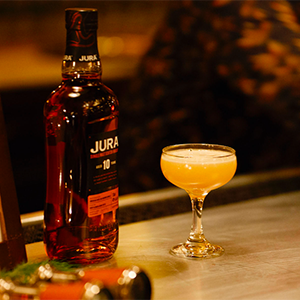 The Dead Ringer
1 bar spoon of absinthe
1/4 ounce of Grand Marnier
1/4 ounce of Amontillado sherry
1/2 ounce of Honey syrup
3/4 of a lemon
1 1/2 ounces of Jura 10
Shake and fine strain into a coupe.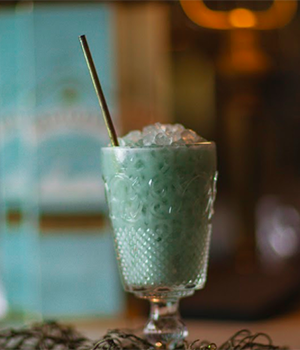 Arctic Seas
1 1/2 ounces of Shackleton Whisky
1/2 ounce of blue Curaçao
1 ounce of coconut cream
1/2 ounce of spiced raisin syrup
3/4 ounce of fresh lime juice
Shake all ingredients in a tin with ice. Strain over fresh crushed ice.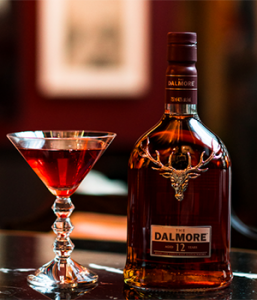 La Dame de Coeur
2 ounces of The Dalmore 12
1 ounce of Montanaro Rosso vermouth
3/4 ounce of Cappelletti
4 dashes of orange bitters
2 dashes of Angostura bitters
Rinse of Laphroaig 10-year-old Scotch
Rinse the glass with Laphroaig. Mix all remaining ingredients in a glass beaker and stir, then strain into the glass. Spritz with orange peel zest and discard. Add 1 spray of Laphroaig on top.
---
While the Mint Julep is most often thought of in connection with horse racing, particularly the Kentucky Derby, the history behind the drink goes back to the early days of alcohol distilling in the Middle East. It's also a cocktail that can be enjoyed all spring and summer long – not just on the first Saturday in May. Here's the recipe Heaven Hill National Brand Educator Lynn House shared with us for her Mint Julep.
2.5 ounces of Elijah Craig Small Batch Bourbon
1.5 to 2 teaspoons of powdered sugar (sweeten to taste)
1 teaspoon of water
8 mint leaves
In a Julep cup add the mint, sugar and water.  Muddle to release the oils and dissolve the sugar, then fill the Julep cup with shaved ice.  Pour bourbon over the ice and stir until frost develops on the outside of the Julep cup.  Top the cup off with more ice and garnish with a fresh spring of mint, but smack the mint first to release the oils.
---
The Dandy is one of those Prohibition-era cocktails that's making a comeback, and Heaven Hill National Brand Educator Lynn House shared her recipe with us…
1.25 ounces of Dubonnet Rouge
1.5 ounces of Elijah Craig Small Batch Bourbon
.25 ounce of Dry Curaçao
2 dashes of Angostura Bitters
2 dashes of Regan's Orange Bitters
Combine all ingredients in a mixing glass, ice and stir until well chilled.  Serve up in a cocktail glass. Garnish with an orange swath.
---
Highland Park provided this cocktail recipe created by San Francisco-based bartender Brian MacGregor for the holiday season that features the Highland Park Magnus single malt Scotch.
1.5 ounces of Highland Park Magnus
.5 ounce of cinnamon-infused maple syrup
.5 ounce of lemon juice
1 bar spoon of apple butter
Shake and strain over fresh ice, then garnish with apple slices and a cinnamon stick.
---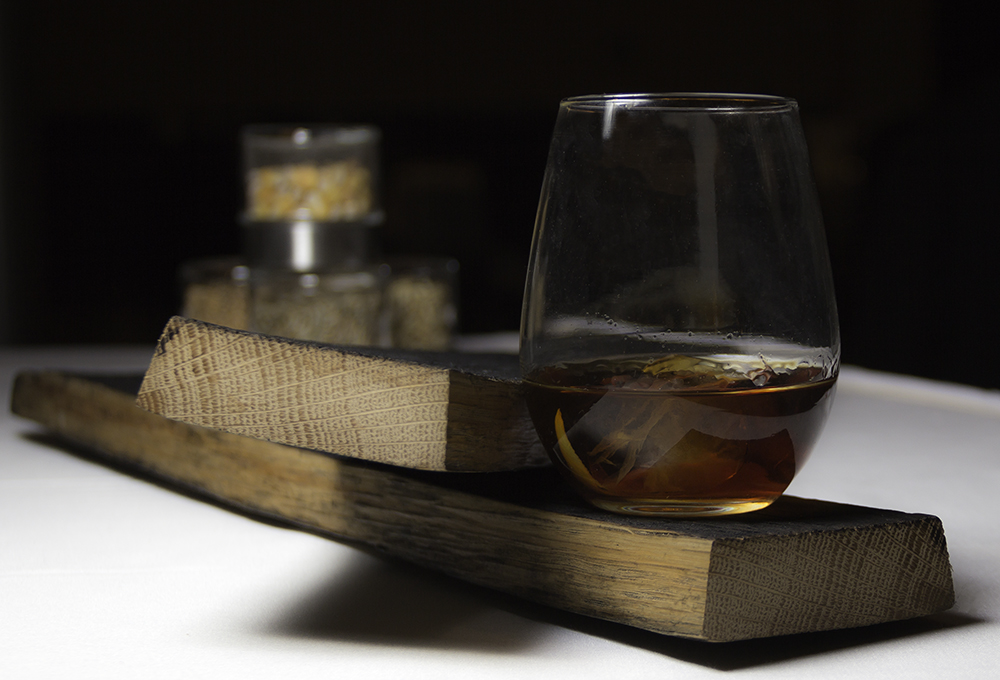 Matt Jones is not only Jim Beam's Canadian brand ambassador, but a veteran bartender. He created this variation on the Manhattan for the Jim Beam-sponsored Bourbon dinner at the 2017 New Brunswick Spirits Festival, and graciously provided us with the recipe.
1.5 ounces of Jim Beam Black Bourbon
.5 ounce of Averna Amaro liqueur
.5 ounce of cinnamon simple syrup (or add cinnamon to standard simple syrup)
2-3 dashes of Fee Brothers Black Walnut Bitters
Stir with ice, then pour over lemon zest into a rocks glass.
---
October 25, 2017 – OK, they came out just in time for Halloween, but these cocktail recipes provided by Highland Park using its Magnus single malt should work all fall and winter long.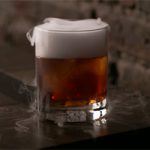 Foggy Memory
2 ounces of Highland Park Magnus
1 bar spoon of honey syrup
4 dashes allspice dram
Build over large cube in a large rocks glass. Smoke in smoking chamber before serving. Garnish with a broad orange peel.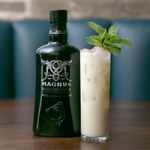 The Funeral Pyre
2 ounces of Highland Park Magnus
1 ounce of pineapple juice
1 ounce of lime juice
1/2 ounce of orange juice
1 ounce of coconut cream
Shake and strain over crushed ice into a Collins glass. Garnish with grated nutmeg.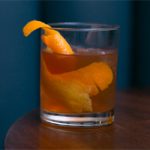 Bold Fashioned
2 ounces of Highland Park Magnus
1 small pinch of salt or 3 dashes of salt tincture
1/4 ounce of  honey
2 dashes of Angostura bitters
2 dashes of mole bitters
In a mixing glass add ice and ingredients. Stir, then strain into an Old Fashioned glass with a large cube of ice. Garnish with a long lemon peel and a flamed orange twist.
---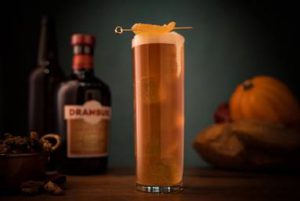 October 25, 2017 – No need for a Pumpkin Spice Latte this Halloween, when this Pumpkin Ginger Shandy cocktail recipe is available. The recipe was provided by William Grant & Sons, which owns both Monkey Shoulder and Drambuie.
1½ parts toasted walnut-infused Drambuie*
½ part Monkey Shoulder Scotch Whisky
¼ part lemon juice
¼ tsp fresh ginger
4-5 parts pumpkin ale
Garnish with a skewered candied ginger, and serve in a long glass.
*To make the toasted walnut-infused Drambuie: toast nuts over medium heat until browned and you can easily smell the toasted aroma. For every 1 part of Drambuie add 1/2 part of toasted nuts. Place in an airtight container to infuse for 24 hours, then strain and reserve for use.
---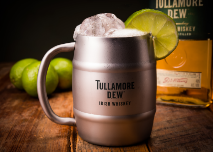 March 31, 2017 – With baseball season starting this weekend, Tullamore D.E.W. brand ambassador Tim Herlihy created this signature cocktail to be served at Boston's Fenway Park, where Tullamore D.E.W. has become the official Irish Whiskey of the Boston Red Sox and will have its own "Tully's Tavern" inside the stadium.
1 part Tullamore D.E.W.
4 parts Ginger Beer
Juice from one fresh lime
Combine all ingredients and pour into an ice-filled mule mug.
---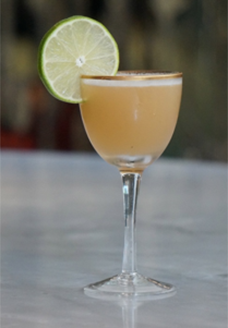 February 3, 2017 – Texas distillers Nick and Amanda Swift created this take on the classic Lion's Tail cocktail using their Swift Single Malt Whiskey.
1.5 oz Swift Single Malt Whiskey
.75 oz lime juice
.5 oz St Elizabeth Allspice Dram
.25 oz honey syrup*
Pour ingredients into a shaker, add ice, shake and strain into a Nick & Nora or Martini glass with a lime wheel garnish.
*Honey syrup can be made by heating equal amounts of honey and water (do not boil) and stirring.
---
January 30, 2017 – During Prohibition, whiskey was prescribed by doctors as a "cure" for various ailments. Of course, we don't have to resort to that today…but there are times when a cocktail might just help one feel better. These cocktail recipes were provided by Dewar's, and we should state the obvious (to keep the lawyers happy). This should not be construed as medical advice or a remedy, and if you're really sick, call your doctor.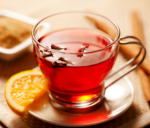 Cozy, Classic Hot Toddy
1 part Dewar's 12 Year Old Blended Scotch Whisky
3 parts hot water
1 tea bag
You know how to make tea, right? Do that, then add in the whisky along with honey and lemon juice s desired.
Green Tea Comfort
1 part Dewar's 12 Year Old Blended Scotch Whisky
3 parts hot water
1 bag of green tea
Garnish with a lemon sprig
Once again, we're assuming you know how to make tea. This time, use a green tea bag, and add honey and lemon juice as desired. Pour over ice if you prefer it chilled.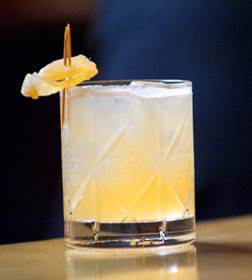 Dewar's Winter Penicillin
This one is more complex, but you shouldn't worry about being allergic to it!
2 parts Dewar's 12 Year Old Blended Scotch Whisky
¼ part Craigellachie Single Malt Scotch Whisky
¾ parts fresh lemon juice
3-4 parts honey-ginger syrup
Candied ginger for garnish
Combine the Dewar's 12, lemon juice, and syrup in a cocktail shaker filled with ice. Shake vigorously and strain into a rocks glass with one large ice cube. Top with Craigellachie and garnish with candied ginger if you like.
---