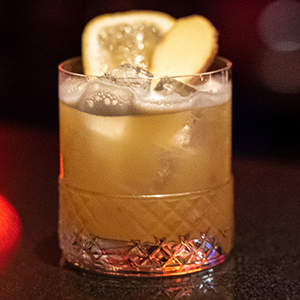 Novikov Restaurant and Bar is a mainstay in London's Mayfair neighborhood, and this is head bartender Maurizio Graverni's take on the classic Penicillin cocktail.
A double shot of Johnnie Walker Black Label
A half shot of peat-heavy whisky (such as Lagavulin or Laphroaig)
One whole lemon freshly squeezed
One teaspoon of honey
Three pieces of fresh ginger
Place all the ingredients in a cocktail shaker, then stir to dissolve the honey and shake vigorously for 10 seconds. Stir the drink in an Old Fashioned glass full of ice. Garnish with a lemon wheel and ginger slice.