Many press releases from Whisky PR firms come with a cocktail recipe or two. Rather than waste the hard work of bartenders who created those recipes, we're sharing them with the WhiskyCast community here. Recipes provided by whisky companies and their PR firms will be identified as such, and just because a recipe specifies a certain brand doesn't mean you can't use what you already have at home.
December 13, 2016 – Irish coffee is one of the classics, but here's a new take on Irish coffee created by Jameson's Killian Lee when he was working in Texas that takes advantage of cold brew coffee to make it drinkable year-round.
1.5 ounces of Jameson Caskmates
3/4 ounce of ginger-brown sugar syrup (Combine equal parts fresh ginger juice with dark brown sugar in a blender, and blend until fully incorporated.)
3 ounces of cold brew coffee
1 ounce of stout beer
Stir all ingredients but stout over ice, strain into mini stout glass. Dry shake the stout and layer on top of the cocktail.
---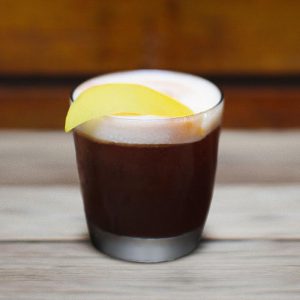 August 22, 2016 – Baker Beam is the namesake of Baker's Bourbon from Beam Suntory's Small Batch Collection, and celebrated his 80th birthday recently. While you listen to our 2013 interview with Baker in Episode 446 of WhiskyCast, you might want to try this cocktail created by New York City-based mixologist Pamela Wiznitzer in his honor. Baker prefers his Bourbon with a bit of cola, so Pamela decided to use a bit of cola syrup in her recipe. You'll find the instructions for making it below, too…
1 ¾ parts Baker's Bourbon
½ part Amaro Averna
¾ part cola syrup* (using 1 can or bottle of craft cola)
6 dashes of Angostura Bitters
¾ part fresh lemon juice
1 egg white
Combine the Baker's Bourbon, Amaro Averna, cola syrup, 3 dashes of Angostura Bitters, the fresh lemon juice, and the egg white in a shaker without ice and shake vigorously. Once shaken, add ice and shake vigorously once more. Strain over fresh ice into a lowball glass, then garnish with a lemon peel and three dashes of Angostura Bitters
*Cola Syrup Recipe
Pour one can or bottle of craft cola into a pan and heat on low. Allow to simmer and reduce for 10 minutes until it attains a syrup consistency. Remove and allow to cool.
---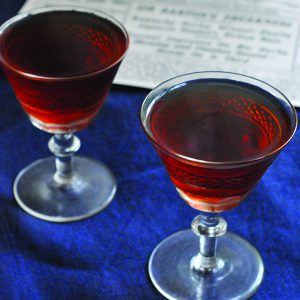 May 20, 2016 – With the 141st running of the Preakness at Baltimore's Pimlico race track this weekend coinciding with this week's publication of Michael Dietsch's "Whiskey: A Spirited Story with 75 Classic & Original Cocktails," we thought it would be appropriate to share his recipe for the original Preakness cocktail. This Rye Whiskey-based drink is a variation on the Manhattan, and was the official drink of the Preakness from 1936 until it was eventually replaced by the Black-Eyed Susan in the 1980's. The recipe for that cocktail has gone through a number of changes over the years, but was originally based on vodka, rum, and triple sec. Frankly, with Baltimore's heritage of Rye Whiskey distilling beginning to show a resurgence with several new distilleries coming on line, we think this is a much more elegant and appropriate cocktail.
1.5 ounces of Rye Whiskey
3/4 ounce of sweet Vermouth
1/4 ounce of Bénédictine
1 dash of Angostura bitters
Lemon peel
Fill a mixing glass 3/4 full of ice, then add the whiskey, vermouth, Bénédictine, and bitters. Stir for about 30 seconds, or until well-chilled, then strain into a chilled cocktail glass. Squeeze the lemon peel over the surface of the glass, rub the rim with the peel, and drop the peel into the glass. 
Editor's note: This article has a link to purchase the book in the WhiskyCast Bookstore powered by Amazon. CaskStrength Media receives a small commission on all sales.
Links: "Whiskey: A Spirited Story With 75 Classic & Original Cocktails" 
---
March 13, 2016 – Bushmills supplied these cocktail recipes using Black Bush Irish Whiskey. Boston-based bartender Naomi Levy created the Waltzing Matilda, while Zach McGrath of New York City's Knickerbocker Hotel created The Burning Bush.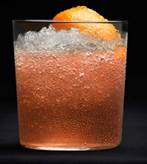 Waltzing Matilda
2 ounces of Bushmills Black Bush
½ ounce of lemon juice
¼ ounce of Eden Barley Marley Syrup
¼ ounce of Cinnamon Syrup
1 bar spoon of Monin Almond Syrup
1 dash of Angostura Bitters
To make the Cinnamon syrup: Break up 5 cinnamon sticks and toast. Add 2 cups of granulated sugar and 2 cups of water. Allow to come to just under a simmer and let stand for 20 minutes. Remove from stove and place in an airtight container. Allow to sit in refrigerator for 24 hours before straining.
Combine all ingredients in a mixing glass. Add ice and give a quick integration shake, then strain into a rocks glass and top with crushed ice. Garnish with fresh shaved cinnamon and a long orange twist.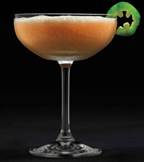 The Burning Bush
2 ounces of Bushmills Black Bush
¾ ounce of Jalapeño-infused maple syrup
¾ ounce of fresh-squeezed lemon juice
½ ounce of Lustau Los Arcos Amontillado Sherry
2 egg whites
Angostura Bitters
To make the Jalapeño-infused maple syrup: Add 4 ounces of hot water to 16 ounces of maple syrup and stir. Add one sliced jalapeño and let sit for 8 hours. Strain and refrigerate.
Dry shake, then shake over ice, serve in a coupe glass with Angostura bitter garnish and a jalapeño.
---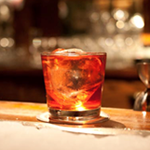 March 13, 2016 – The Dead Rabbit in New York City has built a reputation as one of the world's best cocktail bars, and Tullamore D.E.W. supplied this recipe created by Dead Rabbit master mixologist Jillian Vose using Tullamore D.E.W Phoenix.
1 part Tullamore D.E.W. Phoenix
1 part Lillet Rosé
¾ part Campari
½ part Combier Pamplemousse Rosé
1 dash of Peychaud's Bitters
Add all ingredients except for the bitters to a mixing glass filled with ice. Stir well until chilled and well-mixed, then strain into a cocktail glass, add a dash of bitters and express a Grapefruit twist over the glass before discarding.
---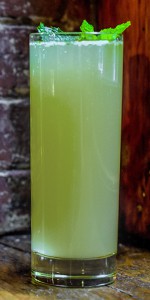 March 13, 2016 – Chef Michael Symon created this variation on the classic Old Fashioned cocktail for St. Patrick's Day using Knob Creek Rye.
1 ½ parts Knob Creek Rye Whiskey
Ginger beer
½ part lemon juice
¼ part Green Chartreuse
6-8 mint leaves
Combine all ingredients (except the ginger beer) in a bar tin with ice and shake well. Strain into a chilled Collins glass, top off with ginger beer and garnish with a single mint leaf.
---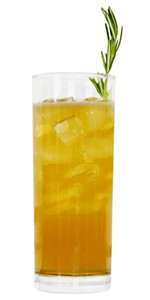 March 13, 2016 – San Francisco-based bartender Zachary Brian Taylor created this St. Patrick's Day-themed recipe using Basil Hayden's Bourbon.
1 1/2 parts Basil Hayden's Bourbon
3/4 parts lemon juice
1/2 part brown sugar syrup (1 part brown sugar mixed with 1 part water)
1 sprig of rosemary
Ginger beer
Combine the Bourbon, lemon juice, and brown sugar syrup into a cocktail shaker. Remove the needles from the bottom 3/4 of the rosemary sprig and add to the shaker. Save the top of the sprig for use as a garnish. Add ice to shaker and shake, then double-strain into a Collins glass filled with ice and top with ginger beer. Garnish with the remaining rosemary sprig.
---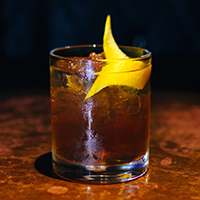 March 13, 2016 – New York City bartender Tyson Buhler created this St. Patrick's Day-themed cocktail for Laphroaig using the Laphroaig Select Islay single malt.
1 1/2 parts Laphroaig Select
1/4 part Sarsaparilla Syrup
2 dashes of Angostura Bitters
Orange twist
Combine ingredients in a rocks glass with ice. Garnish with orange twist.
---
February 8, 2016 – With the Lunar New Year bringing us the "Year of the Monkey" on the Chinese calendar, the team at William Grant & Sons' Monkey Shoulder Scotch Whisky passed along these cocktail recipes featuring the blended malt to celebrate the holiday. Of course, monkeys aren't native to Scotland, but the term "monkey shoulder" refers to the shoulder damage many distillery workers suffered after years of shoveling tons of barley on malting floors throughout Scotland.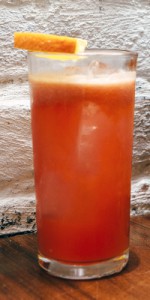 Award-winning bartender and brand ambassador Charlotte Voisey created this recipe for the "Year of the Monkey Shoulder:"
Mandarin Mule
1 ½ parts Monkey Shoulder
½ part fresh lime juice
¼ part simple syrup
2 parts ginger beer
5 raspberries
Muddle the raspberries, and add all ingredients except for the ginger beer and shake well. Double strain over fresh ice and top with ginger beer. Garnish with an orange half moon.
While Old Fashioneds are traditionally made with Bourbon or Rye, the brand supplied this recipe for their take on the classic cocktail:
Monkey Shoulder Old Fashioned
2 parts Monkey Shoulder
0.4 parts simple syrup
2 dashes Angostura bitters
Serve on the rocks.
---
December 24, 2015 – This recipe comes courtesy of the National Law Journal and The Green Bag law review, and is attributed to former US Supreme Court Chief Justice Harlan Fiske Stone (1941-1946). It was found in Stone's papers and first reprinted by The Green Bag in 1998, and is powerful enough to render a verdict of "intoxicated" for nine people. We kid on that last part, of course…but this is a strong recipe not to be taken lightly.
12 eggs
1 gallon of milk
Ground nutmeg
1 pound of sugar
1 quart of whiskey
1/2 pint of brandy
1/8 pint of rum
Separate egg yolks from whites, then cream the yolks and sugar together. Add the whiskey, brandy and rum, then beat well. Add the milk and stir well (and the authors recommend adding the spirits before the milk!). Add nutmeg to taste. Beat the egg whites very light, then add and stir in well. The authors recommend not substituting cream for the milk because cream has a large percentage of fat that can become rancid over time. Using milk will allow you to keep the unused egg nog for up to 30 days in a refrigerator.
---