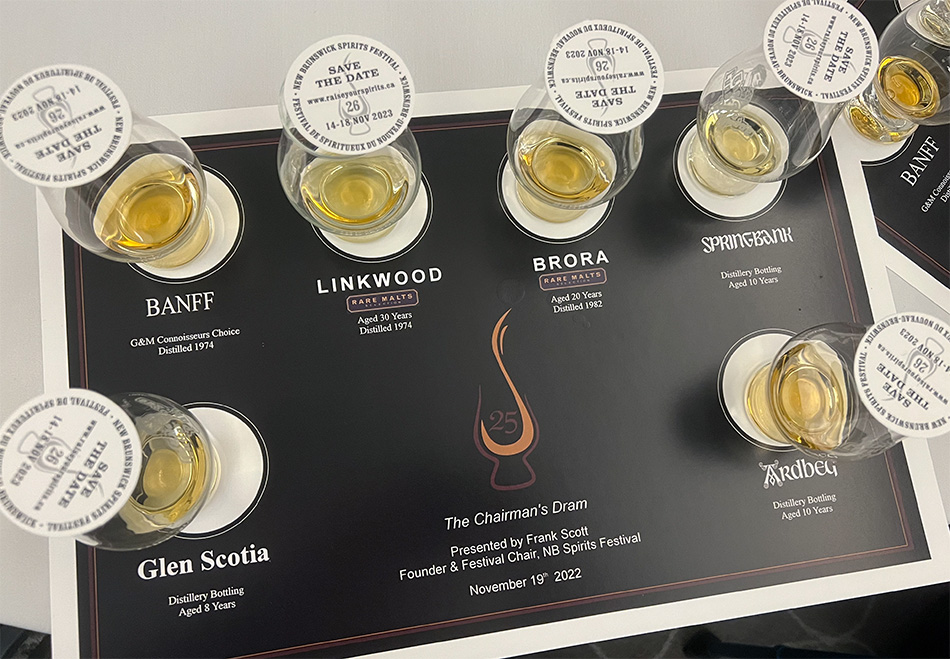 Small Province, Big Hearts (November 20, 2022)
Bigger isn't necessarily better, and we have proof of that this week with our podcast recorded on location at the New Brunswick Spirits Festival in Fredericton, New Brunswick. The festival punches well above its weight class to deliver an outstanding event every year, and celebrated its 25th anniversary this weekend. We'll talk with founder and chairman Frank Scott to find out his secrets for success on WhiskyCast In-Depth, and we'll also catch up with another old friend. Martine Nouet has been organizing the festival's food and whisky lunches for years, but is scaling back her whisky work to pursue other passions. In the news, Diageo's venture capital unit has taken a stake in England's Oxford Artisan Distillery, while Canadian Club is out with another record-setting vintage whisky. Finally, Corby's Dr. Don Livermore has coined a new word for whisky lovers, and he'll share it with us on Behind the Label.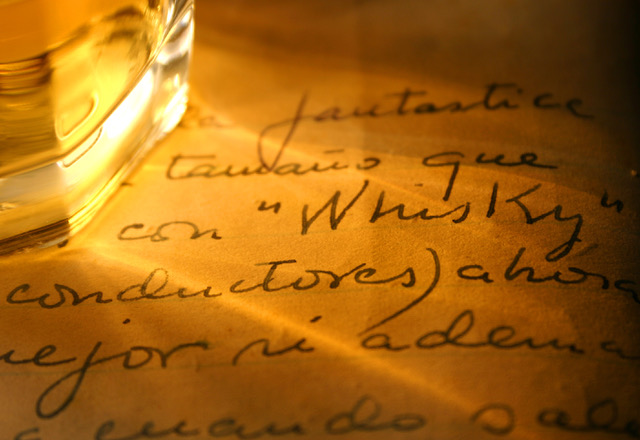 The WhiskyCast Book Club (November 13, 2022)
With the holidays coming up, whisky books may be on your gift list. We'll talk with two noted whisky writers who have new books out this holiday season. Ian Buxton is the author of "101 Whiskies to Try Before You Die," and Dave Broom's latest book "A Sense of Place" looks at whisky's place in Scottish culture. We'll have tasting notes for a Christmas whisky from Paul John and the new American Single Malt from Jack Daniel's, and Lochlea's John Campbell helps us explain how the strength of peated whiskies is measured on this week's Behind the Label.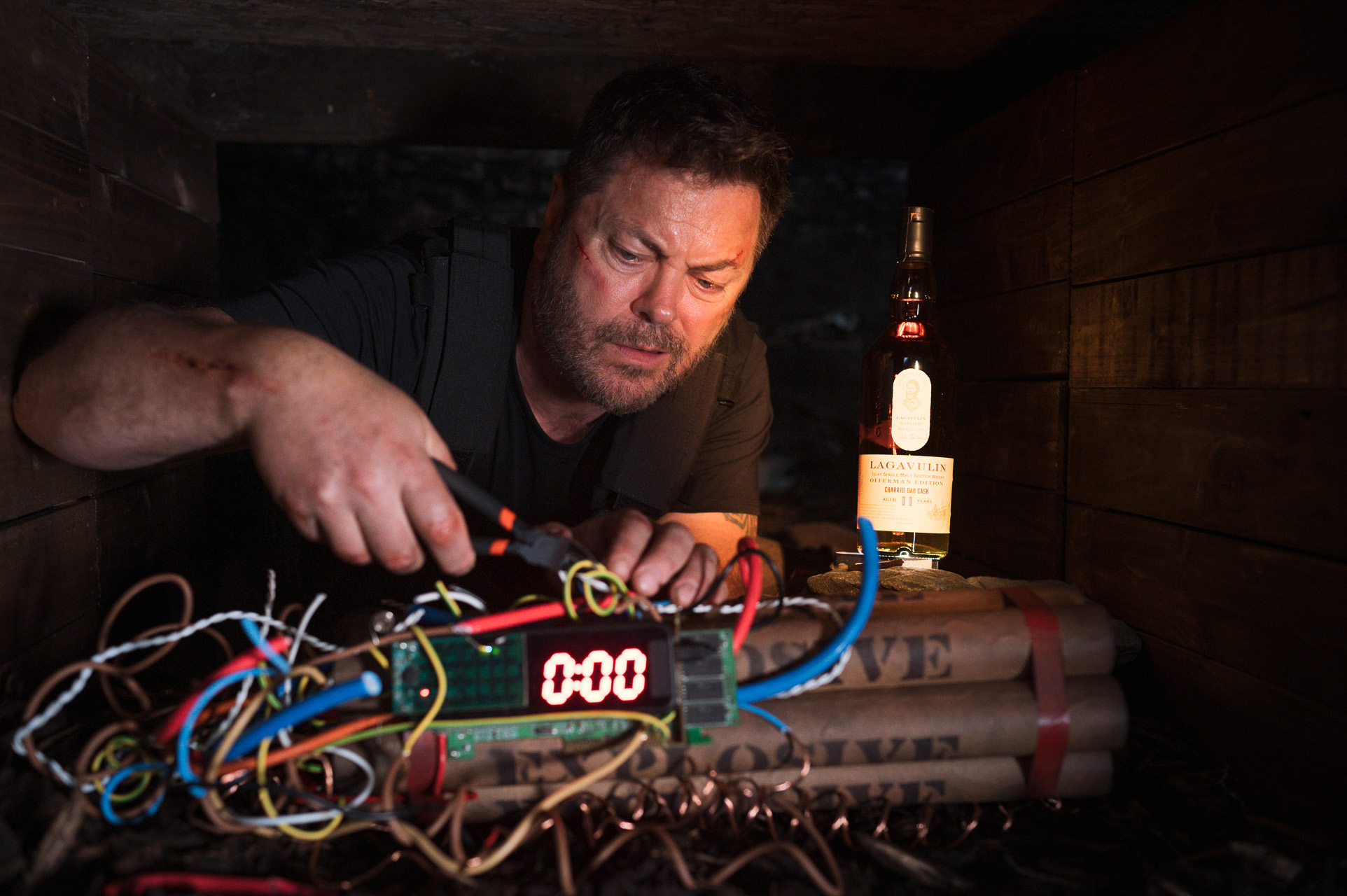 Nick Offerman: Lagavulin's #1 Fan
Nick Offerman has entertained millions of people with his film and television career, but it's his whisky career that he's sharing with us this week. From the early days of featuring Lagavulin on Parks and Recreation to his dozens of Tales of Whisky videos for the brand, Offerman has become synonymous with Lagavulin. He'll join us on this week's WhiskyCast In-Depth to discuss his Lagavulin origin story, working with blender Stewart Morrison, and cutting peat on Islay with the legendary Iain "Mr. Pinky" McArthur. We'll also have details on the sales of Wilderness Trail and Balcones distilleries, this week's tasting notes, and meet a distiller who's worked on six continents…so far.
---
Our Friday #HappyHourLive webcasts are back! Join us Friday nights at 5:00pm New York time on the WhiskyCast YouTube channel, our Facebook page, Twitter, and Twitch.
If you have an idea for a guest you'd like to see on one of our webcasts or a way that we can help you learn more about whisky, just use the contact form or catch us on social media. We'd love to hear from you!
---
Our very first episode of WhiskyCast dropped on November 12, 2005, and thanks for joining us each week as we celebrate our 17th anniversary as the world's longest-running whisky podcast series!
Each week, veteran journalist Mark Gillespie brings you the latest whisky news, in-depth interviews, tasting notes, and much more. Each podcast features brand-new content, and unless there's a special occasion, we don't do "best of" shows.
If you're just discovering us for the first time, here's a bit of our own story. WhiskyCast pioneered the genre of whisky-focused podcasts back in 2005, when most people had never heard of podcasting! Since then, we've produced hundreds of hours of original – and free – audio and video content for whisky lovers like you around the world. Our community spans the globe, and we've done stories on whiskies made in the far north of Scandinavia all the way to the tips of South Africa and Australia – and everywhere in between. We've met many of you at whisky festivals and while visiting distilleries, and hope to meet many more of you over time.
Please explore the website. We've collected all of our past episodes here, and post the latest whisky news as it happens – often several days before the next episode of WhiskyCast. All of our web content is free, including Mark's database of more than 3,400 tasting notes for whiskies from around the world and our calendar of upcoming whisky festivals and tastings.
We're able to do this thanks to the support of our advertisers – both past and present. They advertise on WhiskyCast knowing that they will never have any say over our editorial content, and may even have their ads running next to features on their competitors. They recognize the importance of independent, fact-based journalism devoted to telling the stories of whisky in a creative, yet ethically sound way focused on helping you learn more about whisky. If you're interested in finding out more about our advertising packages, please contact us!
Slainte!
The WhiskyCast Team
---
Mark Gillespie's Whisky Photo of the Week