WhiskyCast is where it all begins. Now in our 15th year, each weekly episode brings you the latest in whisky news, along with the latest events, tasting notes, comments from other listeners, and the weekly "In-Depth" segment features interviews with the people who help make whisky the "water of life".
---
Since so many people are working from home, "self-isolating" or more because of the coronavirus crisis, we've decided to produce some extra content to help you pass the time.
Earlier this month during DramFest 2020 in Christchurch, New Zealand, WhiskyCast's Mark Gillespie took part in a panel discussion on "the past and future of whisky" with veteran whisky writer Charles Maclean, Michael Fraser Milne of the Whisky Galore shop in Christchurch, and moderator Dave Broom.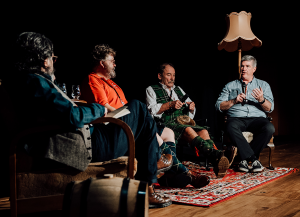 Their hour-long discussion is a bit too long for one of our regular episodes, but we thought you might enjoy listening to it on its own. The panel covered everything from the collapse of the Scotch Whisky industry in the early 80's to what the future holds given the combination of a growing craft distilling movement, global politics, and climate change.
Thanks to Michael and Stella Fraser Milne of Whisky Galore and DramFest 2020 for helping to make this special episode possible, along with the sound crew at Christchurch Town Hall and the staff at Whisky Galore.
Photos courtesy of Whisky Galore/DramFest.
---
Louise McGuane wants to revive a key part of Irish Whiskey's past, but she keeps wrestling with its present-day form in a bid to change the future of Ireland's whiskey industry. The Chapel Gate Whiskey Co. founder has become one of Irish Whiskey's most outspoken voices in recent years, and recently spoke at the World Whisky Forum in Seattle. WhiskyCast is the only place where you'll be able to hear her comments on this St. Patrick's week…a week in which the COVID-19 novel coronavirus pandemic has forced Ireland's legendary pubs to close, along with bars and distillery visitor centers around the world. We'll have the details in this week's news, along with updates on whisky festivals and other events cancelled or postponed by the pandemic. We'll also honor longtime Bruichladdich legend Duncan McGillivray, who passed away this past week.
Links:
Chapel Gate Whiskey Co.
|
Irish Whiskey 360
|
Bruichladdich
|
Ardbeg
|
Mackmyra
|
Kilchoman
|
Hinch Distillery
|
Lambay Whiskey
|
Kilbeggan
|
Glendalough
|
Redbreast
|
Hotel Tango Spirits
|
Old Fourth Distillery
|
Shine Distillery & Grill
---
---
If you just needed a whisky-related reason to visit Iceland, we have one for you on this week's episode. Eimverk Distillery grew out of the dreams of two brothers who just wanted to be farmers, but found it was cheaper to import grain for cattle feed than grow it themselves. There was also some whisky involved, as Eimverk production manager Eva Mariá Sigursbjörnsdóttir explains on WhiskyCast In-Depth. There were also some sheep involved in at least part of the process, since one of Eimverk's whiskies is smoked not with peat – but with sheep dung! We'll have tasting notes for it, too.
In the news, the coronavirus outbreak could cost Diageo as much as £200 million in profits this year and other whisky makers are preparing for losses of their own. The University of Kentucky is not only building an on-campus distillery in Lexington, but a million-dollar donation this week will fund construction of a new barrel "dormitory" as well. We'll have that story and look at how the mavericks at Brewdog are already ruffling feathers in the Scotch Whisky industry. Finally, if you've ever wondered why the hoops on whisky barrels are covered with rust, we'll explain on Behind the Label. 
Links:
Eimverk Distillery
|
Diageo
|
Pernod Ricard
|
Dekantā
|
Kavalan
|
Chivas Brothers
|
James B. Beam Institute for Kentucky Spirits
|
Independent Stave Company
|
Kentucky Bourbon Festival
|
Blanton's
|
Angel's Envy
|
Amrut
|
Wemyss Malts
|
Brewdog
|
DramFest 2020
|
DramFest American Whiskey Tasting
|
Redbreast Ireland Competition
|
Yamazakura 963
|
High Coast
---
There's an old saying that "sometimes, you choose the whisky business…and sometimes, it chooses you." That could be said for Victoria Eady-Butler, who retired last year after 31 years in federal law enforcement. As it turns out, the great-great granddaughter of Nathan "Nearest" Green inherited some of her ancestor's talent. She was the first member of the Green family to pick barrels for the Uncle Nearest 1884 Small Batch whiskey last year, and was so good at it that she's started a second career as the master blender for Uncle Nearest. She's also made a place for herself in the history books as the first African-American woman to serve as master blender for an American whiskey brand.
In the news, another milestone in whisky collecting has fallen with the first million-dollar bid for a whisky in an online auction. We'll have the details, along with highlights from this week's World Whisky Forum in Seattle, the Distilled Spirits Council's conference in Louisville, and a bunch of ba-a-a-ad puns around Ardbeg's latest limited edition release. Yes, we're a bit sheepish about that!
Links:
Uncle Nearest
|
Whisky Auctioneer
|
Midleton Very Rare
|
Waterford Distillery
|
Overeem Whisky
|
Distilled Spirits Council
|
World Whisky Forum
|
Jim Beam
|
Lux Row Distillers
|
Ardbeg
|
Wonderful World of Whisky Show
|
Whisky Fringe
|
Spirit of Speyside Festival
|
Aussie Spirit Auction
|
DramFest 2020
|
Jack Daniel's
|
Coldfoot Whiskey
|
High West
|
Spirit of Yorkshire Distillery
|
Stauning Whisky
|
American Malting Barley Association
| 
Washington State University Bread Lab
---
This week on WhiskyCast, we're sharing a special story of strength. Not the kind of strength one can build in the gym, but the inner strength that comes from within. Una Green is the West Coast brand ambassador for the Dewar's single malts, and a year ago last week, she received the kind of news no one ever wants to hear from a doctor – a diagnosis of breast cancer. That inner strength – and the support from her friends and co-workers – helped her manage the pain of surgery, chemotherapy, radiation, and all of the side effects. Now cancer-free, she's preparing to return to work after spending this week in Denver for the latest round of Speed Rack's ninth season. Una took part in the national bartending competition for women a couple of years ago, and has made it her goal to help support Speed Rack and its mission of raising money for breast cancer programs. We'll talk with her on this week's WhiskyCast In-Depth.
In the news, the Trump Administration is holding firm on single malt Scotch Whisky tariffs for now while trade talks continue with the European Union. There's new data showing just how much the U.S. and EU tariffs have cost whisky makers on both sides of the Atlantic, while Kentucky saw a record-breaking number of Bourbon tourists in 2019. We'll also take a look at just how the bottling strength of a whisky can affect its flavor on Behind the Label.
Links:
Speed Rack
|
Dewar's
|
Scotch Whisky Association
|
Distilled Spirits Council of the United States
|
Kentucky Bourbon Trail
|
Buffalo Trace
|
Fresh Bourbon Distilling Co.
|
Brough Brothers Bourbon
|
Horse Soldier Bourbon
|
Heaven's Door
|
The Dalmore
|
Douglas Laing & Co.
|
Glendalough
|
Westland Distillery
|
Filson
|
Spirit of Speyside Festival
|
DramFest 2020
|
DramFest American Whiskey Tasting
|
Nikka
|
Angel's Envy
|
Phillips Fermentorium
|
Morgantown Whisky Guild
|
Woodford Reserve
---
World leaders will be in Glasgow later this year for the United Nations COP26 Climate Change Conference, and Scotch Whisky industry leaders plan to be ready. Not with drams, but with plans for a second decade of adapting whisky production to the needs of the changing climate while not ruining the whisky. The Scotch Whisky Association released its first environmental progress plan in 2009, and is now reviewing progress over the last decade with a goal of setting even more ambitious targets for the future. We'll talk with CEO Karen Betts as part of our year-long look at the impact of climate change on whisky around the world.
In the news, the coronavirus outbreak in China is starting to have an impact on whisky-related events and travel – and there are fears that it could lead to lower whisky sales in the Asia-Pacific region. Ian Macleod Distillers has unveiled the first new Rosebank single malts since plans to reopen the distillery were announced. We'll have the details and an update on construction at the distillery, along with the rest of the week's whisky news and more!
Links:
Scotch Whisky Association
|
The Drinks Business
|
Rosebank
|
Glenfiddich
|
Glenmorangie
|
Wolfburn
|
Kilbeggan
|
Jameson
|
Elijah Craig
|
High West
|
Sonoma Distilling Company
|
J. Rieger & Co.
|
DramFest 2020 Bourbon Tasting
|
Ardbeg
|
Laphroaig
|
"It's Just the Booze Dancing"
|
Berry Bros. & Rudd
|
William Grant & Sons
---
---
---