WhiskyCast is where it all begins. Now in our 15th year, each weekly episode brings you the latest in whisky news, along with the latest events, tasting notes, comments from other listeners, and the weekly "In-Depth" segment features interviews with the people who help make whisky the "water of life".
---
This is another in our series of special episodes during the coronavirus pandemic to help bring whisky lovers together while staying home, and comes from our live webcast on April 15, 2020. We revived the WhiskyCast Tasting Panel format for this webcast, and our panelists come from the world of IndyCar racing – where there are a number of Bourbon connoisseurs in the paddock. "Off Track with Hinch & Rossi" podcast hosts James Hinchcliffe and Alexander Rossi have had great success on the race track, where Rossi made his mark in history by winning the 100th running of the Indianapolis 500 in 2016. Together with their "Off Track" podcast producer Tim Durham, they joined Mark for a tasting of the vintage Ancient Ancient Age 10-year-old, Jim Rutledge's Cream of Kentucky 11.5-year-old, the Elijah Craig 21-year-old single barrel, and a Wyoming Whiskey single barrel bottled especially for the British Columbia provincial liquor stores.
Links:
AlexanderRossi.com
|
Hinchtown.com
|
Ancient Age
|
Cream of Kentucky
|
Elijah Craig
|
Wyoming Whiskey
---
---
---
---
---
Since so many people are working from home, "self-isolating" or more because of the coronavirus crisis, we've decided to produce some extra content to help you pass the time.
Earlier this month during DramFest 2020 in Christchurch, New Zealand, WhiskyCast's Mark Gillespie took part in a panel discussion on "the past and future of whisky" with veteran whisky writer Charles Maclean, Michael Fraser Milne of the Whisky Galore shop in Christchurch, and moderator Dave Broom.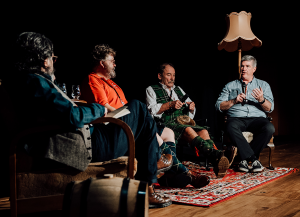 Their hour-long discussion is a bit too long for one of our regular episodes, but we thought you might enjoy listening to it on its own. The panel covered everything from the collapse of the Scotch Whisky industry in the early 80's to what the future holds given the combination of a growing craft distilling movement, global politics, and climate change.
Thanks to Michael and Stella Fraser Milne of Whisky Galore and DramFest 2020 for helping to make this special episode possible, along with the sound crew at Christchurch Town Hall and the staff at Whisky Galore.
Photos courtesy of Whisky Galore/DramFest.
---
Louise McGuane wants to revive a key part of Irish Whiskey's past, but she keeps wrestling with its present-day form in a bid to change the future of Ireland's whiskey industry. The Chapel Gate Whiskey Co. founder has become one of Irish Whiskey's most outspoken voices in recent years, and recently spoke at the World Whisky Forum in Seattle. WhiskyCast is the only place where you'll be able to hear her comments on this St. Patrick's week…a week in which the COVID-19 novel coronavirus pandemic has forced Ireland's legendary pubs to close, along with bars and distillery visitor centers around the world. We'll have the details in this week's news, along with updates on whisky festivals and other events cancelled or postponed by the pandemic. We'll also honor longtime Bruichladdich legend Duncan McGillivray, who passed away this past week.
Links:
Chapel Gate Whiskey Co.
|
Irish Whiskey 360
|
Bruichladdich
|
Ardbeg
|
Mackmyra
|
Kilchoman
|
Hinch Distillery
|
Lambay Whiskey
|
Kilbeggan
|
Glendalough
|
Redbreast
|
Hotel Tango Spirits
|
Old Fourth Distillery
|
Shine Distillery & Grill
---
---
If you just needed a whisky-related reason to visit Iceland, we have one for you on this week's episode. Eimverk Distillery grew out of the dreams of two brothers who just wanted to be farmers, but found it was cheaper to import grain for cattle feed than grow it themselves. There was also some whisky involved, as Eimverk production manager Eva Mariá Sigursbjörnsdóttir explains on WhiskyCast In-Depth. There were also some sheep involved in at least part of the process, since one of Eimverk's whiskies is smoked not with peat – but with sheep dung! We'll have tasting notes for it, too.
In the news, the coronavirus outbreak could cost Diageo as much as £200 million in profits this year and other whisky makers are preparing for losses of their own. The University of Kentucky is not only building an on-campus distillery in Lexington, but a million-dollar donation this week will fund construction of a new barrel "dormitory" as well. We'll have that story and look at how the mavericks at Brewdog are already ruffling feathers in the Scotch Whisky industry. Finally, if you've ever wondered why the hoops on whisky barrels are covered with rust, we'll explain on Behind the Label. 
Links:
Eimverk Distillery
|
Diageo
|
Pernod Ricard
|
Dekantā
|
Kavalan
|
Chivas Brothers
|
James B. Beam Institute for Kentucky Spirits
|
Independent Stave Company
|
Kentucky Bourbon Festival
|
Blanton's
|
Angel's Envy
|
Amrut
|
Wemyss Malts
|
Brewdog
|
DramFest 2020
|
DramFest American Whiskey Tasting
|
Redbreast Ireland Competition
|
Yamazakura 963
|
High Coast
---