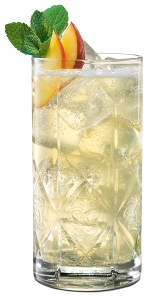 Our friends (and sponsors) at Dewar's shared this recipe for a light and cool summertime cocktail featuring the Dewar's 15 Year Old.
45 milliliters of Dewar's 15 Year Old Blended Scotch Whisky
15 milliliters of peach liqueur
12.5 milliliters of lemon juice
12.5 milliliters of sugar syrup
50 milliliters of coconut water
50 milliliters of Fever-Tree Soda Water
Mint sprig and a peach slice
Add all ingredients except for the soda water to a cocktail shaker, then shake briskly with cubed ice, then pour over fresh cubed ice in a highball glass. Top with the soda water, then garnish with a mint sprig and a peach slice.