WhiskyCast is where it all begins. Now completing our 10th year, each weekly episode brings you the latest in whisky news, along with the latest events, tasting notes, comments from other listeners, and the weekly "In-Depth" segment features interviews with the people who help make whisky the "water of life".
Robert Hicks tried to retire a couple of years ago as the Master Blender at Teacher's, Laphroaig, and Ardmore…but he's busier than ever these days. 2009 will mark his 45th year in the whisky business, and he'll share his memories in this episode of WhiskyCast! In the news, Diageo taketh away from Canada and giveth to developing markets…new (old) whiskies from Glenglassaugh, the PC7 from Bruichladdich, and (ri)1 takes rye whiskey to the trend-setters…
Links:
Laphroaig
 | 
Teacher's
 | 
Ardmore
 | 
The Scotsman
 | 
CBC
 | 
Glenglassaugh
 | 
Bruichladdich
 | 
(ri)1
---
We'll go inside the laboratory this time around, and our guides are the lead chemist at Buffalo Trace, Truman Cox, and one of the leaders of the distillery's tasting panel, Dendress Ennis. Buffalo Trace was just honored by Whisky Magazine as Innovator of the Year in the US round of its 2009 Icons of Whisky Awards, so these guys are the perfect guides to explain what happens behind the scenes. In the news, the rest of the Icons winners from the US and Scotland rounds, a new independent bottler from South Africa, and more new whiskies from all over the world!
Links:
Buffalo Trace
 | 
Whisky Magazine
 | 
Bruichladdich
 | 
Burn Stewart Distillers
 | 
Inver House
 | 
Glengoyne
 |
 James MacArthur/Old Masters
 | 
"Movember"
---
Balblair Distillery sits on the Dornoch Firth in Edderton, and it's been getting a lot of attention these days. Distillery manager John MacDonald was instrumental in helping re-launch the Balblair range from age-dated expressions to vintages, and the Balblair 1989 was recently picked by Scotch lovers as the best whisky at the Whisky Fringe in Edinburgh. We'll hear from John about what went into the redevelopment of Balblair. In the news, Laphroaig's John Campbell tells us about plans to harmonize the distillery's range worldwide, and we'll get updates on this fall's new Classic Malts releases, new malts from Glengoyne and Auchentoshan, and how you can help support prostate cancer research during "Movember."
Links:  
Balblair
 | 
Laphroaig
 | 
Classic Malts
 | 
Glengoyne
 | 
Woodford Reserve
 | 
Auchentoshan
 | 
Premium Bottlers
 | 
"Movember"
 | 
Canadian Club
---
Many of us think of ourselves as whisky collectors, but Giuseppe Begnoni is in a league of his own. Begnoni is regarded as one of the world's leading whisky collectors, and his spirits collection numbers more than 40,000 bottles. He'll tell us about his nearly 40 years of collecting whisky in this episode, and we'll also hear from Richard Paterson of Whyte & Mackay about the major changes to The Dalmore's single malt range. In the news, a belated Birthday Bourbon from Old Forester, a "Sweet 16" from Bruichladdich, and a 250th Anniversary Robert Burns single malt from Arran, along with the latest on Jim Murray's 2009 Whisky Bible.
Links:  
Whisky Paradise
 | 
Old Forester
 | 
Bruichladdich
 | 
Classic Malts
 | 
Arran
 | 
WhiskyFest
 | 
Park Avenue Liquor Shop
 | 
Jim Murray's Whisky Bible
 | 
Isle of Jura
 | 
The Dalmore
---
Glenmorangie's Dr. Bill Lumsden is regarded as one of the leading innovators in the whisky business. He's credited with creating an industry-leading wood management program and developing the distillery's series of award-winning "finished" whiskies over the years. In this episode, we'll hear from Bill about his work with Glenmorangie and Ardbeg. In the news, Crown Royal re-launches its Reserve Edition, the world's largest whisky collection will go on public display, the 2009 Malt Whisky Yearbook is out, and Mackmyra celebrates 10 years of making whisky the Swedish way.
Links:  
Glenmorangie
 | 
Ardbeg
 | 
Crown Royal
 | 
Scotch Whisky Experience
 | 
Malt Whisky Yearbook 2009
 | 
Mackmyra
 | 
Berry Bros. & Rudd
 | 
Scotch Malt Whisky Society USA
---
---
This week, WhiskyCast is in Lebanon, Kentucky for the Marion County Country Ham Days Festival. This year's festival honors Independent Stave's Kentucky Cooperage, the local cooperage that supplies barrels for all but one of Kentucky's bourbon distilleries, and you'll get a rare insider's tour in this special episode of WhiskyCast. In fact, the cooperage supplies 9 out of every 10 casks for the county's only distillery, Maker's Mark in nearby Loretto, and we'll also hear from master distiller Kevin Smith.

Links:  Independent Stave Company | Maker's Mark | Kentucky Bourbon Trail | Lebanon Tourist & Convention Commission | The Hill House Bed & Breakfast
---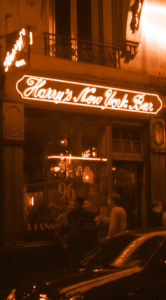 Here's a special bonus episode from Whisky Live Paris…on location at one of the world's great bars. Hemingway drank at Harry's, Parisians drink at Harry's…and now, WhiskyCast goes to Harry's New York Bar. Thierry Benitah of La Maison du Whisky joins us for this special episode. His family has been supplying whisky to Harry's for 52 years, and he'll share some of the history of Harry's and La Maison du Whisky with us. We'll also hear from Suntory's Mike Miyamoto and Kamiguchi Naofumi of Nikka about their unusual whiskies that have the French going "Incroyable!"
Links:
Whisky Live Paris
 | 
Whisky Magazine France
 | 
La Maison du Whisky
 | 
Harry's New York Bar
 | 
Suntory
 | 
Nikka
---
---
It's Whisky Live weekend in Paris, and this is Part 1 of special coverage of an amazing weekend! We'll find out why the French are so passionate about whisky, and not just drinking it, but distilling it as well! Aberlour's Ann Miller weighs in, along with Jean Metzger of Uberach Distillery, Jean Donnay of Glann Ar Mor, and Whisky Magazine France editor Martine Nouet. Andrew Symington updates us on new releases from Edradour and Signatory, and I'll have details on the sale of Glen Moray to a French company and the new members of the Bourbon Hall of Fame.
Links:
Whisky Live Paris
 | 
Whisky Magazine France
 | 
La Maison du Whisky
 | 
Aberlour
 | 
Uberach
 | 
Glann Ar Mor
 | 
Edradour
 | 
Glen Moray
 | 
Kentucky Bourbon Festival
---