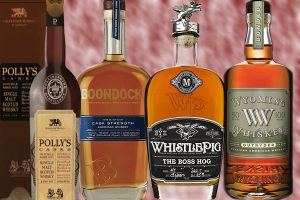 This week, we're celebrating the 11th anniversary of WhiskyCast with a potpourri of sorts, as we catch up with people from all over the world of whisky. We'll hear from Beam Suntory CEO Matt Shattock on his hopes for the incoming Trump Administration's policy goals related to the whisky industry, which can be affected by everything from taxes and trade treaties to agricultural policy.  We'll talk with Paul Hletko of FEW Spirits about his new collaboration with Mike Miller and the folks from Delilah's in Chicago, and Dave Scheurich tells us about Boondocks – the whiskey that lured him out of retirement. Dave Pickerell shares details on the latest Boss Hog release from WhistlePig Rye, and Sam Mead explains the story behind Wyoming Whiskey's Outryder.  In the news, MGP is expanding its footprint in whisky with the purchase of the Cincinnati-based George Remus line of whiskies, and farther down the Ohio River, Angel's Envy is ready to open the doors of its new distillery on Louisville's Whiskey Row to the public. Alexander Murray & Co. has teamed up with the brewers at Firestone Walker on a new single malt, and we'll finally get the answer on where Costco gets its Kirkland-branded whiskies from!
Links:
Beam Suntory
|
MGP Ingredients
|
Sagamore Spirit
|
Baltimore Sun
|
Angel's Envy
|
The Balvenie
|
English Whisky Company
|
The Glenturret
|
FEW Spirits
|
Delilah's
|
WhistlePig Rye
|
Hillrock Estate
|
Wyoming Whiskey
|
Boondocks Whiskey
|
Alexander Murray & Co.
|
Usquaebach
|
Compass Box