October 12, 2013 – Many of Scotland's distillers marked the end of the last Millennium with special casks filled around...
Read More
October 13, 2013 – When local regulators in the Fife town of Glenrothes gave planning permission for a new distillery...
Read More
October 12, 2013 – WhistlePig Rye is extending its range of Rye whiskies with "The Boss Hog," a new single...
Read More
With 28 malt whisky distilleries and two grain whisky distilleries in Scotland, Diageo almost always has something going on. Dr....
Read More
October means chilly weather as the leaves turn bright red and orange, and the autumn colors were especially vibrant as...
Read More
This special episode of WhiskyCast Virtual Tastings was recorded on location at Canada's Forty Creek Distillery during its annual "Whisky...
Read More
October 7, 2013 – Single grain Scotch whiskies can often be thought of as the stepchildren of the whisky industry....
Read More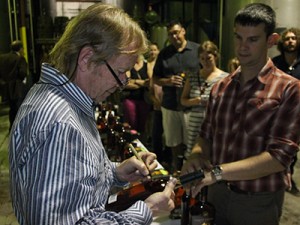 Canadian whisky lovers converge on the Forty Creek Distillery in Grimsby, Ontario on the final weekend of September each year....
Read More
October 4, 2013 – Talisker Storm has hit the U.S. market, a year after it was introduced in Europe. The...
Read More