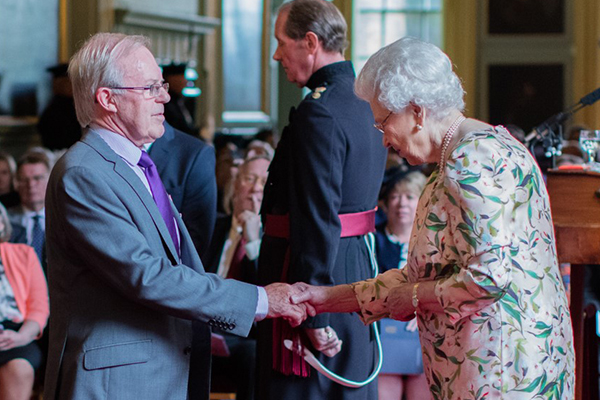 July 5, 2016 – The Balvenie's longtime malt master, David Stewart, has virtually every award that can be presented to someone in the whisky industry and enough plaques for a small museum. During a ceremony at The Palace of Holyroodhouse in Edinburgh today, Stewart received an honour held by few in the industry when Queen Elizabeth appointed him a Member of the Most Excellent Order of the British Empire (MBE). Buckingham Palace and the Prime Minister's office announced the appointment last winter in the Queen's annual New Year's Honours List, but the actual presentation was scheduled for this week during Her Majesty's annual Holyrood Week series of royal events in Scotland. The award is a medal presented by the Queen to individuals honoring significant achievements or outstanding service to their community or profession.
Stewart joined William Grant & Sons as a whisky stocks clerk in 1962 and rose through the ranks to become the Malt Master for the company's entire Scotch Whisky range. In 2009, he scaled back his workload to focus on The Balvenie's single malt lineup while turning over responsibility for the rest of the range to his hand-picked successor, Brian Kinsman. Stewart is credited as one of the pioneers of the concept of secondary cask maturation with The Balvenie DoubleWood in 1993, and the use of cask "finishing" is common practice throughout the industry today.
"Who would have thought when I started off here in 1962 as a whisky stocks clerk that I would ever become a master blender and receive some of the awards from the industry, and now to have received this accolade – the MBE – which, you know…I would never have dreamt of having," the modest Stewart said during a WhiskyCast interview after the honour was announced. In a news release, William Grant & Sons CEO Simon Hunt praised Stewart's leadership over the years.
"David's dedication, skill and modesty have made him one of the best loved and respected craftsmen in the business. David's MBE is a testament to how well respected he is. He is considered to be one of the greatest master blenders and we are incredibly proud of him."
The company plans to present Stewart with a book of congratulations signed by his colleagues and whisky lovers, with pages being sent around the world to collect signatures and messages before being bound in the style of a classic whisky stocks register similar to those Stewart has used over the years to track casks during maturation. In addition, The Balvenie has started a social media campaign to allow whisky connoisseurs to congratulate Stewart using the hashtag #RaiseADram.
Links: The Balvenie