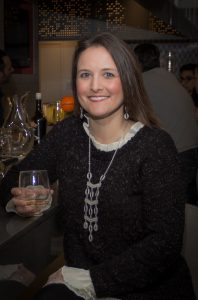 July 18, 2016 – George Dickel head distiller Allisa Henley has left Diageo's Tullahoma, Tennessee distillery to join the upstart Popcorn Sutton Distillery as its master blender. The move reunites Henley with her predecessor and longtime mentor at Dickel, John Lunn, who left in March of 2015 to become Popcorn Sutton's master distiller. Lunn has been working on a new premium gin that will make its debut this autumn, and the two will work together on aged whiskies planned for the future. Those spirits will be sold under the Avery's Trail brand to distinguish them from Popcorn Sutton's moonshine-style whiskies named for the distillery's namesake, longtime moonshiner Popcorn Sutton.
Henley told WhiskyCast that Lunn and Popcorn Sutton CEO Megan Kvamme contacted her about joining the Newport, Kentucky distillery, and she made the decision to leave at the end of last month. "I will never diminish or take away from my 12 years at Dickel and what all was accomplished there," she said in a telephone interview during her first day on the job. "There were a lot of things that have been done at Dickel in the past 12 years…a lot of new variants, the visitors center has grown…essentially, it's like me getting to do that all over again."
Henley was promoted to head distiller at Dickel after Lunn's departure, and will be remembered for creating the 17-year-old George Dickel Distillery Reserve expression released last month. While she remains featured on the Dickel web site as of today, Diageo spokeswoman Allison Fleischer told WhiskyCast in an email that "we have an incredible team of whisky makers at Cascade Hollow who will continue to make George Dickel to our exacting specifications – chill charcoal mellowed and Handmade the Hard Way."
Henley grew up just down the road from the Dickel distillery in Tullahoma, and still lives there with her family. She plans to make the three-hour-long commute from Tullahoma to Newport on a regular basis, since Lunn will continue to oversee day-to-day production. "As the blender, I'm going to get to come in from the creative side and come up with new ideas for products we can make and then partner with John and be like 'OK, let's figure out how to pull this off." Eventually, Henley will be on the road helping to promote the Popcorn Sutton and Avery's Trail brands in addition to her product development role.
Links: Popcorn Sutton | George Dickel