This is the first of two episodes this weekend from The Whisky Show in London, and we'll be looking at...
Read More
October 2, 2014 – Scottish police and safety investigators are looking into a fatal accident Tuesday at the long-closed Parkmore...
Read More
September is Bourbon Heritage Month, and this month's panel is tasting what else…Bourbons. Justin Victor and John DeYoung joined us...
Read More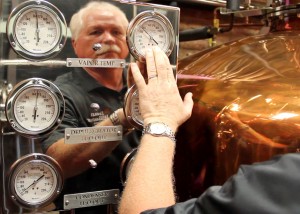 After decades of Bourbon history, Whiskey Row along Main Street in downtown Louisville finally has its first distillery. Heaven Hill's...
Read More
September 30, 2014 – Compass Box has introduced the second permanent expression to its Great King Street range of blended...
Read More
September 29, 2014 – 35 Maple Street, a California-based spirits company headed by August Sebastiani of the legendary California winemaking...
Read More
September 29, 2014 – Edinburgh-based Wemyss Malts has released a new batch of single cask Scotch whiskies, with a dozen...
Read More
September 28, 2014 – Gordon & MacPhail is expanding the range of single malts available from its Benromach Distillery in...
Read More
With all of the issues being raised over whisky labeling in the US and a new lawsuit challenging claims on...
Read More