October 13, 2018 – Close, but not quite. That's the best way to describe bidding for a rare bottle of The Macallan 1926 today at Sotheby's in New York City. Bottle number nine of twelve with custom labels by British artist Sir Peter Blake brought a winning bid of $843,200 including all premiums, according to the Sotheby's web site. Last week, another bottle of the 60-year-old single malt with a label by Italian artist Valerio Adami set the world record at Bonhams in Edinburgh with a high bid of $1,107,663 (£848,750 GBP), surpassing the previous record set in May by another Adami bottle at Bonhams in Hong Kong.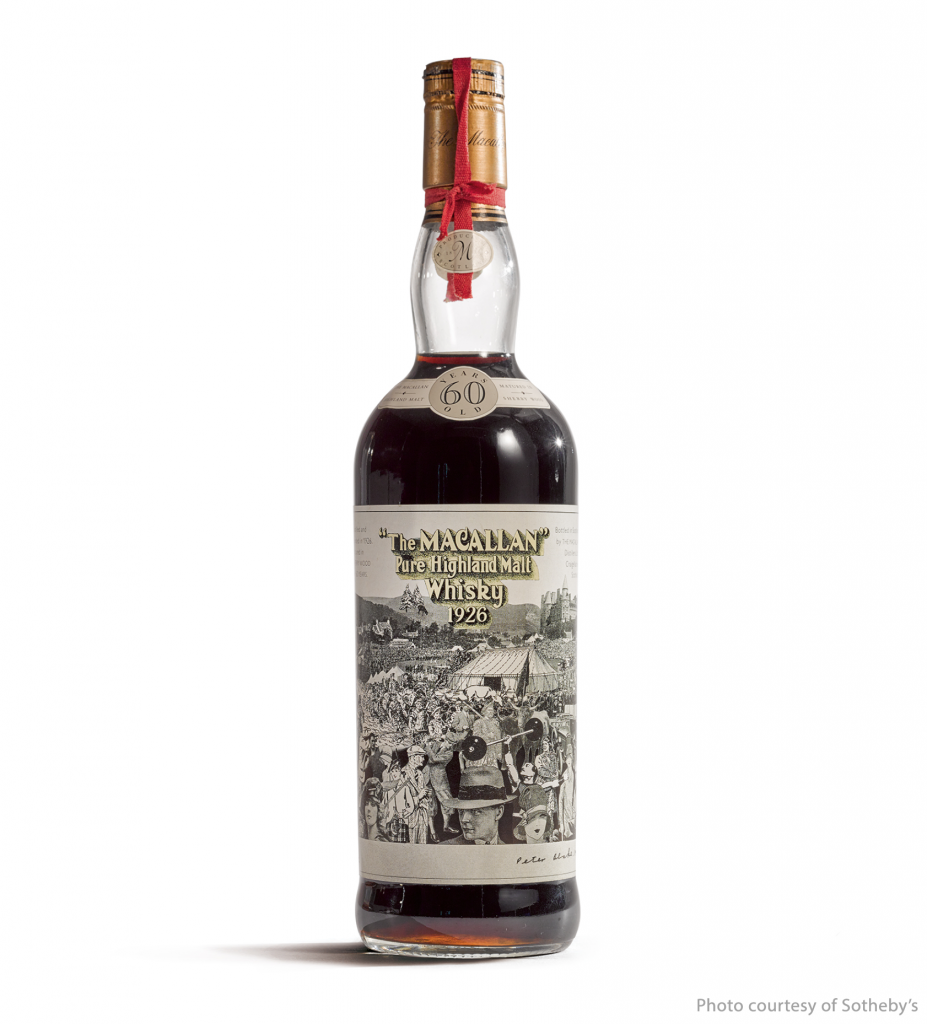 The bottles date back to 1986, when The Macallan's owners bottled a single cask of whisky distilled in 1926 and later commissioned Blake and Adami to create custom labels for twelve bottles each. Many of those bottles were used as corporate gifts, however, it appears that the seller of this bottle bought it directly from the distillery. The remaining 16 bottles from that cask were placed on sale as part of The Macallan's Fine & Rare Collection. One of those bottles with a bespoke label by Irish artist Michael Dillon is scheduled to be auctioned next month at Christie's in London. That bottle has not been seen in public since it was sold at London's Fortnum & Mason in 1999, and has been referred to by auction observers as the "Holy Grail" of collectible Macallans.
Sotheby's has not identified the winning bidder or the anonymous seller of the Blake #9 bottle, which was estimated before the two-day auction to sell for between $700,000 and $1.2 million USD. However, the seller wrote a commentary for the auction house's web site explaining the story behind their acquisition of the bottle in 1986.
"It is my hope that whoever purchases this bottle will appreciate that it is not simply a rare and exquisite spirit. That he or she understands that it is more than just an investment. It is representative of the finer things in life. It represents the life's work of many people."
The seller described their experience with the bottle as "magical," even though the only taste they may have had of that whisky was at the distillery during a private tasting with The Macallan's whisky maker at the time, Sandy Curle. The seller did not disclose what the 1986 purchase price was for that bottle. It is assumed that today's auction was profitable.
Links: Sotheby's | The Macallan