October 9, 2014 – 14-year Morrison Bowmore veteran Mike Keiller has stepped down as the company's chief executive in the wake...
Read More
Distilling is serious business, and safety is paramount. Brianna Bailey of The Oklahoman can testify to that…she was an eyewitness...
Read More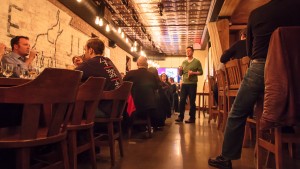 Being a brand ambassador for a major whisky brand sounds like a lot of fun…and it is, but it's also...
Read More
Think of Belgium and drinks, and beer is usually the first thing that comes to mind. However, Belgians are quite...
Read More
This week, we're in Banff, Alberta for a very special Bowmore weekend in the heart of the Canadian Rockies. The...
Read More
The pre-holiday rush of new whiskies is in full swing, and we'll sit down with Iain McCallum of Morrison Bowmore...
Read More