This week, we'll look at the growth of craft distilling through the eyes of veteran drinks writer James Rodewald and distiller Darek Bell. Rodewald studied the boom in craft distilling for his new book "American Spirit." Bell is one of the co-founders of Corsair Artisan Distillery, and has just published his second book, "Fire Water" – a look at ways to produce uniquely smoky whiskies.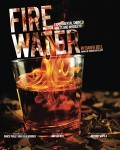 In the news, we'll also look at a bunch of new whiskies flooding the market from around the world, including The Glenrothes, Arran, The Balvenie, Clynelish, Woodford Reserve, and more. Speaking of floods, cleanup work is underway after a flood this week at a distillery in Speyside, and Manhattan mixologist Pam Witzinger of The Dead Rabbit teaches us how to make the perfect Manhattan. The Dead Rabbit was just named the best cocktail bar in North America and ranked #2 in the world by Difford's Guide.
Note: the entire interviews with James Rodewald and Darek Bell can be found in our WhiskyCast In-Depth section.
Links:
Corsair Artisan Distillery
|
The Press & Journal
|
Beam Suntory
|
Balcones Distilling
 |
The Glenrothes
|
Arran
|
Glenfarclas
|
Classic Malts
|
The Balvenie
|
Woodford Reserve
|
Tap Whisky
|
Barrell Bourbon
|
New Zealand Whisky Company
|
Whisky Festival Noord Nederland
|
Drinks International/Difford's
|
The Dead Rabbit
|
World of Whiskies
|
Glen Deveron