1964 was an iconic year at Scotland's Bowmore Distillery, though that fact wouldn't be known for decades. The casks laid...
Read More
Ichiro Akuto is a maverick among Japanese whisky distillers, creating traditional whiskies with a style that's anything but traditional. When...
Read More
Time for another trip inside the blending lab, and Iain McCallum of Morrison Bowmore is our host. He'll take us...
Read More
Bowmore is Islay's oldest distillery, and the second oldest in all of Scotland. It's at the heart of Islay's largest...
Read More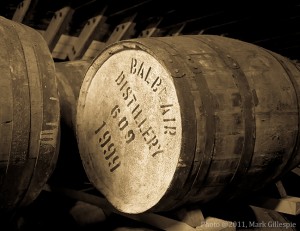 Balblair Distillery sits on the Dornoch Firth in Edderton, and it's been getting a lot of attention these days. Distillery...
Read More
When the temperature's approaching 90 (32), sometimes a cold beer just sounds better than a glass of whisky. Northing wrong...
Read More
Night and Day, Positive and Negative, Black and White. There are opposites all around us, which means that if there...
Read More
The Black Bowmore is one of Islay's legendary whiskies, and sells for thousands of dollars…when you can find it. Now,...
Read More
One of the things I get asked about most often is why WhiskyCast doesn't have more tasting sessions. We'll answer...
Read More