Bringing Distilling Back to Lexington's Distillery District (Episode 714: July 15, 2018)
Read Post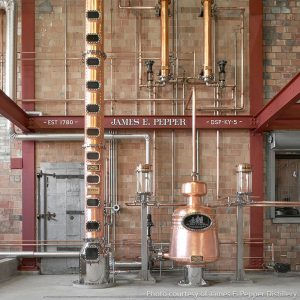 The James E. Pepper Distillery dominated the western edge of downtown Lexington, Kentucky for decades until it closed in 1958,...
Read More
Booker Noe passed away in 2004, but some of the whiskey he laid down shortly before his death is adding...
Read More
February 19, 2015 – San Antonio's Ranger Creek Brewing & Distilling took top honors in the American Craft Spirits Association's...
Read More
Distilling is serious business, and safety is paramount. Brianna Bailey of The Oklahoman can testify to that…she was an eyewitness...
Read More
Tokyo's whisky bars are legendary, but so hard to find that they're often compared to Prohibition-era speakeasies. Hidetsugo Ueno owns...
Read More
The old saying goes "when life gives you lemons, make lemonade." Dan Garrison's life was full of lemons back in...
Read More
February 12, 2014 – Here are some of the stories making news in the whisky world this week… Beam is...
Read More