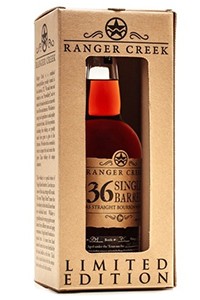 February 19, 2015 – San Antonio's Ranger Creek Brewing & Distilling took top honors in the American Craft Spirits Association's second annual spirits judging, with its .36 Single Barrel Texas Straight Bourbon taking Best of Show honors, along with Best Bourbon Whiskey and Best in Class honors among whiskies. The awards were announced during the association's annual conference this week in Austin, Texas, following blind judging conducted several weeks ago at Huber's Starlight Distillery in Indiana.
Ranger Creek's winning Bourbon was released in late 2014, and is the distillery's first Straight Bourbon. In an email, Ranger Creek co-founder Mark McDavid explained that the whiskey came from the first 14 full-size barrels filled when the distillery started making Bourbon in late 2010, and he and his partners thought it was so good that they decided to bottle it as single barrels. Approximately 1,400 bottles were released for sale, primarily in Texas, though it may also be found in other US states.
In all, 29 gold medals were presented in the whiskey category, with 26 silvers and 25 bronze medals. A complete list of medal winners is available at the ACSA web site.
Links: American Craft Spirits Association