This week, we'll tell you about two upcoming opportunities to taste rare whiskies in Scotland and Kentucky. David Faughn and...
Read More
There are lots of whiskies to choose from, and there's a story behind each one. This time around, we'll talk...
Read More
New Whiskies From Ballantine's, Teeling, Angel's Envy & More
Read Post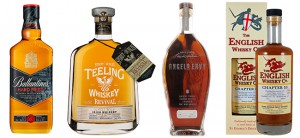 November 5, 2015 – With the holidays approaching, whisky makers are stepping up their releases to take advantage of the...
Read More
In this special bonus episode from Whisky Live Paris, we'll have more highlights from one of Europe's top whisky festivals....
Read More
December 15, 2014 – A Kavalan single malt from Taiwan's King Car Distillery took the overall "Supreme Champion" award in...
Read More