The First American Single Malt Whiskey? (Episode 705: June 10, 2018)
Read Post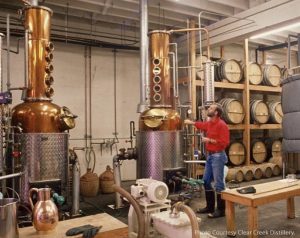 Historians aren't sure who distilled the first Scotch-style single malt whiskey in the United States, but Oregon's Clear Creek Distillery...
Read More
Moving is one of those things that no one really enjoys…let alone when one has to move hundreds of rare...
Read More
Distilling is serious business, and safety is paramount. Brianna Bailey of The Oklahoman can testify to that…she was an eyewitness...
Read More
October 12, 2013 – Many of Scotland's distillers marked the end of the last Millennium with special casks filled around...
Read More
With 28 malt whisky distilleries and two grain whisky distilleries in Scotland, Diageo almost always has something going on. Nick...
Read More
Joshua Hatton and Jason Johnston-Yellin started out as whisky bloggers, and are now bottling their own whiskies for a unique...
Read More