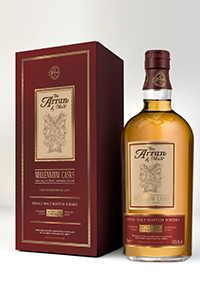 October 12, 2013 – Many of Scotland's distillers marked the end of the last Millennium with special casks filled around the start of the New Year in 2000, and Arran is the latest to bring one of those special projects to market. Arran's Millennium Casks bottling will be available on October 28, with just 7,800 bottles to be available worldwide.
"We decided to fill some casks on the very last day and then the very first day," Arran's Louisa Young said during an interview with WhiskyCast's Mark Gillespie at the Whisky Jewbilee in New York City. "This is something where it's a quite unusual collaboration with the casks and going from one millennium into the next."
Master Distiller James MacTaggart selected 35 ex-Bourbon casks and 10 ex-Sherry hogsheads filled on the two days for the bottling, which is being released with no chill filtering and at a cask-strength 53.5% ABV.
In addition, Arran will make a donation for each bottle sold to the Arran Trust, which preserves natural habitat on the Isle of Arran. "It's very much trying to put something back into the community," Young said. "We've done it with regeneration of the footpaths on the island before…hill walking is something very significant and it's something we believe from the small community that the island has and we being the only distillery, it's something that is important for us to do."
Links: Arran | Arran Trust