Trade Disputes Lead to a "Whisky Summit" in Louisville (Episode 716: July 29, 2018)
Read Post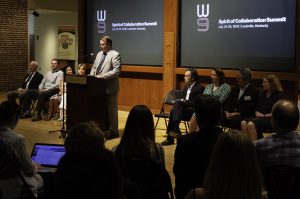 Global trade has helped the whisky industry expand massively over the last two decades. With the ongoing trade dispute between...
Read More
This week, we're in Copenhagen, Denmark for the launch of Highland Park's new Valkyrie single malt and new packaging for...
Read More
After years of working with supermodels and high-strung art directors in New York City, Michael Myers lives a much simpler...
Read More
March 27, 2015 – A rare Ardbeg 1965 took top bid honors during the monthly auction of rare whiskies Wednesday...
Read More
Gavin Hewitt is stepping down next month after ten years as the chief executive of the Scotch Whisky Association, balancing...
Read More
July 4, 2013 – Jason Craig of Cutty Sark passed along this cocktail recipe he brought back from South Africa,...
Read More
Craft distillers make whisky as much out of passion as a desire to make money, and that gives them the...
Read More
I'm on the road this weekend at Whisky Live Paris, and it's a weekend full of new whiskies to taste!...
Read More
Back from Scotland, and plenty to talk about. This episode features highlights from the World Whiskies Conference in Glasgow, as...
Read More