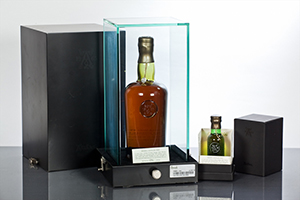 March 27, 2015 – A rare Ardbeg 1965 took top bid honors during the monthly auction of rare whiskies Wednesday at McTear's in Glasgow with a hammer price of £4,200 ($6,250 USD). The 2005 bottling came from two consecutively filled casks (#3678 and #3679), and was bottle number 31 of 261.
496 lots went on the block, with runner-up honors going to a 50-year-old Glenfarclas distilled in 1955 and bottled on September 9, 2005 to mark the 200th anniversary of distillery founder John Grant's birth. #71 of 110 bottles brought a high bid of £3,800 ($5,654 USD), narrowly beating out the lone Black Bowmore of the auction, a second-edition bottling from 1994 which brought a high bid of £3,400 ($5,058 USD).
Other bottles of interest included a 21-year-old Port Ellen bottled in 1998 to commemorate the 25th anniversary of the Port Ellen Maltings and listing the names of the staff on the rear label. The winning bid was £1,800 ($2,678 USD). A 1950 Macallan distillery bottling distributed by Gordon & MacPhail brought a high bid of £2,400 ($3,571 USD). While there have been many bottlings sold at auction that were produced to celebrate the retirements of distillery managers and corporate executives, one of six bottles of Highland Park Aged Almost 40 Years produced several years ago on the 40th birthday of the brand's former global controller, Jason Craig, made it to the block. The pre-auction estimate was between £200 and £300, but bidding for the bottle ended at £600 ($893).
The next McTear's auction is scheduled for April 29 in Glasgow.
Links: McTear's Catalog & Results