An Anniversary Celebration…One Year Late (Episode 866: April 12, 2021)
Read Post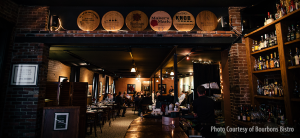 Bourbons Bistro had everything ready to go for its 15th anniversary dinner in April…of 2020. Of course, the Covid-19 pandemic...
Read More
The other night, one of the whiskey bars in Louisville held a "Jim Rutledge Tribute Night" to honor the retired...
Read More
Kieran Folliard is a native son of Ireland, but calls Minnesota his home now. While running a group of Irish...
Read More
In the first of this week's two episodes of WhiskyCast, we'll travel to Sweden to look at two of the...
Read More
December 5, 2014 – Steve and Paul Beam started Limestone Branch Distillery in 2011 with the goal of reclaiming their...
Read More