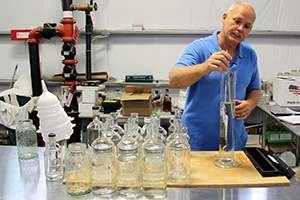 December 5, 2014 – Steve and Paul Beam started Limestone Branch Distillery in 2011 with the goal of reclaiming their family's distilling heritage. The Beams trace their lineage back seven generations to Jacob Beam on one side of the family and four generations to J.W. Dant on the other, though their more recent ancestors stopped distilling whiskey when Prohibition took effect. As part of that goal, they went looking for the rights to one of the Dant family's contributions to Bourbon history, and wound up with a new business partner and significant capital to expand Limestone Branch. The family created Yellowstone Bourbon in 1872, and the Beams contacted St. Louis-based Luxco, which acquired the Yellowstone brand in 1993.
"It's (Yellowstone) been closely associated with my family," Steve Beam said in a telephone interview. "I contacted Luxco in regards to that brand, one thing led to another, and we decided it would work out best to go in a partnership." Luxco has taken a 50 percent stake in Limestone Branch for an undisclosed amount, and the Beams will start producing Yellowstone at Limestone Branch in 2015.
Listen to Mark Gillespie's interview with Steve Beam:

In addition, Luxco will become Limestone Branch's sales and distribution arm for its T.J. Pottinger Sugar Shine and other products produced by the Beams. In a news release, Luxco chairman Donn Lux said his team had been looking for a way to enter the craft Bourbon market when the Beams came calling.
"We have been striving for some time to enter the craft bourbon market with a truly authentic story and product. After spending time with Steve and Paul, it became evident to me that their family and their company is the perfect partner for my family and Luxco. We have a shared vision, not only of the Yellowstone brand, but of the business in its entirety."
Steve Beam will remain as president and master distiller for Limestone Branch, and said the partnership was in the best interests of his family as well as the business. The Beams are planning a significant expansion of Limestone Branch to allow for production of Yellowstone and other whiskies for Luxco.
Links: Limestone Branch