June 10, 2019 – While the Treasury Department's Tax & Trade Bureau has not yet officially published a proposed regulatory change to eliminate most requirements on bottle sizes for distilled spirits, the very idea is beginning to generate some controversy. The agency's proposal to eliminate all mandated "standards of fill" except for currently unspecified minimum and maximum sizes appears in the Unified Agenda, a schedule of upcoming regulatory changes maintained by the White House's Office of Management & Budget.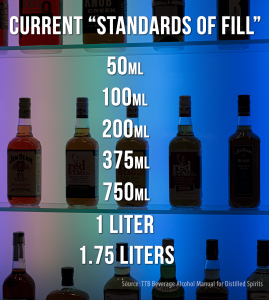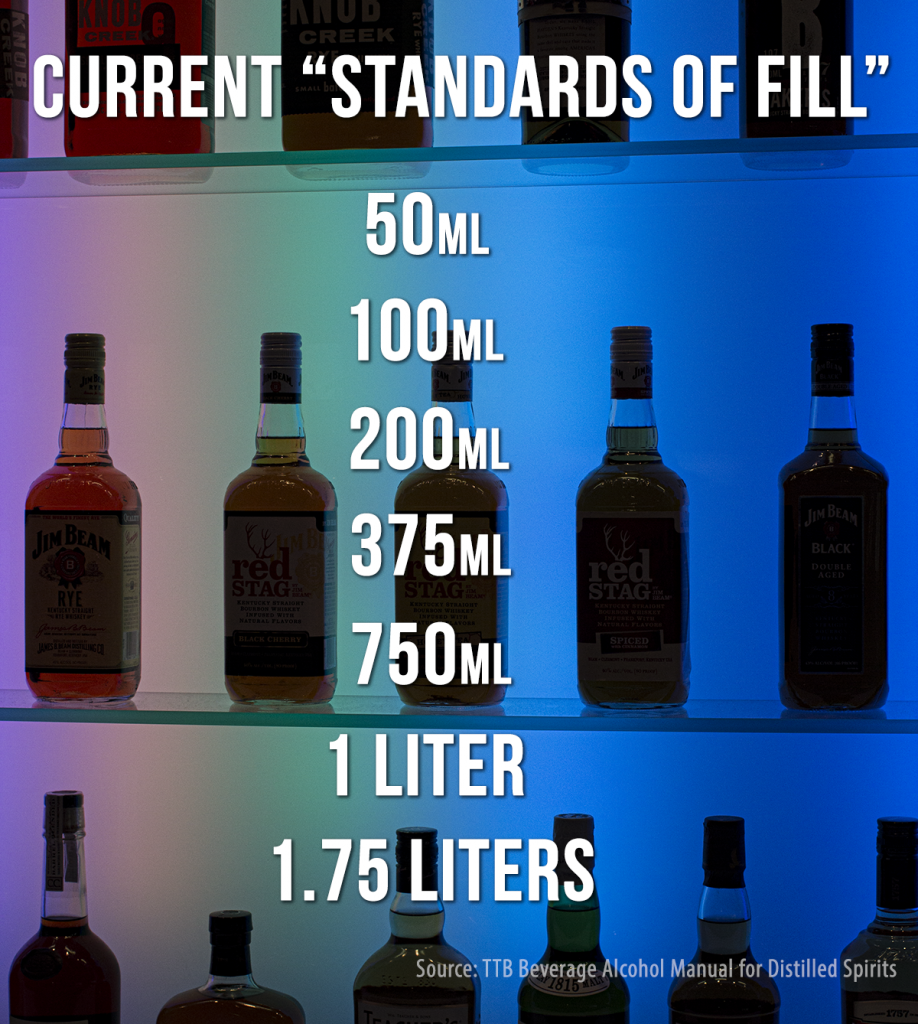 The current standards of fill regulation specifies seven allowable sizes ranging from 50ml to 1.75 liters, and was last updated in 1989 when a ban on 500ml bottles took effect. The standards date back to 1980, when the Carter Administration attempted to switch the U.S. to the metric system starting with beverage containers. As whiskies have regained their popularity in recent years, those standards have come into question because of a conflict with the European Union's standards. The EU allows both 500ml and 700ml bottle sizes, while not allowing the U.S. standard 750ml bottles. South Africa is the only other country with a 750ml standard, while most other countries will accept either size.
As a result, whisky makers in Europe and other countries have to produce separate bottling runs for whiskies destined for export to the American market, while U.S. whiskey makers have to do the same for their export products. That has long been seen as a barrier to small distilleries and independent bottlers, as the cost of compliance eats into already small profit margins.
Mark Watt of Cadenhead's, the Campbeltown, Scotland-based independent bottler, called the proposal "brilliant" and said it would give companies like his more flexibility to meet consumer demand. "Last year for the rest of the world, we maybe had 200 different bottlings, where we had 15 for the U.S.," he said in a telephone interview for the latest WhiskyCast podcast. "We have different bottles and you have to get different labels…I know it doesn't sound like much, but it all adds up to being a pain – you've got to reset your bottling line to fit the different bottles, so it's much easier to bottle larger amounts of the same thing in one go," he said.
As an example, Watt cited a bottle in his office that would likely never make it to the U.S. under the current standard. "I've got a 1991 Cambus (single grain) in front of me which is gorgeous…we might bottle a whole cask of that for America, but if we're bottling a single cask of that for the world in 700's, we're not going to bother putting it in 750's, so that would be an example of one just sitting on my desk that America might miss out on," he said. Other independent Scotch Whisky bottlers have echoed similar comments over the years as well.
Raj Sabharwal of Glass Revolution Imports is the U.S. importer for India's Amrut Distilleries, the English Whisky Company, the independent bottler Blackadder, and other spirits brands. While Sabharwal has had a number of battles with the TTB in the past over getting single malt whiskies from his partners approved for sale in the U.S., he praised the agency's latest move.

Part of the TTB's rationale for changing the rules focuses on the specific issue of flexibility. The agency describes its proposal as a deregulatory move designed to increase consumer choices while eliminating regulations that "inhibit competition and the movement of goods in domestic and international commerce." TTB spokesman Thomas Hogue told WhiskyCast in an email that no specific date has yet been set for publishing a "notice of proposed rulemaking," which would trigger a public comment period for the industry and consumers to submit their views before a final decision is made.
When that happens, the U.S. distilling industry's largest trade association intends to oppose the TTB's proposed changes as currently described. The Distilled Spirits Council represents most of the country's largest spirits producers, along with a number of small-scale "craft" distillers. Spokeswoman Lisa Hawkins told WhiskyCast in an email that the Council opposes setting minimum and maximum sizes, but "would support expanding the current containers sizes allowed to provide companies some added flexibility." Hawkins did not give a reason for the Council's position, but said the group would share its members' views with the TTB "as part of the comment process."
Other leading industry groups are taking a more tentative approach. A spokeswoman for the American Craft Spirits Association, which represents small-scale distillers, told WhiskyCast that "ACSA is in favor of any policy changes that provide our community of craft distillers with easier access to new markets around the world." Kentucky Distillers Association president Eric Gregory told WhiskyCast he is still waiting for feedback from his members before taking a position. However, at least one U.S. distillery is already supporting the proposal in public. Chris Riesbeck of Rémy Cointreau-owned Westland Distillery in Seattle tweeted that the proposal is "great for the whisky community" and "hoping that everyone sees the value of this long term."
The proposal is also generating some concern in South Africa, which would be the only country with a 750ml standard size if the TTB's proposed change takes effect. Andy Watts of South Africa-based Distell told WhiskyCast in a tweet that the move might pressure the South African government to change its regulations, while others expressed concern that it might lead to fewer whiskies being available without the leverage from the U.S for whisky makers to produce 750ml bottles.

The TTB's entry for the proposed change is listed on the Unified Agenda as a "Spring 2019" item. However, the agency is already in the middle of a major rulemaking process to revise many of the federal government's regulations for alcoholic beverages, with a public comment period that has been extended to June 26. As a result, the Distilled Spirits Council's Lisa Hawkins projected that action on the "standards of fill" proposal may be delayed until later this year.
In addition, the TTB is under interim leadership following the death of longtime administrator John Manfreda on May 25. Deputy Administrator Mary Ryan has been named acting TTB administrator until the Treasury Department names a permanent administrator.
Links: Tax & Trade Bureau | Cadenhead's | Glass Revolution Imports | Distilled Spirits Council | American Craft Spirits Association | Kentucky Distillers Association | Westland Whiskey