The WhiskyCast Tasting Panel is your place to test your nosing skills. Each month, we bring together a panel of listeners to taste and score whiskies. You generally won't find the ultra-rare exclusive bottlings here…we focus on whiskies that you're most likely to find at your local pub or retailer. If you're interested in being on the tasting panel for an upcoming episode, just use our contact form to get in touch!
This is another in our series of special episodes during the coronavirus pandemic to help bring whisky lovers together while staying home, and comes from our live webcast on April 15, 2020. We revived the WhiskyCast Tasting Panel format for this webcast, and our panelists come from the world of IndyCar racing – where there are a number of Bourbon connoisseurs in the paddock. "Off Track with Hinch & Rossi" podcast hosts James Hinchcliffe and Alexander Rossi have had great success on the race track, where Rossi made his mark in history by winning the 100th running of the Indianapolis 500 in 2016. Together with their "Off Track" podcast producer Tim Durham, they joined Mark for a tasting of the vintage Ancient Ancient Age 10-year-old, Jim Rutledge's Cream of Kentucky 11.5-year-old, the Elijah Craig 21-year-old single barrel, and a Wyoming Whiskey single barrel bottled especially for the British Columbia provincial liquor stores.
Links:
AlexanderRossi.com
|
Hinchtown.com
|
Ancient Age
|
Cream of Kentucky
|
Elijah Craig
|
Wyoming Whiskey
---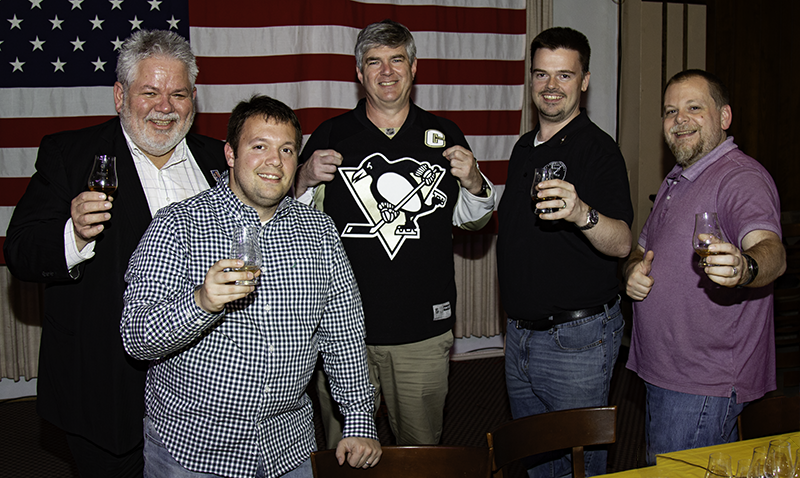 When the Pittsburgh Whiskey Friends invited us to come to their city and lead a benefit tasting in honor of the 11 people killed in the October 27, 2018 mass shooting at the Tree of Life Synagogue, we didn't hesitate. This episode was recorded at the tasting on November 26, 2018 in Pittsburgh, with all of the proceeds going to benefit the Hebrew Immigrant Aid Society (HIAS) in memory of the Tree of Life shooting victims. Dad's Hat, Powers, Amrut importer Raj Sabharwal, and Liberty Pole Spirits donated the whiskies for the evening, and Christian Kahle won a raffle for one of the spots on our tasting panel. He joined Bobby Long and Scott Ritenbaugh from the Pittsburgh Whiskey Friends and public broadcasting personality Rick Sebak to taste the Dad's Hat Pre-Prohibition Style Pennsylvania Rye, Powers Three Swallow, Amrut Fusion, and Liberty Pole's Peated Bourbon.
Links:
Pittsburgh Whiskey Friends
|
Hebrew Immigrant Aid Society
|
Dad's Hat
|
Powers Irish Whiskey
|
Amrut
|
Liberty Pole Spirits
---
We're tasting Bottled in Bond Bourbons this time around with members of the Monmouth Whisky Club in New Jersey. Rich Romano, Michael Timpanero, and Glenn Fuchs tasted the Henry McKenna 10-year-old Single Barrel, the Old Forester 1897 Bottled in Bond, and Old Granddad Bonded while other club members chimed in from the audience. Bottled in Bond whiskies have become more popular in recent years because of demand from bartenders for higher-proof whiskies that don't get diluted as much in cocktails, but they're also excellent on their own and usually offer good value for the price.
Links:
Monmouth Whisky Club
|
Henry McKenna
|
Old Forester
|
Old Grand-Dad
---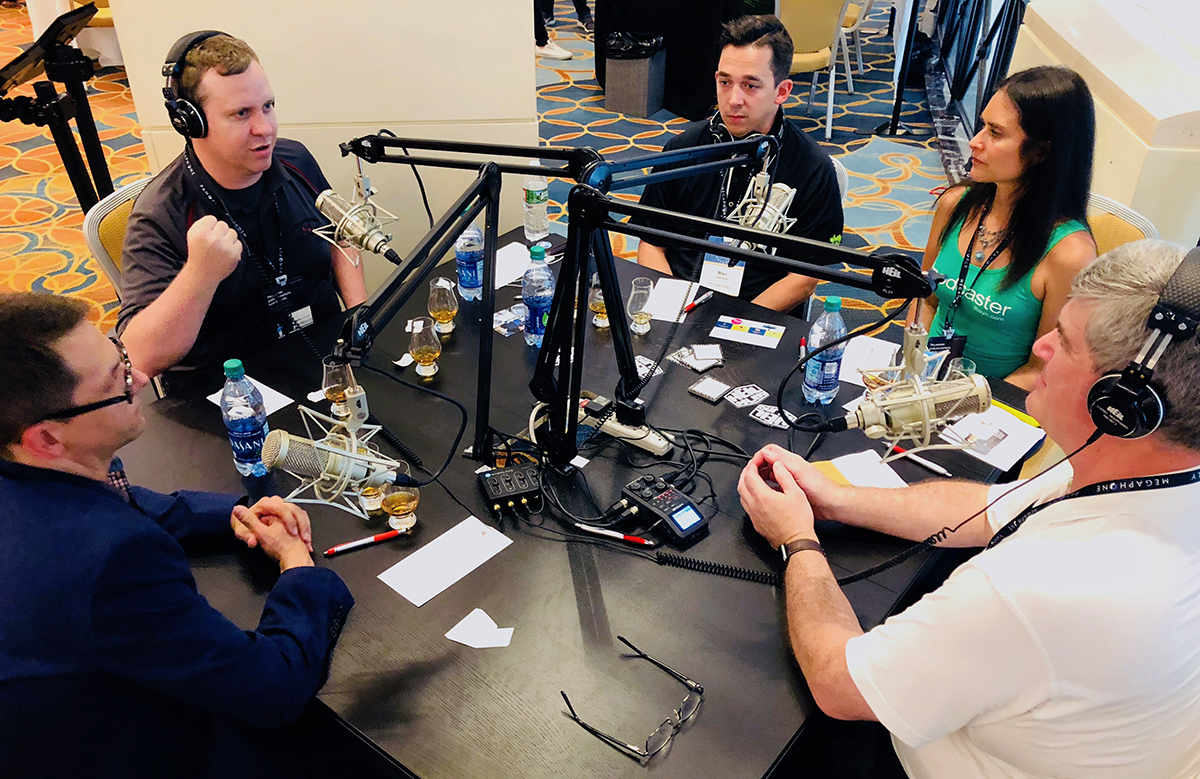 We've assembled a panel of podcasters and a longtime WhiskyCast listener for this Tasting Panel session recorded on location at the Podcast Movement 2018 conference in Philadelphia. Elsie Escobar, Chris Liro, Sean MacCready, and Mike Joachim nosed and tasted a flight of rye whiskies: Heaven Hill's Pikesville Rye, Beam's Old Overholt Bottled in Bond Rye, and High West's 2018 edition of its Yippee Ki-Yay rye.
Links:
Podcast Movement
|
Pikesville Rye
|
Old Overholt
|
High West
---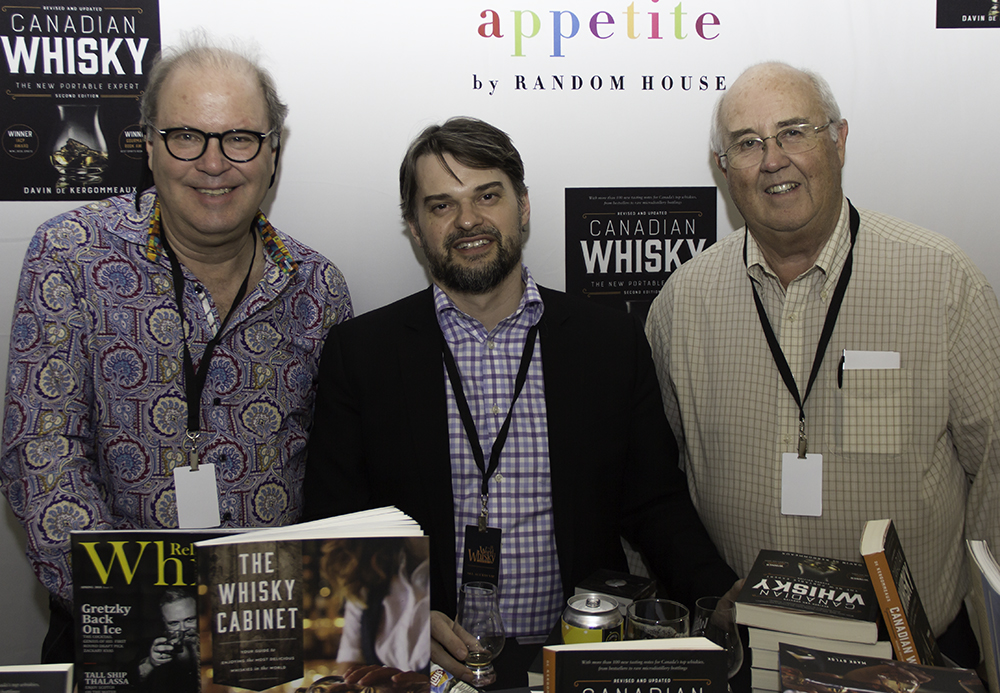 This month, we put our panel to the test and had them taste three whiskies blind. The only thing Davin de Kergommeaux, Mark Bylok, and Frank McDonald knew was that they were tasting peated single malts from Scotland, and we'll keep you guessing, too…right up until we reveal the whiskies and surprise all three panelists! Our panel gathered at the Wonderful World of Whisky Show at the NAV Centre in Cornwall, Ontario, and we're grateful to Ian Bentley and the entire staff of the NAV Centre for their help in making this episode possible.
Links:
NAV Centre
|
CanadianWhisky.org
|
The Whisky Topic
|
Companions of the Quaich
---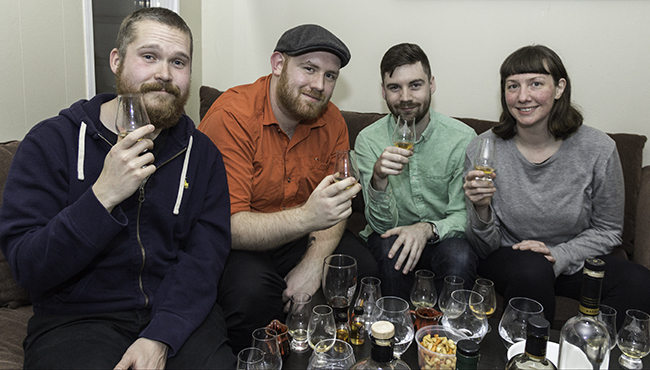 This time around, we're on the road in Victoria, British Columbia to taste four whiskies from four different countries with some of the folks from The Strath whisky and spirits shop as part of the annual Victoria Whisky Festival. Pat Dunlop, Adam Bradshaw, Dan Rampling, and Emily de Korte tasted the Bernheim 7-year-old Straight Wheat Whiskey from Kentucky, Penderyn's Madeira Finish Welsh single malt, the Glenglassaugh Revival single malt from Scotland, and Nikka's Coffey Malt from Japan.
Links:
The Strath
|
Victoria Whisky Festival
|
Bernheim
|
Penderyn
|
Glenglassaugh
|
Nikka
---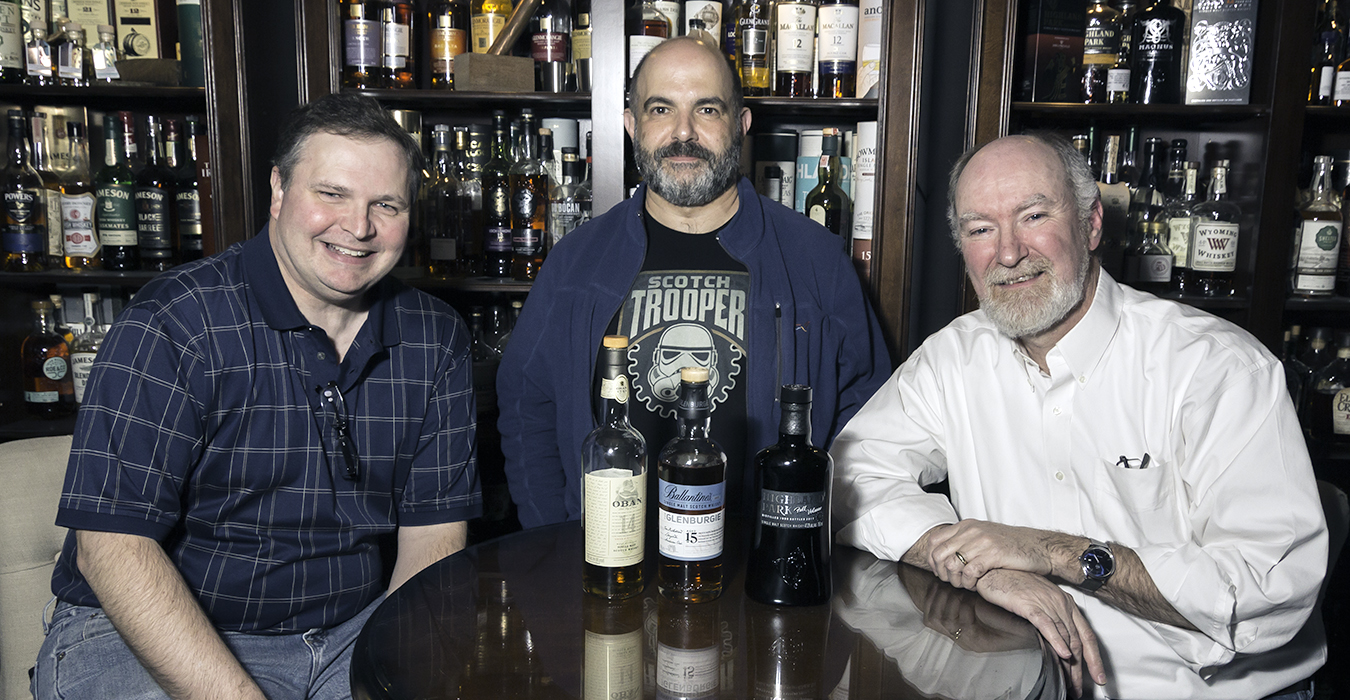 With the holiday season in full swing, we turned to three "wise men" for this month's Tasting Panel and gave them three single malt Scotch whiskies to taste and score. Mike Farley, Angelo Veneziano, and Sam Speers tasted the Oban 14, The Glenburgie 15 from the Ballantine's Single Malt Series, and the 18-year-old Highland Park Full Volume. There's also a bonus holiday dram at the end, too.
Links:
Oban
|
The Glenburgie
|
Highland Park
---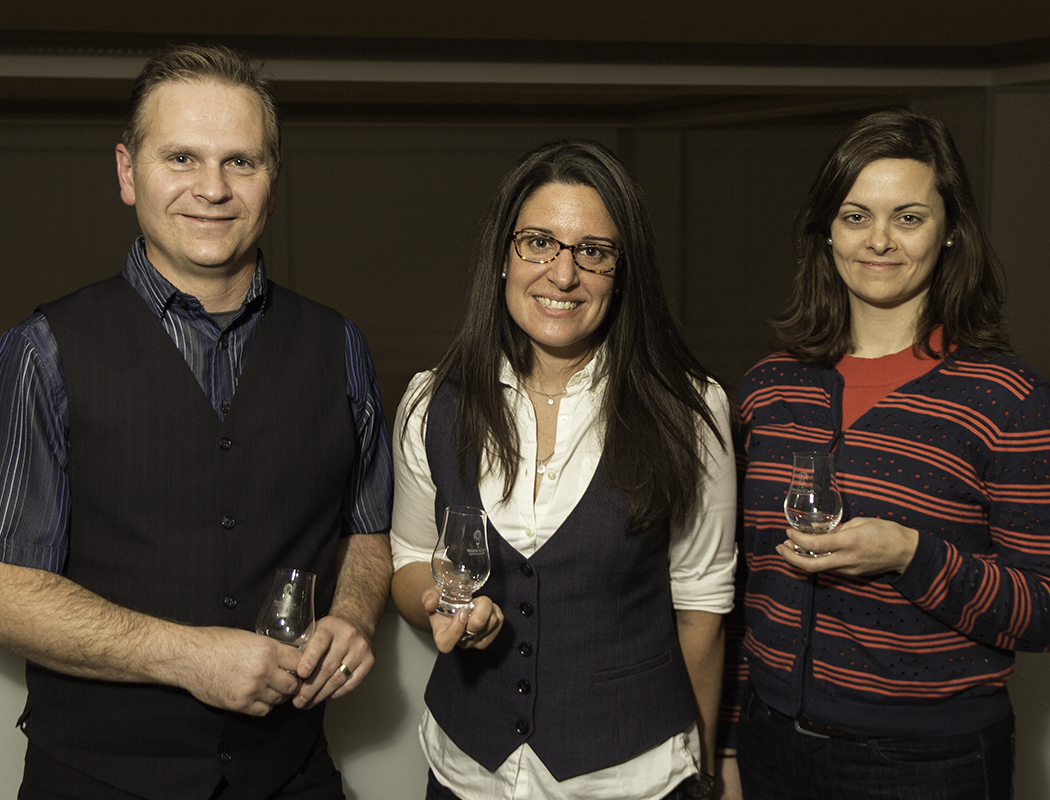 This time around, we're tasting Highland single malts with a panel of Canadian whisky lovers at the New Brunswick Spirits Festival in Fredericton, New Brunswick. Rhonda Moore, Tanya Gracie, and Tyrone Cotie sat down to nose and taste the Glenfiddich Solera Reserve 15-year-old single malt, The Dalmore 12, and the Talisker 10, and also shared their stories of visiting Glenfiddich and Talisker. We'll also crown a new Whisky Club of the Month and tell you how you can be part of a tasting panel for an upcoming episode.
Links:
New Brunswick Spirits Festival
|
Glenfiddich
|
The Dalmore
|
Talisker
---
No, we're not tasting Australian Bourbons…we have Australians tasting Bourbons this time around! Lilith Morgan and Chris Tatzenko make the long trip from Australia to the U.S. each year for the Kentucky Bourbon Festival, and stopped by the WhiskyCast studio during a side trip to New York City. Colton Smith joined them to taste four Bourbons: the Four Roses Al Young 50th Anniversary Limited Edition Small Batch, the 2o17 Old Forester Birthday Bourbon, the 2017 Angel's Envy Cask Strength limited edition, and a special bottling of Weller 107 for Julio's Liquors in Massachusetts that blends together two barrels of Bourbon.
Links:
Four Roses
|
Old Forester
|
Angel's Envy
|
Julio's Liquors
---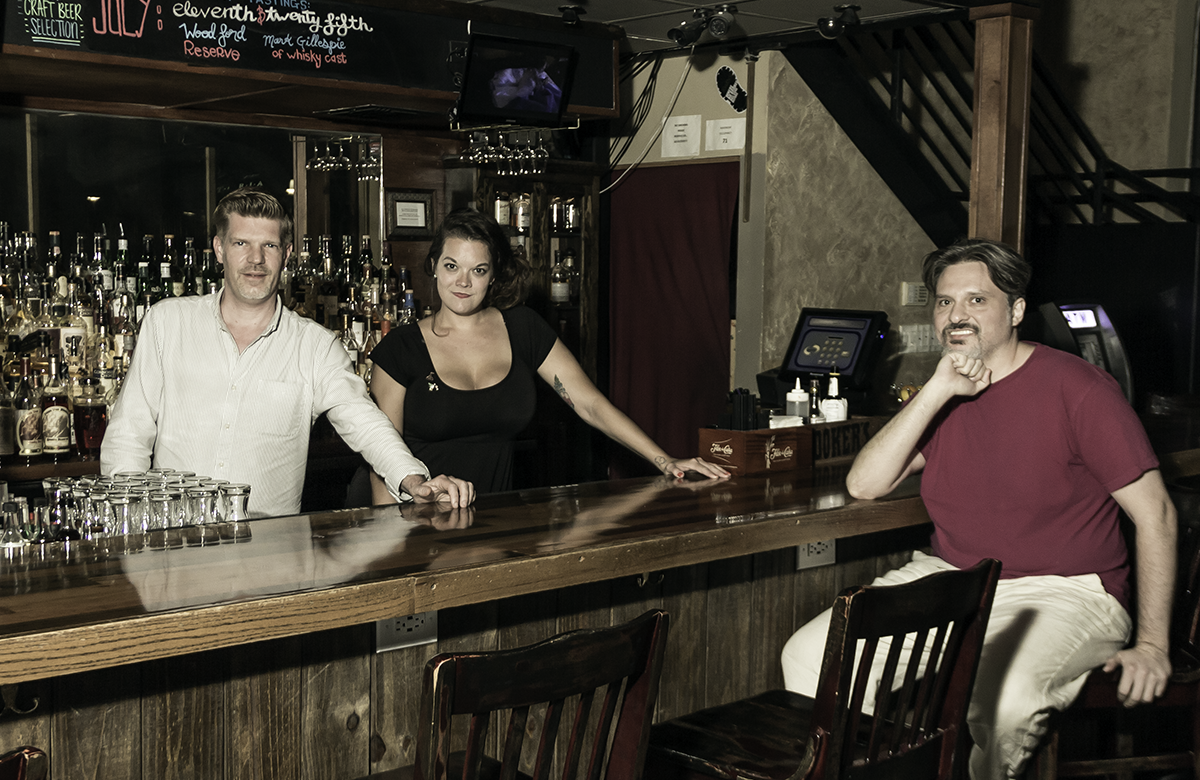 We're back with a new name, but with the same goal of opening up whisky conversation as regular whisky lovers taste, rate, and debate whiskies from around the world! This month, we're in Houston, Texas at Reserve 101, one of the city's best whisky bars, to taste the Brenne 10-year-old French single malt, the Glen Grant 18-year-old single malt, and Sonoma County Distilling's Cherrywood Rye from California.
We should note that our panel was recorded before Hurricane Harvey devastated many parts of Houston and the Texas Gulf Coast. Fortunately, the bar and our panelists – Reserve 101 owner Mike Raymond, bartender Christa Havican, and Houston whisky writer Nath Pizzolatto – all made it through the flooding safely. However, many of their friends and neighbors were less fortunate, and we'll tell you how you can support the region's recovery efforts, too.
Links:
Reserve 101
|
Brenne Whisky
|
Glen Grant
|
Sonoma County Distilling
|
Greater Houston Community Foundation
---