November 10, 2017 – Kentucky's Bourbon boom is getting another shot in the arm, as Stoli Group has now officially confirmed its widely-rumored plans to build a distillery in Bardstown to make its Kentucky Owl Bourbon, while developing a full range of American whiskies to complement the brand it acquired in January from hotelier and whisky blender Dixon Dedman. When completed, the Kentucky Owl Park will be not just a distillery, but a destination complete with its own hotel, convention center, art gallery, and even a concert hall. The division of Luxembourg-based SPI group has acquired 420 acres of land, including the current Cedar Creek Quarry site, and will begin construction on its first rickhouses and the distillery in early 2018.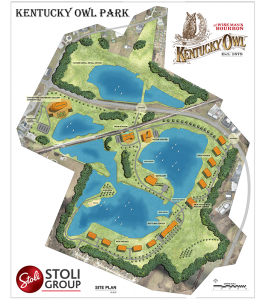 "It's hard to surprise somebody with a distillery…there are a lot of great sites," said Dmitry Efimov, who heads Stoli Group's American Whiskey Division. "We decided to approach it from a slightly different angle. We want to build a state-of-the-art distillery…but we also want to take it as a destination to a completely different level. We want to have a site that will be known way beyond Kentucky, and way beyond the United States, actually," he said in a telephone interview.
Much of the distillery site has been used as a stone quarry for the last 70 years, and the plans call for the pits to be turned into 200 acres of lakes that will provide recreational opportunities along with a water supply for the distillery. In addition, the old train station on the quarry site will be refurbished, with plans to have the "My Old Kentucky Dinner Train" make regular stops at the station once the distillery opens in 2020.  According to Efimov, the initial $150 million dollar construction phase will include the distillery and production facilities, with an overall timeline of eight to ten years for the convention center, a hotel, and other facilities. Efimov declined to provide an estimate for the project's overall cost.
Listen to Mark Gillespie's interview with Dmitry Efimov: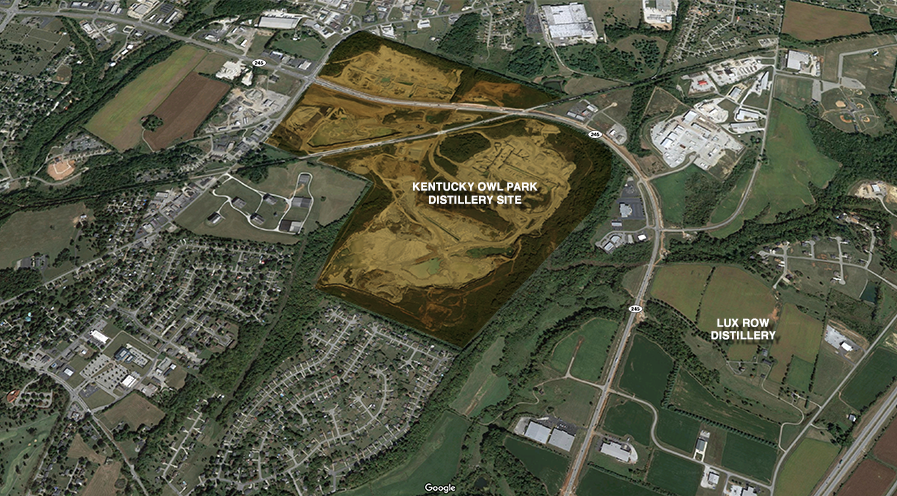 The Kentucky Owl Park site will span both sides of Highway 245, which runs along the north and eastern edges of Bardstown, and is close to Luxco's new Lux Row Distillery, which is scheduled to begin production in early 2018. The distillery is also about a mile from the Bardstown Bourbon Company, which opened in September 2016, and is another major investment in Bardstown's economic development program centered on its history as the "Bourbon Capital of the World." In a news release, Bardstown Mayor Dick Heaton praised the move. "This new investment is a testament that there is no better place to make bourbon, educate and entertain visitors than Bardstown, Kentucky. The announcement comes as a result of much hard work by many people in the public and private sector here. The City of Bardstown is proud to be a part of this exciting project," he said.
Kentucky Owl is Stoli Group's entry into the American Whiskey market. The company is most well-known for its Stolichnaya Vodka, but also operates a tequila distillery in Mexico and a rum distillery in Louisiana. It bought Kentucky Owl in January from Dixon Dedman, who operates the Beaumont Inn in Harrodsburg, Kentucky with his family. His great-great grandfather, C.M. Dedman, started distilling Kentucky Owl in 1879 and made it until 1917, when Prohibition forced the distillery to close and the U.S. Government seized Dedman's maturing stocks of whiskey. Dixon Dedman released the first modern bottling of Kentucky Owl in 2014, and joined Stoli Group as its master blender as part of the January deal. Earlier this fall, Stoli Group released the first bottling of Kentucky Owl Straight Rye Whiskey, along with the seventh batch of Kentucky Owl Straight Bourbon. 
Kentucky Governor Matt Bevin and other state officials pledged their support for the Kentucky Owl Park project during a groundbreaking ceremony Wednesday at the quarry in Bardstown. The Kentucky Economic Development Finance Authority has already approved a $2 million package of tax credits and incentives based on an estimated 77 new jobs that will be created when the distillery opens.
Links: Kentucky Owl | Stoli Group