December 18, 2016 – Australia's leading malt whisky distiller has been sold, with a family-controlled group acquiring the Tasmania Distillery and its award-winning Sullivan's Cove whisky brand for an undisclosed amount. According to Executive Style, the buyers are led by Australian Adam Sable, who has been managing director for David Prior's Bladnoch Distillery in Scotland and its Pure Scot blended Scotch whisky brand. While the distillery will take on the Sullivan's Cove name under the new ownership, no other changes are expected.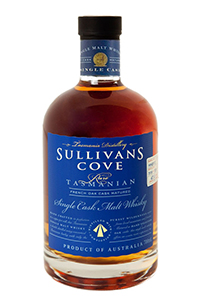 The move ends 13 years of ownership for the investor group led by distiller Patrick Maguire, who will remain with the distillery under its new ownership. Maguire is credited with taking Australia's developing malt whisky industry and putting it on the world stage when his Sullivan's Cove French Oak single malt was named "World's Best Single Malt Whisky" in Whisky Magazine's 2014 World Whiskies Awards.
Ironically, that award may have begun the process that led to the sale. "Ever since we won the World's Best Whisky Award, it's gone crazy," Patrick Maguire said in a telephone interview. "We just haven't had enough stock…demand has outstripped supply many times. That's given us the opportunity to get a good cash flow going, and we have been producing a lot more new make whisky, so we've been putting a lot more barrels down." However, Maguire said the distillery didn't have the resources needed to cope with long-term capital needs, such as additional warehouse space. "The sensible thing was to hand it over to someone who had the money to put into the business to grow it the way it should be grown," he said, admitting that his head and his heart are still in a bit of conflict over the decision to sell.
Maguire noted that he and his partners had received numerous inquiries about selling either all or a part of the distillery over the last two years, but the family group led by Adam Sable and his father-in-law made the best fit. The new owners are involved in several Melbourne businesses in addition to Sable's previous work with Bladnoch.
This is the second major deal involving an Australian distillery in the last three months. In October, Australian Whisky Holdings acquired Nant Distilling Company from founder Keith Batt's Nant Group. Batt was forced to file for personal bankruptcy in February after buyers of stakes in Nant's barrels claimed they were unable to redeem their investments. The private equity group also owns stakes in the Lark, Overeem, and Redlands distilleries in Tasmania. It is also the third distillery sale to be announced in the last three weeks, following Rémy Cointreau's acquisition of Seattle's Westland Distillery and Pernod Ricard's deal last week to buy a majority stake in West Virginia's Smooth Ambler Spirits.
Editor's note: This story was updated with comments following an interview with Patrick Maguire. 
Links: Sullivan's Cove