WhiskyCast is where it all begins. Now in our 9th year, each weekly episode brings you the latest in whisky news, along with the latest events, tasting notes, comments from other listeners, and the weekly "In-Depth" segment features interviews with the people who help make whisky the "water of life".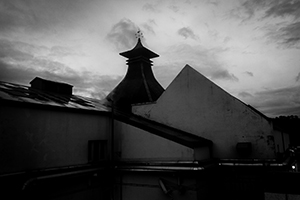 Dewar's has focused on its Blended Scotch whiskies for generations, with the limited exception in recent years of single malts from Aberfeldy. However, a team within Dewar's has been working quietly for the last six years to change that focus, and the result is the Last Great Malts series. The new range made its debut earlier this year with redesigned packaging for Aberfeldy, and new whiskies from Craigellachie and Aultmore are just now entering the market. In 2015, we'll see The Deveron single malts from Macduff Distillery and the first mainstream single malts ever from 212-year-old Royal Brackla. Stephen Marshall led the Dewar's team behind the Last Great Malts, and opens up about the process behind the new range on this week's WhiskyCast In-Depth. In the news, new distilleries are on line in Scotland and Kentucky, a historic Speyside whisky bar is open after major renovations, and the "Bourbon Summit" may already have a winner.
Links:
The Last Great Malts
|
Annandale
|
Nelson's Green Brier Distillery
|
Craigellachie Hotel
|
Monte Carlo Whisky Society
|
Ballantine's
|
Rogue Spirits
|
Single Oak Project
|
Buffalo Trace
|
Diageo
|
Fred Minnick's Blog
|
Saturday Night Live
|
Woodford Reserve
|
The Whisky Exchange
---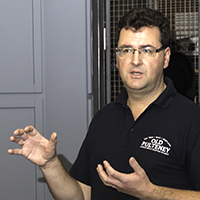 Stuart Harvey has been the master blender for Inver House for nearly 11 years, and he's living proof that you don't have to be born into the industry to become a master blender. He started out making beer, but made the switch to whisky and never looked back. He'll join us for this week's WhiskyCast In-Depth to discuss the art of blending, and how it's just as much of a challenge to create a Single Malt expression as it is a Blended Scotch.
In the news, Chip Tate has won a key battle in his bid to regain control of Balcones Distilling, thieves strike a whisky warehouse near Glasgow, and the Kentucky sheriff investigating last year's Pappy Van Winkle theft is convinced it was an inside job…but needs more evidence before he can make any arrests. We'll also look at the week's new whiskies, and this week's tasting notes feature the new Jura 1984 and Douglas Laing's new Timorous Beastie Highland Blended Malt.
Links:
Inver House
 | 
Hankey Bannister
 | 
Old Pulteney
 | 
Balblair 
| 
anCnoc
 | 
Speyburn
 |
Balcones Distilling
|
Daily Record
|
Old Rip Van Winkle
|
WLKY-TV
|
Laphroaig
|
Glenmorangie
|
Jura
|
Scottish Leader
|
Diageo
| 
Old Forester
|
Early Times
|
Douglas Laing & Co. 
---
This episode marks the end of our 9th year, and we'll hear from two of the more outspoken voices in the whisky world on this week's WhiskyCast In-Depth. Simon and Phil Thompson run the family-owned Dornoch Castle Hotel in the Scottish Highlands, and their hotel's bar was named Scotland's Whisky Bar of the Year this week by the Scottish Licensed Trade News. The Thompson brothers are almost as well-known for their opinions as their whisky selection, and they pulled no punches in a wide-ranging interview the other night in Dornoch. In the news, Diageo pulls the trigger on a swap of Bushmills for Don Julio Tequila, Glenfiddich goes retro with a new expression re-creating the one it pioneered in 1963, Pappy Fever hits epidemic status, and a Canadian liquor store pays the price for bargain-basement shelving.
Links:
Dornoch Castle Hotel
|
Bushmills
|
Diageo
|
Tullamore Dew
|
Glenfiddich
|
William Grant & Sons
|
Cincinnati Business Courier
 |
Meta
|
Wemyss Malts
|
Isle of Arran
|
Bunnahahbain
|
Whistlepig Rye
|
CBC News
|
Ardshiel Hotel
|
The Ardmore
|
Nikka
---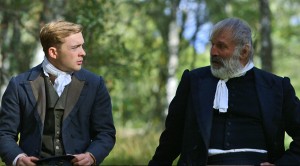 The battle between Scotland's illicit distillers and the excisemen known as "gaugers" is the stuff of which legends, books, and now, a movie have been made. Filmmaker Mike Dziennik's "Peat Reek" will be shown this coming weekend at the Inverness Film Festival, and tells the story of a young gauger sent to the Highlands to shut down the whisky makers and the local minister who helps him see the light. We'll talk with Mike Dziennik on this week's WhiskyCast In-Depth. In the news, the Wall Street Journal reports Diageo may be close to trading Bushmills for control of the Don Julio tequila brand, Emperador closes its deal to buy Whyte & Mackay, Old Pulteney goes green with biomass power, and Fireball faces a firestorm in Scandinavia. This week's tasting notes include The Balvenie's new Tun 1509 Batch 1, Balblair's 1999 Vintage Second Release, and what may well be one of the world's worst whiskies – a herring cask-finished single malt!
Links:
Peat Reek
 |
Bushmills
|
Diageo
|
United Spirits
|
Whyte & Mackay
|
The Dalmore
|
The Glenlivet
|
Douglas Laing & Co.
|
Jim Beam
|
Disaronno
 |
Fireball
|
Old Pulteney
|
Jim Murray's Whisky Bible
 |
Compass Box
|
The Balvenie
|
Balblair
---
---
---
This week, we'll look at the growth of craft distilling through the eyes of veteran drinks writer James Rodewald and distiller Darek Bell. Rodewald studied the boom in craft distilling for his new book "American Spirit." Bell is one of the co-founders of Corsair Artisan Distillery, and has just published his second book, "Fire Water" – a look at ways to produce uniquely smoky whiskies.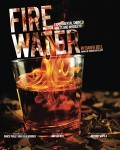 In the news, we'll also look at a bunch of new whiskies flooding the market from around the world, including The Glenrothes, Arran, The Balvenie, Clynelish, Woodford Reserve, and more. Speaking of floods, cleanup work is underway after a flood this week at a distillery in Speyside, and Manhattan mixologist Pam Witzinger of The Dead Rabbit teaches us how to make the perfect Manhattan. The Dead Rabbit was just named the best cocktail bar in North America and ranked #2 in the world by Difford's Guide.
Note: the entire interviews with James Rodewald and Darek Bell can be found in our WhiskyCast In-Depth section.
Links:
Corsair Artisan Distillery
|
The Press & Journal
|
Beam Suntory
|
Balcones Distilling
 |
The Glenrothes
|
Arran
|
Glenfarclas
|
Classic Malts
|
The Balvenie
|
Woodford Reserve
|
Tap Whisky
|
Barrell Bourbon
|
New Zealand Whisky Company
|
Whisky Festival Noord Nederland
|
Drinks International/Difford's
|
The Dead Rabbit
|
World of Whiskies
|
Glen Deveron
---
This is a special episode of WhiskyCast – not only is it the 500th episode, but it's the second of two episodes this weekend from The Whisky Show in London! We're packing a lot into this episode, with news on new whiskies from Girvan, Nikka, Kilchoman, and others, a re-start of production at Sweden's Mackmyra Distillery, and a look at some of the new whisky books just being published.
Our main focus, though, is an in-depth look at whisky collecting, following yet another mainstream media story in Sunday's Telegraph touting the investment value of rare whiskies. We'll talk to some of the whisky lovers who hoped to get one of the rare Karuizawa single malt bottlings produced specially for the show, but were beaten to the punch..along with some who managed to get their hands on one. Much of the demand is coming from Asia, and things have gotten so crazy that some whisky bloggers are shooting video of themselves smashing empty sample bottles of Ardbeg's recent Supernova release just to prove they didn't sell their coded samples. Finally, we'll hear from one of the world's top whisky collectors…Sukhinder Singh, who's seen whisky investing from all sides as both a collector and retailer of rare whiskies.
Links:
The Whisky Exchange
|
Mackmyra
|
Canadian Club
 |
Glen Grant
|
Girvan
|
Kilchoman
|
Nikka
|
Glenmorangie
|
Amrut
|
The Telegraph
---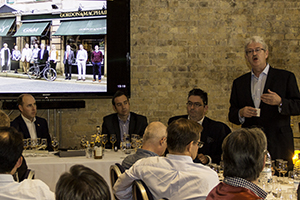 This is the first of two episodes this weekend from The Whisky Show in London, and we'll be looking at some of the new whiskies that made their debut this weekend at Vinopolis, home of The Whisky Exchange. Some of the newest whiskies are actually very old whiskies, including four special Gordon & MacPhail Private Collection single malts to celebrate the transition of the family-owned business to a new generation of Urquharts. Michael Urquhart, the last of the third generation members to retire, helped introduce the 57 to 63-year-old whiskies during a master class today in London. Another longtime family-owned firm, Berry Bros. & Rudd, unveiled the oldest single grain Scotch whisky bottling on record, a 50-year-old North British grain distilled in 1962.
We'll also check on the new Chivas Brothers distillery in Speyside that's ramping up operations this week, along with Edradour's plans to expand Scotland's smallest distillery, and check on other new releases from around the world.
Links:
The Whisky Show
|
Chivas Brothers
|
Edradour
|
The Macallan
|
Compass Box
|
Hunter Laing & Company
|
35 Maple Street
|
Amrut
|
Edrington
|
South Wales Whisky Interest Group
|
Whisky Online Auctions
|
Gordon & MacPhail
|
Berry Bros. & Rudd
---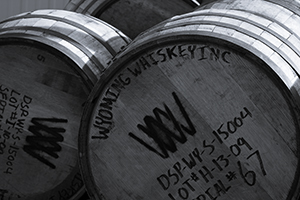 With all of the issues being raised over whisky labeling in the US and a new lawsuit challenging claims on Templeton Rye's labels, we'll hear this week from an attorney who's become an expert in the US regulatory process as both a lawyer and distillery owner. David DeFazio is one of the co-founders of Wyoming Whiskey, and has been through the TTB's maze of red tape on several occasions. He'll explain the process and the potential pitfalls on this week's WhiskyCast In-Depth. In the news, we'll have more on the class-action lawsuit targeting Templeton Rye, Brown-Forman will invest $30 million in a new downtown Louisville distillery for Old Forester, and Scotch whisky exports fell during the first half of 2014. We'll also have the latest on new whiskies from around the world, and here's a riddle to this week's tasting notes: think of a deer lost in space.
Links:
Wyoming Whiskey
|
Old Forester
|
Brown-Forman
|
Templeton Rye
 |
Scotch Whisky Association
|
The Glenlivet
|
anCnoc
|
Glenmorangie
|
Douglas Laing & Co.
|
Chivas Regal
|
Laphroaig
|
Angel's Envy
|
Skinner Auctioneers
|
Ardbeg
|
Compass Box
|
Buffalo Trace
---