WhiskyCast is where it all begins. Now in our 9th year, each weekly episode brings you the latest in whisky news, along with the latest events, tasting notes, comments from other listeners, and the weekly "In-Depth" segment features interviews with the people who help make whisky the "water of life".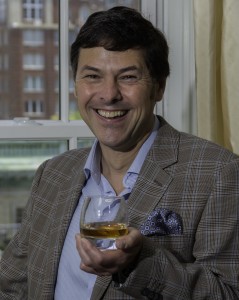 Glenmorangie's Dr. Bill Lumsden wanted to push the envelope 16 years ago when he got his hands on some French Oak barriques from an undisclosed Bordeaux wine chateau, and see just how long he could put a whisky away for finishing. He got his answer a couple of years ago when five of those barriques yielded the Glenmorangie Pride 1978 single malt that was released this week. We'll discuss that process with him on this week's WhiskyCast In-Depth, and he'll respond to Ardbeg lovers who claim the Islay landmark's current releases don't quite match up to those old classic Ardbegs, but still want him to revive the Ardbeg 17-year-old. In the news, Scotland's whisky industry gets dragged into the independence referendum debate, while two distillers pick their sides in the showdown. Speaking of showdowns, John Wayne's family is squaring off in court against Duke University over a Bourbon honoring the legendary movie star.
Links:
Glenmorangie
|
Ardbeg
|
Scotland Electoral Commission
 |
William Grant & Sons
|
Scotch Whisky Association
|
Springbank
|
Old Pulteney
|
The Glenrothes
|
Jack Daniel's
|
The James Beard House
|
The Flatiron Room
|
Duke Spirits
|
Duke University
 |
Downslope Distilling
---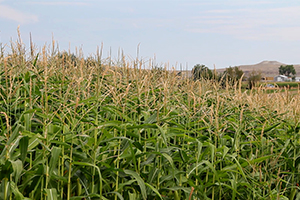 Corn farmers have a saying "knee high by the Fourth of July" to gauge whether their crop will be a good one, and we'll look at the grains that go into making "America's Native Spirit" with veteran Bourbon distiller Dave Pickerell on this Independence Day episode. Corn, rye, wheat, and barley each add their own unique character to a Bourbon, along with many of the exotic grains distillers experiment with, and Dave will break them down for us on this week's WhiskyCast In-Depth. In the news, Glasgow leaders give their blessing to a new distillery along the River Clyde, and we'll have more on new distilleries in Ireland and New Zealand, along with an update on new whiskies from Highland Park, Jim Beam, and Kininvie. This week's tasting notes include Barrell Bourbon, Jim Beam's new Signature Craft Quarter Cask, High West's American Prairie Reserve, and a rare Glengoyne 15 matured exclusively in Bourbon casks.
Links:
George Washington's Distillery
|
A.D. Rattray
|
The Southland Times
|
Slane Castle
|
William Grant & Sons
|
Highland Park
|
Barrell Bourbon
|
Gonzalez Byass
|
Bowmore
|
Glenmorangie
|
The Open Championship
|
Jim Beam
|
High West
|
Glengoyne 
---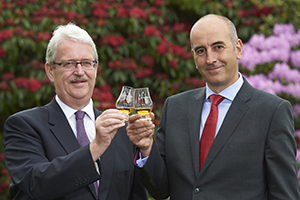 Michael Urquhart is retiring from Gordon & MacPhail in September, but the leader of the family-owned business calls it a natural "changing of the guard." However, his successor is the first person from outside the Urquhart family to lead Gordon & MacPhail in its 120-year history. We'll talk whisky and family with Michael and Ewen Mackintosh on this week's WhiskyCast In-Depth. In the news, there's another retirement as Bruichladdich's Duncan McGillivray wraps up his 40-year career, the Bourbon Capital of the World is getting another new distillery as the Bardstown Bourbon Distillery brings a Bourbon Hall of Famer home, and we'll catch up with the guys from Seattle's Westland Distillery as they spread their wings with a new distribution deal.
Links:
Gordon & MacPhail
|
Bruichladdich
|
Bardstown Bourbon
|
Jim Beam
|
Glenfiddich
|
Old Pulteney
|
Glen Garioch
|
Bowmore
|
Westland Distillery
|
WFAA
|
Firestone & Robertson
|
Classic Malts
|
Glen Deveron
|
Redemption Rye
---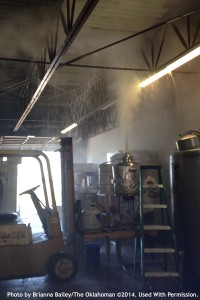 Distilling is serious business, and safety is paramount. Brianna Bailey of The Oklahoman can testify to that…she was an eyewitness to an explosion inside Twister Distillery in Moore, Oklahoma on Friday, June 13. The photo at right shows distiller Jeff Thurmon seconds before an open propane flame ignited the alcohol spraying from his still. Bailey and the distillery's owner escaped unhurt. She shares the story of that day with us on this week's WhiskyCast In-Depth, and Scott Harris of Catoctin Creek Distillery explains why distillers have to make safety their top priority. Even if you never plan to work in a distillery, you may visit one someday, and we all need to keep safety in mind. We also have updates on new distilleries and expansion projects in Scotland, Utah, and Kentucky…the latest on new whiskies from Maker's Mark, Crown Royal, and Bowmore…and the kickoff of the Summer Whisky Challenge.
Links:
The Oklahoman/NewsOK.com
|
Twister Distillery
|
Catoctin Creek
|
Kingsbarns Distillery
|
Maker's Mark
|
High West
|
Jewish Whisky Company/Single Cask Nation
|
Diageo
|
United Spirits
|
Crown Royal
|
Bowmore
|
Jim Beam
|
Jack Daniel's
|
McTear's
|
Bonhams
---
---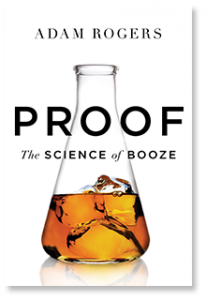 Humans have been drinking alcohol for centuries, but there are still many things we don't understand about it…basic things like the chemistry behind fermentation and the biology behind the effect it has on us. Wired Magazine's Adam Rogers has been studying the science of alcohol for his new book "Proof: The Science of Booze" and "distills" it into layman's terms for us on this week's WhiskyCast In-Depth. In the news, UK regulators want the public to weigh in on the sale of Whyte & Mackay, Campari completes its acquisition of Canada's Forty Creek Distillery, and Australia's Tasmania Distillery is on the move. We'll continue the science focus in this week's tasting notes with a look at the latest Buffalo Trace Experimental Collection Bourbons.
Links:
Adam Rogers
|
Competition & Markets Authority
|
Whyte & Mackay
|
Diageo
|
Alliance Global
|
Forty Creek
|
Gruppo Campari
|
Tasmania Distillery
|
Box Distillery
|
Brown-Forman
|
Art Antiques London Auction
|
Buffalo Trace 
---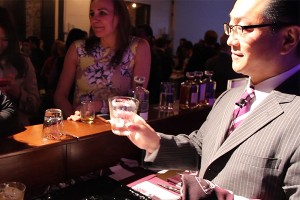 Tokyo's whisky bars are legendary, but so hard to find that they're often compared to Prohibition-era speakeasies. Hidetsugo Ueno owns Bar High Five in Tokyo's Ginza district, and shares his stories of Tokyo bar life with us on this week's WhiskyCast In-Depth. In the news, Diageo announces plans for a new $115 million distillery in Kentucky, while the drinks giant's CEO is warning of problems if Scotland breaks away from the United Kingdom. Robb Report names Redbreast 21 its "Best Of The Best" among spirits, and Ardbeg kicks off its World Cup-themed Auriverdes single malt not on Islay, but just outside Boston. This week's tasting notes include Auchentoshan's new American Oak single malt, Tomatin's new 14-year-old, and the Buchanan's Master blended Scotch.
Links:
Bar High Five
|
Diageo
|
The Spirits Business
|
Officer's Choice
|
Robb Report
|
Redbreast
|
Auchentoshan
|
Glenglassaugh
|
Grant's
|
Julio's Liquors
|
Ardbeg
|
The Famous Grouse Experience
|
The Macallan
|
Tomatin
|
Buchanan's
---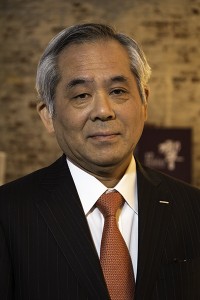 Seiichi Koshimizu has been making whisky at Suntory for 41 years, and became the company's chief blender in 1991. Over the years, he's been responsible for the Hibiki range of blended whiskies, along with the Yamazaki and Hakushu single malts. With help from interpreter Ayami Nakao, he'll share his story with us on this week's WhiskyCast In-Depth. The Islay Festival of Malt & Music kicks off this weekend, and we'll have updates on several of this year's Feis Ile bottlings along with a new Laphroaig, experimental Bourbons from Buffalo Trace, and more in the week's news. This week's tasting notes include the Hibiki 17, Orphan Barrel Rhetoric, Bernheim Original Wheat Whiskey, and Armorik Double Matured from France.
Links:
Suntory
|
Crown Royal
|
Mexcor
|
Popcorn Sutton
|
Jack Daniel's
|
Chivas Brothers
|
The Spirits Business.com
|
Bladnoch
|
Laphroaig
|
Caol Ila
|
Lagavulin
|
Buffalo Trace
|
Corsair
|
Cedar Ridge
---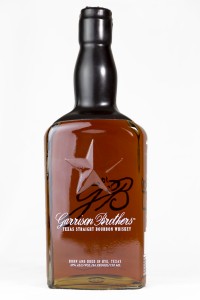 The old saying goes "when life gives you lemons, make lemonade." Dan Garrison's life was full of lemons back in 2003, and he decided to make lemonade…or in this case, Bourbon. His Garrison Brothers Distillery in the Texas Hill Country helped spark the Texas whiskey boom, and Dan Garrison shares his story with us on this week's WhiskyCast In-Depth. In the news, the third Orphan Barrel Bourbon from Diageo is on the way, along with another batch of Buffalo Trace's Single Oak Project Bourbons…we'll get a preview of Bunnahabhain's Feis Ile whiskies, and Scotch Whisky Association leaders are expressing more concerns about September's independence referendum.
Links:
Garrison Brothers
|
Diageo
|
Buffalo Trace
|
Single Oak Project
|
Bunnahabhain
|
Wealth Solutions
|
Gordon & MacPhail
|
Forty Creek
|
Campari America
|
Scotch Whisky Association
|
Kentucky.gov
|
Wild Turkey
---
Mark Brown heads up Buffalo Trace and its parent company, Sazerac, and he's known for speaking his mind even when it goes against the rest of the Bourbon industry. These days, he's expressing concerns about an ongoing shortage of Bourbon that can't meet today's demands, let alone the potential demand in years to come. Not only is aged Bourbon in short supply, but the new oak barrels Bourbon producers depend on are also in short supply. Brown says distillers, cooperages, and forest owners need to start working on a strategy for the future. In the news, Whyte & Mackay sells for $724.5 million, Suntory's moving quickly to get more Japanese whisky into the US market after closing its deal to buy Beam, and a Speyside golf club now has whiskies from every one of the area's distilleries in its clubhouse.
Links:
Buffalo Trace
|
Whyte & Mackay
|
Alliance Global
|
Beam Suntory
|
Four Roses
|
Kilchoman
|
Teeling Whiskey Company
|
Maverick Drinks
|
Master of Malt
|
Johnnie Walker
|
Spirit of Speyside Festival
|
Moray Golf Club
|
Gordon & MacPhail
|
The Glenlivet
|
Ardbeg
---