By Mark Gillespie
June 15, 2021 – Single malt whiskies have been a mainstay of the whisky world for decades, but in one of the world's largest whisky markets, there is no legal definition for "single malt" whisky. Now, the Treasury Department's Alcohol and Tobacco Tax & Trade Bureau has taken the first baby step in the process of creating a legal standard for "American Single Malt" whisky.
The agency has added the topic to the federal government's "Unified Agenda" overseen by the Office of Management and Budget. That document outlines proposed regulatory actions across all federal agencies, and serves as a guide to both current and future plans for changes in federal regulations.
In this case, the TTB acknowledged the requests from distilling industry groups and consumers to create a "standard of identity" for American Single Malt whiskies. That includes the American Single Malt Commission, a group of more than 170 distillers either selling American Single Malt whiskies now or maturing them for future releases. Matt Hofmann, master distiller and co-founder of Seattle's Westland Distillery, is one of the Commission's leaders and praised the move in an Instagram post Monday night.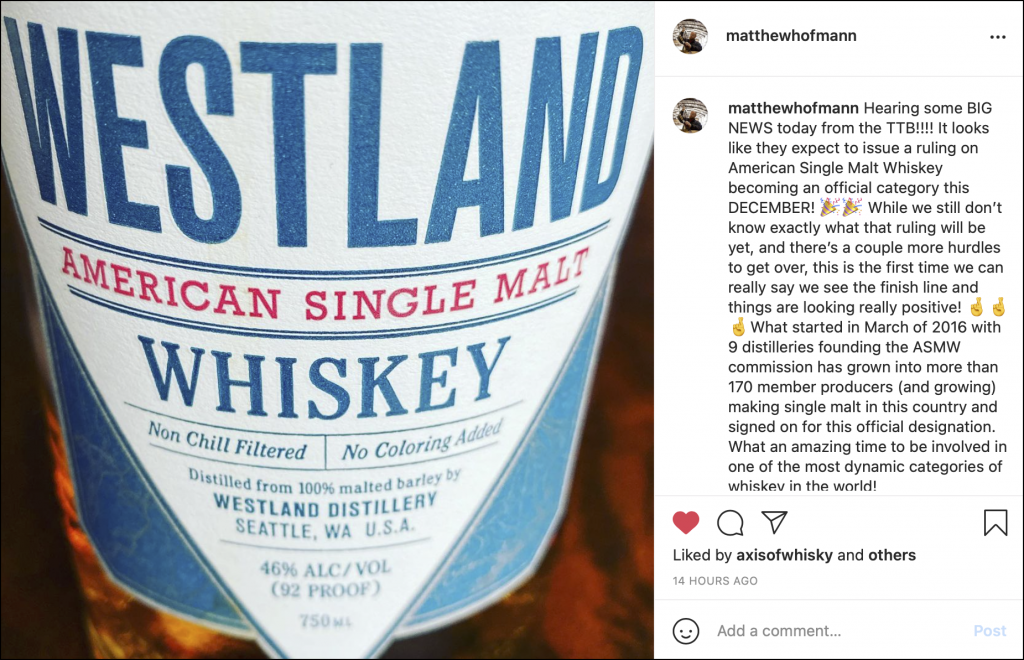 "Whether it takes six months or 18 months…we're whiskey makers, we're used to waiting," Hofmann said in a telephone interview. "To be able to have a start to the process and to really have it be publicly declared 'OK, this is on the table, this is what's being worked on,' is definitely a big achievement," he said.
The agency's Unified Agenda notice does not give any guidance on what TTB staff might recommend in the proposed regulation. Those recommendations will not become public until the next step in the process, when the agency issues a "Notice of Proposed Rulemaking" (NPRM) in the Federal Register. According to the agenda, that notice could be issued as early as this December, but it should be noted that regulatory actions are often delayed long past the initial timeline. Issuing the NPRM then opens up a 60-day comment period for the public and industry to suggest changes to the proposed rules. Following that period, TTB staff then  take those comments into consideration before deciding on whether to issue a final change in the regulations.
As an example, the TTB's proposal to de-regulate specific sizes of bottles for distilled spirits was published in the Federal Register in July of 2019. After the public comment period generated criticism of the agency's original plan to only specify minimum and maximum bottle sizes and allow the use of any size bottle in between, TTB staff went back and revised their proposed rule changes. The final regulations were not issued until December 28, 2020, 18 months after the NPRM was issued.
The desire for an official definition of American Single Malt dominated public comments during the TTB's 2020 rewrite of regulations for distilled spirits, wine, and beer labeling and advertising regulations. However, agency staff decided at the time to postpone action on the issue until a later date.
The Distilled Spirits Council of the United States was one of the groups submitting comments in favor of creating the definition at that time, and CEO Chris Swonger re-stated his support for it today. "It just underscores how thriving American whiskey is, and it's really exciting news…certainly DISCUS will be supportive and just make sure that we preserve and protect the integrity of American whiskey and now, it looks like American Single Malt Whiskey as well," he said in an interview.
Given that this is the first time the agency has considered creating a "standard of identity" for not just American Single Malt, but any single malt whisky, it's likely the initial draft regulations will not please everyone. Until now, the United States has treated most single malts under the standard for "malt whisky," which is written to the same requirements for Bourbon and mandates the use of  new charred oak barrels.
However, the United States allows three other countries to define their own standards for "single malt." Scotland, Ireland, and Canada have specific exemptions in the regulations where the U.S. defers to their legal definitions of whisky. That has caused conflicts in the past for importers of single malts from India, Japan, and other countries, including England and Wales — which have not always enjoyed the same treatment as their Scottish neighbors despite making their whiskies to the same legal standards. Whiskies from "non-traditional" whisky-making countries have been rejected during the TTB's label approval process under the "malt whisky" requirement for the use of new charred oak casks, though those rejections have become rarer in recent years as more countries begin exporting their whiskies to the U.S.
The American Single Malt Commission's proposal submitted to the TTB mirrors in many ways the Scotch Whisky regulations, with  the exception of Scotland's mandate that only pot stills can be used. It requires the use of 100% malted barley in whisky distilled at a single U.S. distillery to no more than 80% ABV, matured in oak casks no larger than 700 liters, and bottled at a minimum of 40% ABV. It would allow the use of either new or used barrels, and industry groups will be watching closely to see where the TTB staff comes down on that key issue. TTB officials have not yet responded to an interview request.
The American Single Malt proposal was just one of 24 proposed regulatory actions added to the Unified Agenda. Most involve the wine industry with creation of specific viticultural areas, but the list also includes a proposal that updates the current federal regulations to reflect the Craft Beverage Modernization and Tax Reform Act changes passed last December by Congress. That legislation was part of the Covid pandemic relief act and made the reduction of excise tax rates for small-scale distillers permanent.
Editor's note: This story was updated with comments from Westland Distillery's Matt Hofmann and DISCUS CEO Chris Swonger. 
Links: Tax & Trade Bureau | Westland Distillery | American Single Malt Whiskey Commission | Distilled Spirits Council of the United States