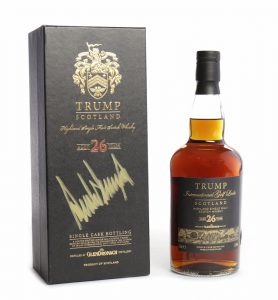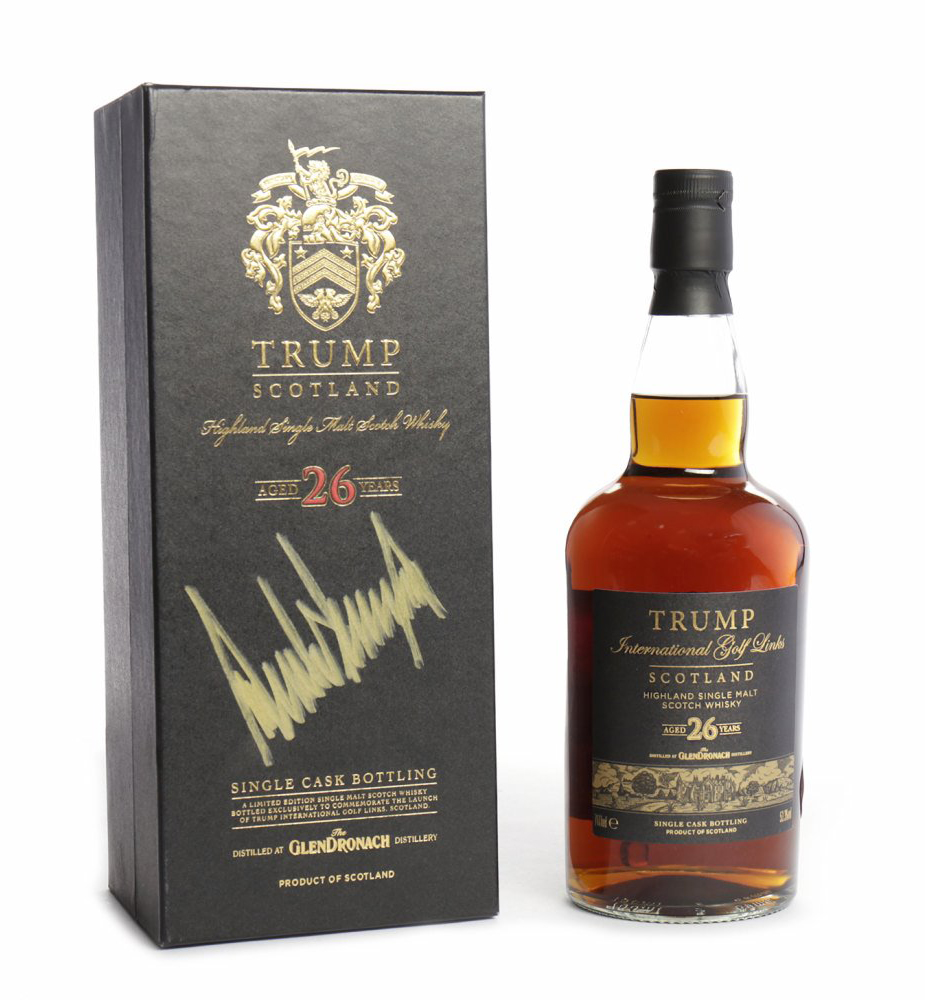 January 6, 2017 – One week before Donald Trump takes the oath of office as the 45th President of the United States, a bottle of the only single malt Scotch whisky that bears his brand will go on the auction block at McTear's in Glasgow with a presentation box signed by the President-elect. The bottle of 26-year-old comes from a single cask of whisky from GlenDronach Distillery, and was bottled for the 2012 opening of the Trump International Golf Links resort near Aberdeen, Scotland. Only 504 bottles of "Trump Scotland Highland Single Malt Scotch Whisky" were produced from that cask for sale at the resort, which no longer has any bottles available for sale.
"When it was released, a lot of people would have bought the bottle and just opened it and enjoyed it, so the number of bottles left…obviously, it's hard to put a figure on it, but there's not going to be that many…we're excited to see what happens when it goes under the hammer on January 13th," said McTear's whisky specialist Laurie Black. The bottle was consigned to McTear's for its first 2017 whisky auction by one of the auction house's regular clients, who acquired it shortly after the resort opened from a person who lives near the course. In a telephone interview, Black set the pre-auction estimate for the bottle at between £2,500 and £3,500 pounds ($3,075-$4,300 USD), but noted that the seller has set an undisclosed reserve price that must be met for the bottle to sell. "He had a sneaking suspicion that it was going to increase in value, so he had no intention of opening it, no intention of drinking it…he just looked after it at his Aberdeenshire home for the last four years, and now is obviously as good a time as ever, you would think." It should be noted that the box comes with number cards for two different bottles (#198 and #391), and since the individual bottles were not numbered, it is impossible to tell which card was originally included in the box.
The whisky was distilled in 1985, and matured in an ex-Pedro Ximenez Sherry puncheon until it was bottled on June 26, 2012 at 53.3% ABV. When plans for the bottling were announced in the fall of 2011, GlenDronach's Alistair Walker confirmed to WhiskyCast that Donald Trump, who publicly avoids alcohol use, did not actually help select the cask but delegated the task to his team.
GlenDronach was picked because it is the closest distillery to the golf resort, but its whiskies have won a significant number of awards in worldwide whisky competitions since master distiller Billy Walker and his partners acquired it in 2008. In early 2016, they sold the BenRiach Distillery Company, including GlenDronach, BenRiach, and Glenglassaugh distilleries to Brown-Forman in a deal valued at $416 million, with Walker staying on to run the distilleries under the U.S.-based owners. Ironically, Matthew Barzun, the current U.S. Ambassador to Great Britain, is married to Brooke Brown Barzun of Louisville's Brown family, which controls Brown-Forman. Matthew Barzun is one of the Obama Administration's politically-appointed ambassadors who have been ordered by the President-elect's transition team to return home with their families from their overseas posts by Inauguration Day instead of being given a grace period following the change in administrations as has been done in previous transitions.
At the time the resort opened, Trump-signed bottles were being sold for £500 ($614 USD), while unsigned bottles were priced at £195 ($239.50 USD). It is not clear how many bottles Trump signed, but Black said the resort did raise its prices significantly on the remaining bottles as the 2016 presidential campaign developed. He understands the Trump campaign acquired all of the remaining inventory at some point in 2016 for its use. WhiskyCast has contacted the President-elect's transition team to confirm this, and this story will be updated with additional information as necessary. The golf course is currently closed until January 18, according to the resort's web site.
This is the first time one of the "Trump Scotland" bottles has gone on the block at a live auction, though several have appeared in online auctions. One signed bottle sold last year for £1,950 ($2,395 USD) through ScotchWhiskyAuctions.com, while a second signed bottle failed to meet the reserve price. Unsigned bottles have sold at the same site for prices ranging from £195-£360 ($239.50-$442 USD). At least one signed bottle is available at retail, with the UK's Hard To Find Whisky offering it for £4,999.95 ($6,138 USD).
Editor's note: All currency conversions in this story were done using today's Bloomberg Generic Composite Rate, and conversions for historical data do not reflect exchange rates at the time.
Links: McTear's | The BenRiach Distillery Company | Trump International Golf Links