March 28, 2019 – "What have you done!"
My mouth was puckering, trembling, and shivering all at the same time as a briny, fishy taste with just the barest hints of whisky took control of my palate – and my entire nervous system. My stomach clenched, along with the rest of my body. A few feet away, the distillery manager that presented us with this blind sample at the end of a tasting had a big grin on his face.
"What the hell is this stuff?"
This is the story of that whisky, and how I came to taste it in a prank worthy of an April Fool's joke.
Klaus Pinkernell never set out to bottle one of the world's worst whiskies in 2006, but he did want to send a message.
"At that time, it was the beginning of the movement that everyone wanted to do some sort of finishing, and everyone wanted to be the first to do something more strange," says the owner of two whisky shops bearing his name in Austria and Germany. "I said, OK folks, you call all these things serious even though they are stupid, and I decided to do something even more stupid."
At this point, we need to backtrack to the early 1990's.
At the time, Pinkernell was visiting Islay and trying to buy casks of whisky for his private collection. He succeeded in persuading Invergordon Distillers, which owned Bruichladdich Distillery at the time, to sell him some casks that were maturing at the distillery, one of which had recently been filled with new make spirit. Invergordon closed Bruichladdich in 1994, but kept a skeleton crew on hand to oversee the maturation warehouses on site with Pinkernell's casks and the rest of the distillery's inventory.
When Mark Reynier and his partners bought the distillery and reopened it in 2001, Pinkernell reached out to Islay legend Jim McEwan, who had come on board as Bruichladdich's production director. After checking Pinkernell's casks, McEwan declared the barrels as less than optimal and offered to re-cask the whisky into better-quality ex-Sherry casks. With the help of a couple of Norwegian whisky lovers Pinkernell ran into at the Bowmore Hotel, he and his friends transferred the whisky from cask to cask using an old hand pump.
"It was quite hard work, but we didn't have to do it because the Norwegians quite enjoyed it," Pinkernell said with a laugh.
By this time, Pinkernell had opened his whisky shops in Salzburg and Berlin under the Cadenhead's banner, and had moved the casks from Islay to the warehouses at Springbank Distillery in Campbeltown. With the fifth anniversary of his stores coming up, he wanted to do something memorable – while sending that message at the same time.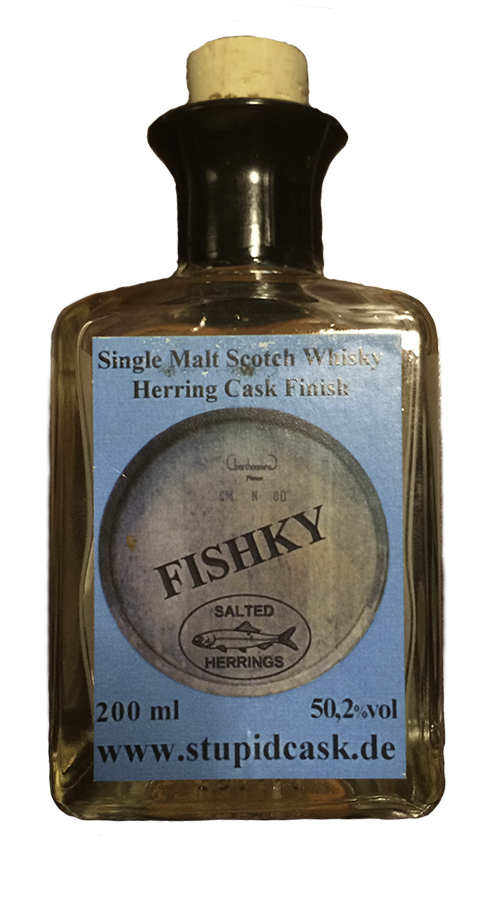 "I invented my private label called Stupid Cask and wanted to do a herring cask finish."
That's right…a herring cask finish. While others were trying to find rare wine, rum, and other types of casks to finish their whiskies in, Pinkernell wanted to return to a part of Scotch Whisky history where whiskies were kept in any kind of barrel that could hold liquid…including the briny sea water used to keep herring fresh from port to market.
Trouble is, those days were long past, and herring is transported in large plastic totes instead of barrels, and Pinkernell's attempts to source a herring cask were unsuccessful.
"I found a fish trader just outside Berlin who was willing to help out, but obviously, he had the fish but no cask." A cooperage near Berlin just happened to have a freshly-emptied red wine cask, the fish trader filled it with herring fillets, and Pinkernell arranged to get that cask of 14-year-old Bruichladdich moved from Campbeltown to Germany. At the time, it was still legal to export whole casks of single malt whisky from Scotland.  The practice has since been banned, though Pinkernell's diabolical project had nothing to do with it.
After six months of "seasoning," the herring and red wine cask was ready to be filled with whisky. At this point, Pinkernell hesitated briefly.
"What if the whole thing works out horribly wrong?"
At this point, asking that question and answering it with the likely reality of ruining an entire cask of vintage single malt whisky worth thousands of dollars might have dissuaded most people from plowing ahead. Klaus Pinkernell is not most people. He decided to only use half of the Bruichladdich cask and keep the rest of the whisky in its original cask.
Six months later, he hand-bottled both casks for the fifth anniversary of the shops. The whisky from the Bruichladdich cask carried a standard Cadenhead's label, while the whisky from the herring cask bore a label that will live infamously in whisky history.
Fishky.
"I think the thing was quite funny," Pinkernell said years later. "The idea was to show funny things can be done, and the even better thing is that you could even sample the whisky before the finish and including the finish from the same cask, so you can really see what a finish can do within a couple of months."
As one might expect, there was a great deal of hyperventilating and clutching of pearls among the whisky purists of that time, and Pinkernell eventually decided to pull his remaining bottles of Fishky off the market. As the legend of Fishky circulated on the Internet, he kept getting inquires about whether any bottles might still be available. Since Fishky was bottled in 200ml bottles, he still had – and has – some for sale through what's now known as Pinkernell's Whisky Market.
Fast forward to October of 2014. I was visiting the Inver House distilleries in Scotland with a small group of writers when we did an online Twitter tasting in the conference room at Balblair Distillery in Edderton. Distillery manager John MacDonald had just led us through the Balblair single malt range and we'd all put our smartphones and tablets down when he said something I'll never forget.
"I've got something else I want you to taste…"
He brought out a tray of Glencairn glasses, and we started nosing them. Briny aroma, but something not out of place in a whisky matured near the ocean. The nose was keeping a secret, though…a secret that became instantly apparent as soon as I took a sip. These are my tasting notes from that night, leading to a score of 40 out of a possible 100 points.
The nose hides the secrets of this whisky well, with notes of malt, brine, and heather. The taste reveals all, though, with sour butyric baby vomit, brine, and stomach acid. The finish is salty, greasy, and nasty with no redeeming qualities.
"You impressed me very much that day, Mark," John MacDonald said this week in a telephone interview. "You were one of the few people that reacted as I reacted when I tasted it…as you know, there's a few other people sitting at that table who will remain nameless that were saying this, that, waxing lyrical about it," he said."I'll never forget it, Mark…I'm sorry. It was a bit cruel, but it was for my amusement," he laughed.
MacDonald doesn't remember where that bottle of Fishky came from. Klaus Pinkernell knows exactly how it got to Balblair.
"I do remember that I was at Balblair Distillery and I left these bottles there, so the bottle that you had was one that I actually brought to Balblair myself," he said.
Thanks, Klaus.
Technically, Fishky's 40-point score is tied for the lowest score I've ever given to a whisky. For April Fool's Day in 2016, Westland Distillery released Inferno, a single malt matured for more than 4 years in a barrel previously used for maturing a well-known and heavily trademarked brand of Louisiana hot pepper sauce. Equally nasty in its own right, but released with a sense of humor – so much so that when I scored it a 40, Westland's Steve Hawley told me in an email that "we would have been offended with a higher score."
There's an argument for tasting bad whiskies, since they help you appreciate the good ones all the more. One sip of Fishky is enough to lock in that appreciation for a lifetime, though.
Links: Pinkernell's Whisky Market | Balblair