Country: USA
Region: Washington
Type: Single Malt
Bottler: Distiller
ABV: 58.4%
Score: 40 points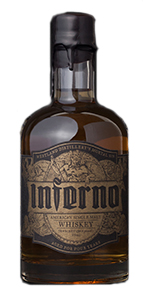 Seattle's Westland Distillery released a very (thank God!) limited edition of Inferno on April Fool's Day in 2016 after four years of maturing this single malt in a barrel that had previously been used for a well-known (and heavily trademarked) brand of chili pepper sauce. What's more, they chose to bottle it at cask strength for maximum impact. As Westland's Matt Hofmann put it in the news release:
"Inferno is our mortal sin. We have succumbed to a vile revenge, and now impose it upon all of you. Forgive us."
While the nose has a clear spiciness that builds with time in the glass, there are redeeming notes of maltiness and honey that tempt one to move on to the taste. To quote from my tasting notes: "Oh, dear God! Intense spices, butyric, and nasty…like slamming a shot of straight Tabasco™ sauce!" The finish is way too ****ing long, and had me going "Please, God, make it stop…make it stop!"
Yes, this was a joke whisky – much like the infamous and legendary Fishky. Together, these two bottom-dwellers are the absolute worst whiskies I have ever tasted in my life. Forgive you, Matt Hofmann…I don't think so! (May, 2018)
For the record, I actually subjected myself to Inferno twice…once for these tasting notes, and the second time live on YouTube with the Scotch Test Dummies and Travis Watt of the Edmonton Scotch Club during a #Drams4Fams charity fundraiser.