Stories
Whisky is a passion to explore. From the history of the spirit to the evolution of the industry, the story of whisky helps fuel that passion. Often, it's easy to forget that whisky is also a global multibillion dollar industry. The stories of whisky — from news and new releases to in-depth inquires and what goes on behind the label — blend together to help us appreciate the spirit of whisky.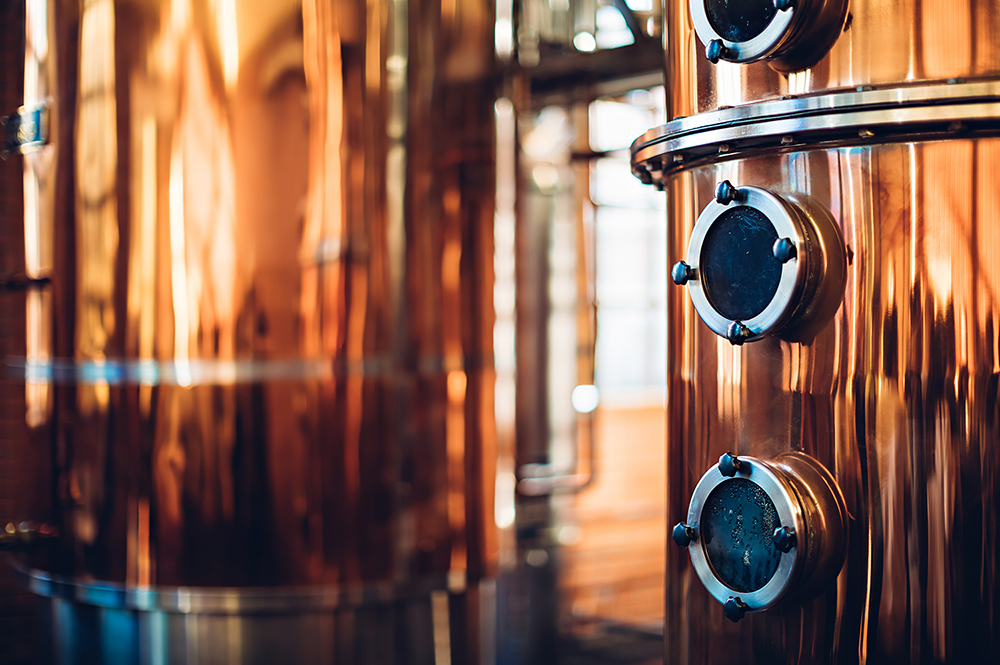 The WhiskyCast Holiday Gift Guide
What do you give the whisky lover on your holiday list? It's easy to pick up a bottle of whisky, but let's say your giftee already has more whisky than he or she would be able to drink in a lifetime. With that in mind, we've been looking for holiday gift ideas that might just be the ticket. Of course, it's the thought that counts, but if you want to be safe, consider pairing one of these gifts with a bottle anyway!
For the Truly Devoted Whisky Geek Craving Still More Knowledge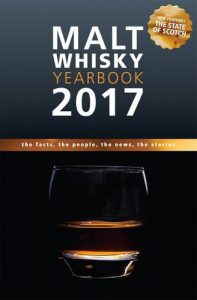 Whisky books are always a safe bet, and there are plenty to choose from this holiday season.
For the person who craves data as well as a good story, the 2017 Malt Whisky Yearbook is always a safe bet. This year's version is updated with historical and current production data on almost every malt whisky distillery worldwide, including mothballed distilleries and those under construction. Editor Ingvar Ronde always produces a well-written and concise guide to the world of malt whisky, and the annual Yearbook has been one of our primary reference books in the WhiskyCast studio. (Available through Amazon, price varies)
Fred Minnick's latest book, Bourbon, the Rise, Fall, and Rebirth of an American Whiskey, covers not only the origins of Bourbon, but looks at the recent explosion in global demand for "America's Native Spirit" (along with how it got that name.) Minnick's research is detailed, but written in a style that makes it a great choice for reading by the fire with a glass of whiskey. ($14.00 through Amazon)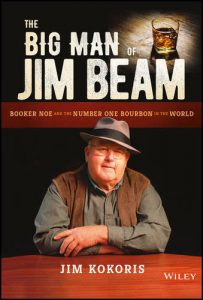 If your giftee likes cask-strength storytelling as much as a cask-strength whiskey, Jim Kokoris has written the definitive biography on legendary Jim Beam Master Distiller Booker Noe. The Big Man of Jim Beam: Booker Noe And the Number-One Bourbon In the World shares the inside stories about Booker Noe that until now have only been shared with a few people after a few glasses of whiskey. Jim Kokoris was Booker Noe's right-hand man, serving not only as his publicist, but his driver, road manager, and the guy who occasionally had to say "what Booker really meant to say was…". Pair this with a bottle of Booker's and your giftee's bound to be happy. ($24 through Amazon)
America Walks Into a Bar: A Spirited History of Taverns and Saloons, Speakeasies, and Grog Shops is a perfect gift for the history-minded whisky lover. Christine Sismondo has studied the essential role taverns and local bars have played in American history, from the grog shops of Revolutionary times to Prohibition-era speakeasies and today's neighborhood bar. ($14.94 through Amazon)
For the Audiophile Whisky Lover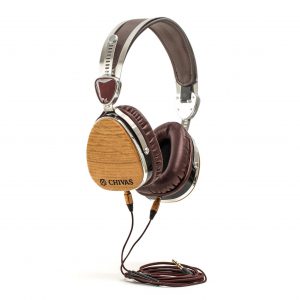 Let's face it, WhiskyCast is a weekly podcast, and we think you deserve a better experience than listening to each week's show on cheap earbuds. Audio companies have used wood from whisky barrels to make speakers, guitars, amp cabinets, and all sorts of things, but LSTN Sound is the first company we've seen to make headphones with wood from whisky barrels. LSTN teamed up with Chivas Brothers to design a holiday tin for Chivas Regal 12, but their real craft was in turning staves from some of the barrels used to make Chivas Regal into lightweight, yet full-throated headphones. They come in a wooden gift box, along with a drawstring bag, and two sets of cables (including one with a microphone and volume control for your smartphone). What's more, LSTN donates a percentage of its sales from these headphones to the Starkey Hearing Foundation to help the hearing-impaired. ($249.99 through LSTN Sound's web site)
For the Traveler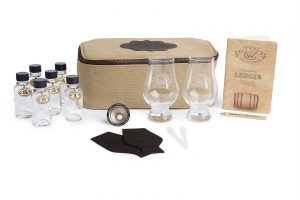 Canada's Whisky Connoisseur offers travel kits designed especially for the whisky traveler, complete with sample bottles, two Glencairn nosing glasses, a funnel, and a notebook to record what your giftee put into each bottle during the trip. The bottles are TSA-legal (when placed in a 3-1-1 bag), and the travel kit is padded to prevent breakage in transit. Kits come in canvas ($130 CAD, $97 USD) and leather ($250 CAD, $188 USD).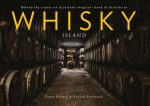 Islay is a magical place, and the team of Fiona Rintoul and Konrad Borkowski have captured some of that magic in their book Whisky Island. Borkowski lives next door on the Isle of Jura, and his photography features all of Islay's distilleries in their glory. Rintoul provides the history and context to Borkowski's photos, and they've produced a book that deserves more than just a place on the coffee table. ($29.95 at Amazon, to be published in 2017)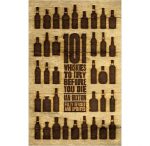 Ian Buxton's latest edition of 101 Whiskies to Try Before You Die isn't his pick of the 101 best whiskies in the world. Instead, he's picked 101 whiskies that the discerning whisky drinker should seek out, if only to get a more well-rounded appreciation for the different styles and flavors of whisky around the world. Only a handful of people will have tasted all 101 of Ian's picks, and the challenge for the traveler is to track down some of the more obscure selections. (Available through Amazon, price varies)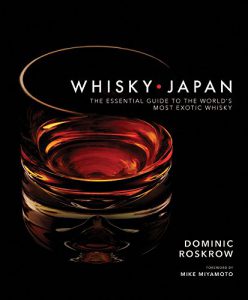 Japanese whiskies are more popular than ever, but still remain a mystery to many whisky lovers. Veteran whisky writer Dominic Roskrow has written one of the most extensive books on Japanese whisky yet with Whisky Japan, covering not only the history of whisky distilling in Japan, but providing tasting notes on a wide range of Japan's whiskies and the inside scoop on how to find some of the country's legendary whisky bars – the ones you'll never find unless you know where to look in the first place. ($34.95 at Amazon)
For the Cocktail Lover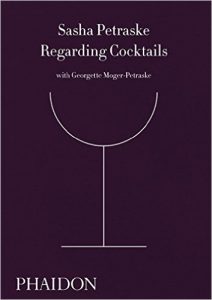 Whisky cocktails are in the midst of a resurgence, but let's face it, they're often easier to drink than to make. Kara Newman tries to remedy that with Shake. Stir. Sip. – 50 Effortless Cocktails Made in Equal Parts. These aren't dumbed-down versions of your favorite cocktails by any stretch, but the pros have taken the time to figure out how to make them easily and share that knowledge with you. Highly recommended: the Rob Roy recipe on page 47. ($16.95 at Amazon) 
If you've mastered the basics and want an advanced lesson in cocktail composition, Sasha Petraske's Regarding Cocktails is the only book we'll ever see from the master bartender and founder of New York's Milk and Honey cocktail bar. He was working on this book when he died in 2015, and his wife, Georgette Moger-Petraske, completed it after his untimely passing. ($20.29 at Amazon)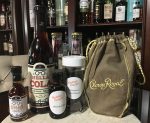 If your giftee loves cocktails, but doesn't have time to go out and source bitters, club soda, and the other stuff that goes into the glass with the whisky, Cocktail Courier offers a subscription service that's sort of like the old "record of the month" clubs, except that the box comes with all of the ingredients for a specific cocktail, including the alcohol. Each box makes 4-8 drinks, and you can decide whether to send just one or a series every few weeks. (Prices start at $15 for a "mini-kit" with two drinks, subscriptions start at $39.99 per shipment. Not available in all states.)
For the Whisky Home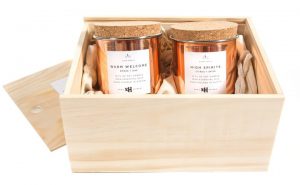 Sometimes, a book just won't do, and this year, Beam Suntory's Basil Hayden's Bourbon has teamed up with Huckberry.com to offer a range of whiskey-related gifts for the home. There's everything from a "whiskey wheel" tabletop bottle and glass holder to whiskey-scented candles, coasters, blankets, and even a copper bar cart. Supplies of each item are limited, though, so don't wait until Christmas Eve to order. (Prices from $40 to $469 at Huckberry.com)
Nick Offerman isn't just a talented actor. The "Parks & Recreation" star is also a master woodworker – in addition to being a fellow whiskey lover. The Offerman Wood Shop in Los Angeles has two styles of whiskey coasters available this holiday season: the winter version shown here and a year-round version. Both can be personalized with your giftee's initials, and if your giftee needs a special place to sit, there's "Offerman's Rambling Rump-Stump" portable wooden chair that's a take on the classic Adirondack deck chair (and can also be personalized). (Coasters $44 for winter, $39 for year-round version, Offerman's Rambling Rump-Stump $325 at OffermanWoodShop.com)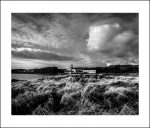 Finally, and yes, we know it's a bit self-serving, but the WhiskyCast Photo Gallery offers exhibition prints ready for framing that feature many popular distilleries, along with more generic whisky scenes and even some non-whisky prints. They'll look great behind your home bar or in an office, and we offer sizes ranging from 8″ X 10″ inches all the way up to massive 20″ X 72″ panoramas. There's also a "buy one, get one free" offer on selected prints through the holidays. (Prices vary by size from $25-$360, available at whiskycast.shootproof.com.)
There's something on this list that should please almost every whisky lover. Good luck in your search for the perfect gift!
Editor's note: WhiskyCast has received review copies or samples of some of the products mentioned in this gift guide, but all editorial control remains with WhiskyCast. Books purchased through the Amazon links in this story do generate a small commission payment to CaskStrength Media, the parent company of WhiskyCast.