The area around St. Andrews was home to Scotch Whisky's Haig family and their Seggie Distillery, but after it closed...
Read More
Billy Walker could have walked away from the Scotch Whisky business last year after he and his partners sold the...
Read More
Gavin Hewitt is stepping down next month after ten years as the chief executive of the Scotch Whisky Association, balancing...
Read More
With 28 malt whisky distilleries and two grain whisky distilleries in Scotland, Diageo almost always has something going on. Nick...
Read More
What goes into reviving a distillery that's been closed for 14 years? That was the question from WhiskyCast listener Scott...
Read More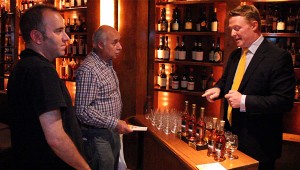 Crowdsourcing comes to the world of whisky, as Glenmorangie gives whisky lovers the chance to select its next single malt...
Read More
Johnnie Walker sells more Scotch whisky than anyone in the world, and Diageo is celebrating the 100th anniversary of its...
Read More
The Grant family bought Speyside's Glenfarclas distillery in 1865, and six generations of Grants have worked at the distillery since...
Read More
It's a rare road trip for WhiskyCast, with a special episode taped on location at the Brandy Library in New...
Read More