October 23, 2018 – Scotch Whisky exports appear to be headed for a new record in 2018, based on statistics for the first half of the year released Friday by the Scotch Whisky Association. According to data from HM Revenue & Customs, the value of Scotland's whisky exports rose 10.8 percent over the same period in 2017 to around £1.97 billion GBP ($2.557 billion USD), while the volume of exports rose by 5.6 percent to the equivalent of nearly 558 million (70cl) bottles. Assuming that the second half of 2018 follows a similar pattern, the year's exports are likely to break the record set in 2017 when the value of Scotch Whisky exports totaled £4.36 billion GBP ($6.03 billion USD)
"Value has gone up more than volume, which to generalize, means that there's continued premiumization in the market as people switch to higher value products," said Graeme Littlejohn of the SWA. That trend is reflected in the exports of Single Malt Scotch Whiskies, which accounted for a record 28 percent share of all Scotch Whisky exports, while the value of Blended Scotches also rose by 8.9 percent as consumers "traded up" to more expensive whiskies.
Littlejohn highlighted sharp increases in exports to India and China, along with other emerging markets. The value of exports to India increased by 44.4 percent to more than £56 million GBP, while China's imports rose by 34.8 percent to more than £36 million GBP. However, exports to the industry's traditional markets remained strong, with Japan accounting for a strong increase in sales. The volume of exports to Japan rose 46.4 percent to 21.4 million bottles, while the value of those exports grew by 31.1 percent to £56.2 million pounds. The United States and France remain the largest export markets, with the Americans holding on to the top spot by value (£407.8 million GBP) and the French consuming far more Scotch Whisky by volume (89.7 million bottles).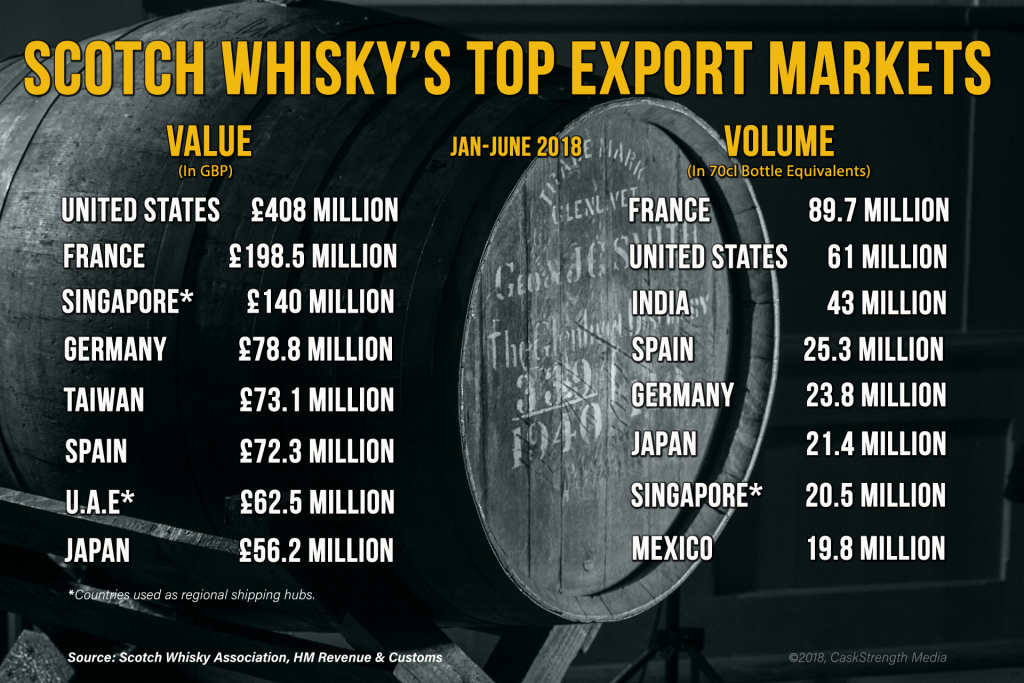 However, there are storm clouds on the horizon that could affect the industry's long-term outlook. With a little more than five months left before Great Britain leaves the European Union, there is still no "divorce agreement" that will govern relations between Britain and the other 27 EU member nations. Together, those nations account for around a third of all Scotch Whisky exports each year, and there are concerns with the industry over the potential impacts of a "no-deal" Brexit likely to affect the ability to move whisky shipments from Scotland to markets within Europe. The SWA's Littlejohn also notes a key goal of making sure the UK is able to extend the terms of existing free trade agreements with Mexico and other emerging markets that were negotiated by the European Union on Great Britain's behalf after Brexit.
Listen to Mark Gillespie's interview with the SWA's Graeme Littlejohn:
Of more immediate concern, though, is the UK domestic market. Chancellor Philip Hammond is scheduled to present the government's annual budget in London this coming Monday. The SWA has been leading a campaign to persuade Hammond to freeze duties on whiskies and other spirits for a second consecutive year, arguing that a duty increase will lead to reduced sales with a resulting decrease in tax revenue.
"The freeze last year in the budget have actually generated additional revenue for government…there's been an additional £163 million in pounds this year compared to last year in spirits revenue. That's up 9.1 percent," Littlejohn said. "We've been saying for years that a more competitive rate of duty on Scotch Whisky can drive revenue to the UK government, which can then be used to fund vital public services." While there have been no signals out of Hammond's office on where the final decision will come down, Littlejohn noted that the inflation rate is expected to reach 3.4 percent, and members of Parliament have indicated that the government's need for additional revenue heading into Brexit make a second year of a duty freeze unlikely.
Links: Scotch Whisky Association