February 9, 2018 – The global boom in whisky sales fueled another record year in Scotch Whisky exports during 2017, according to new statistics released today by the Scotch Whisky Association. Citing export data from HM Revenue & Customs, the SWA reported gains in both the value and volume of Scotch Whisky exports, with an 8.9 percent increase in the value of those exports over 2016 to £4.36 billion GBP ($6.03 billion USD). Export volume grew by 1.6 percent to the equivalent of 1.23 billion bottles.
"It's really very heartening that all the work that Scotch Whisky producers are putting in to get Scotch out to world markets is paying off now," said SWA deputy director Graeme Littlejohn in a telephone interview. "That's not to say there aren't challenges…of course there are challenges. Brexit's a challenge, non-tariff barriers are a challenge, tariffs continue to be a challenge in several global markets, but these are really encouraging figures," he said.  The Scotch Whisky industry is responsible for more than 20 percent of Great Britain's overall food and drink exports, and is Scotland's second-largest export second only to crude oil.

While Blended Scotch continues to make up the largest share of Scotch exports and grew in 2017, it was outpaced by exports of single malts with a gain of 14.2 percent in 2017 over the previous year. These exports generate a larger impact on the Scottish economy, since UK law requires that single malts be bottled exclusively in Scotland instead of being exported in bulk as blends can be. That creates jobs in bottling plants, which helps account for some of the more than 40,000 jobs around the UK linked to the Scotch Whisky industry.
Listen to Mark Gillespie's interview with Graeme Littlejohn:
The United States and France remain the leading export markets for Scotch Whisky. The US continues to be the overall leader for exports by value, with shipments valued at £922 million GBP ($1.273 billion USD), up 7.7 percent from 2016. Exports to France were valued at £433 million ($598 million USD), a gain of 2.1 percent over 2016.
However, France remains the overall leader by volume despite a 5.9 percent decline in exports to the equivalent of 178 million bottles. The US had a 7.4 percent increase in volume to the tune of 127 million bottles. To put this in perspective, France has traditionally been a market where lower-priced blends have been one of the most popular spirits for consumers, and a gain in value coming along with a decline in volume could indicate that French consumers have joined those in the US and other markets in "trading up" to more premium Scotch whiskies. This trend was reflected in the US last week, when the Distilled Spirits Council released its annual economic analysis showing strong increases in sales of premium whiskies and other spirits with a decline in sales of so-called "value brands."
In addition, the US market for Scotch Whisky has expanded significantly in recent years as consumer interest widens. "We know that the US consumer has changed over the years," said Robin Coupar, the longtime brand ambassador for Campari's Glen Grant single malt brand. "When I came to America 15 years ago, it tended to be male consumers slightly older who would be quite loyal to a brand. Certainly over the last five to ten years, there's a younger consumer coming in and they're looking to try different whiskies – they're not as loyal to one brand as they used to be," he said in a telephone interview. Campari took that market into account when it made the decision to launch a new 15-year-old Glen Grant single malt in the US domestic market this month after previously debuting new expressions in Europe before bringing them to North America.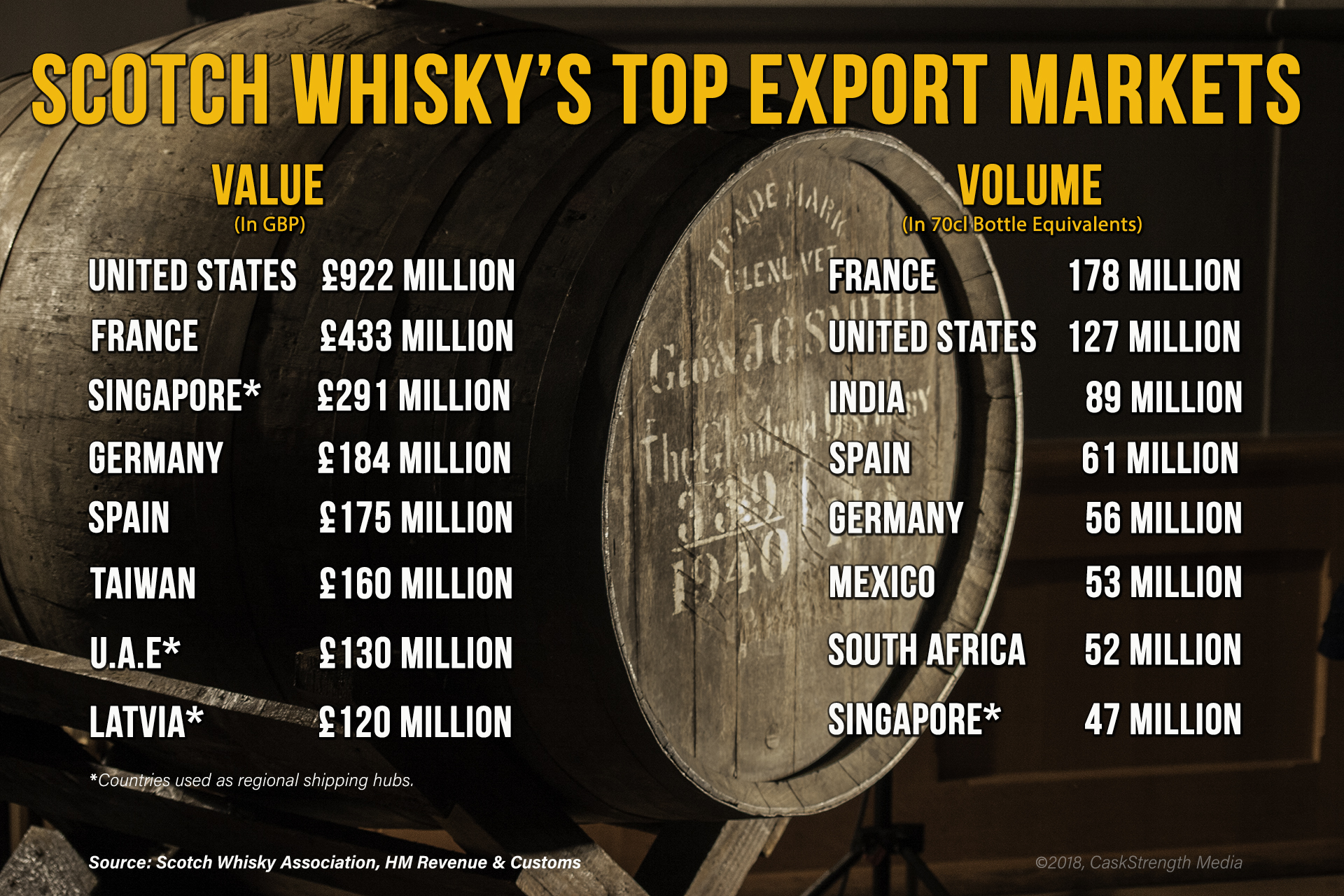 This "premiumization" trend can also be seen in Spain, another traditionally strong export market for Scotch Whisky. The value of Scotch exports to Spain increased 5.2 percent in 2017 to £166 million GBP ($229.2 million USD), while the corresponding volume of those exports fell 4.6 percent to 61 million bottles.
In regional terms, the 27 European Union nations remain the largest regional export market with 31 percent of all Scotch Whisky exports, followed by North America at 26 percent and the Asia-Pacific region at 22 percent. This explains why the industry has been actively trying to protect its interests as Great Britain negotiates its exit from the European Union. "Brexit continues to be challenging for the industry – we're doing a lot of detailed work with the UK and Scottish governments to try and come out of Brexit in growth," said Littlejohn, noting that the priority remains a stable transition period of two to three years with current market conditions before the UK goes on its own as a trading partner and can negotiate its own deals with India, China, and other developing markets with historically low levels of Scotch Whisky exports.
The HMRC statistics only reflect the first destination for export shipments, which explains why several relatively small nations rank higher for export traffic than their size might suggest. Singapore's importance as a regional shipping hub in the Asia-Pacific region was reflected with a 29.4 percent increase in value and a 14.2% increase in volume to 47 million bottles, while Latvia's growing importance as a hub for Russian-bound exports also grew. European Union trade sanctions against Russia have forced traders to use Latvian ports as a workaround to get Scotch Whisky into Russia, with a 74.9 percent increase in the volume of Scotch shipments to 37 million bottles – up from 21 million bottles in 2016. For the record, Latvia's 2017 population is listed at 1,949,670, which means the country exported enough Scotch Whisky to theoretically supply every man, woman, and child with 19 bottles of whisky during the year. In addition to the Russian market, the SWA's Littlejohn notes that some of that increase may be due to cross-border traffic with Estonia following a sharp increase in that country's excise taxes on alcohol.
Editor's note: This story was updated with comments from Robin Coupar of Campari America. The Bloomberg Generic Composite Rate was used to convert GBP into US dollars as of publication. 
Links: Scotch Whisky Association | Glen Grant