January 9, 2017 – It's a sad day for whiskey lovers. Parker Beam, one of Bourbon's legendary distillers, passed away at his home near Bardstown, Kentucky last night at the age of 75 following a four-year-long battle with amyotrophic lateral sclerosis (ALS). Heaven Hill Distillery announced his passing in a statement from company president Max Shapira Monday afternoon.
"All of us within the company, and the general public, watched with awe and admiration as Parker and Linda waged a much publicized war against this terrible disease, using their courage, his standing as one of the industry's great Master Distillers and his wide sphere of influence to generate international awareness, and millions of dollars, for ALS research and treatment."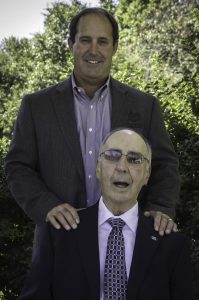 It should go without saying that Parker Beam was one of the leaders responsible for today's Bourbon renaissance. He started working at Heaven Hill's distillery in Bardstown in 1960 under his father, master distiller Earl Beam, though at that time the title "master distiller" was rarely used. In 1975, Parker Beam succeeded his father as Heaven Hill's master distiller, and only when his health problems forced him to cut back on his workload did he agree to take on the role of Master Distiller Emeritus. Eventually, his son Craig Beam joined him to form a father and son team of co-Master Distillers, and Craig retains that title to this day along with Denny Potter. Parker was one of the few living distillers (who didn't own a distillery) to have a whiskey named in his honor when Heaven Hill created the Parker's Heritage Collection series of annual whiskey releases in 2007.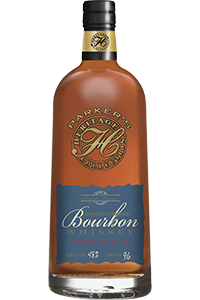 As Shapira noted in his statement, Parker Beam's fight with ALS inspired the entire whiskey industry through the ALS Association's "Parker Beam's Promise of Hope Fund." Heaven Hill and Parker's family established the fund shortly after announcing on January 31, 2013 that he had been diagnosed with ALS, also known as "Lou Gehrig's Disease." Starting that year and each year since, Heaven Hill has donated part of the proceeds from each year's release of Parker's Heritage Collection to the Promise of Hope Fund. That, along with projects such as the 2013 "Master Distillers' Unity" charity bottling, has helped raise more than a million dollars for ALS research and treatment over the last four years.
On October 23, 2009, a little more than three years before ALS would start to affect Parker Beam's voice, Heaven Hill honored his 50th anniversary in whiskey with a celebration at the company's Bourbon Heritage Center in Bardstown. Here is his short, but poignant speech from that night as more than 150 of his colleagues, friends, and family honored him.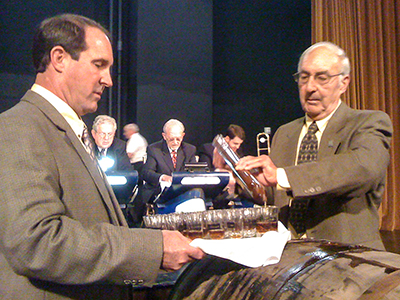 The next evening, as Heaven Hill unveiled that year's Evan Williams Single Barrel release at an event in Bardstown, the quiet, soft-spoken Parker Beam agreed to talk about his long career making whiskey.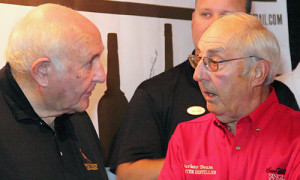 Parker Beam received virtually every award that a member of the whiskey industry could possibly receive, but in September of 2015, his colleagues in the industry gave him perhaps the ultimate honor. Not only did the Kentucky Bourbon Hall of Fame give him its first
Lifetime Achievement Award
, but named the award after him for all future recipients. His longtime friend, Wild Turkey's Jimmy Russell, presented the award – and was the second to receive it a year later.
Both men were part of the inaugural class of Hall of Fame inductees in 2001
.
Please join us in expressing our condolences to Parker's wife, Linda Beam, along with their entire family. A funeral service will be held at Bardstown Baptist Church on Thursday, January 12 at 1:00pm, with visitation from 3:00-8:00pm Wednesday and 11:00am-12:30pm Thursday at the Barlow Funeral Home in Bardstown.
Editor's note: This story was updated with details on the memorial service for Parker Beam. 
Links: Heaven Hill