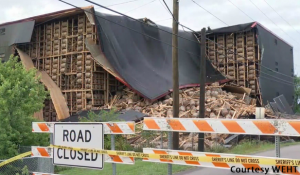 June 17, 2019 – Cleanup work is underway as investigators begin to search for the cause of an overnight rickhouse collapse at the O.Z. Tyler Distillery in Owensboro, Kentucky. No injuries were reported in the collapse, which affected one corner of the 20,000 barrel capacity rickhouse and followed a series of thunderstorms in the area Sunday night.
According to Evansville, Indiana television station WEHT, wooden debris from the collapse and the potential for additional parts of the rickhouse to come down forced police to close the road alongside the rickhouse. The station quotes master distiller Jacob Call as saying about 4,500 barrels fell during the collapse, but there appears to be no environmental damage from spilled whiskey at the present time. WhiskyCast has requested an interview with Call, and this story will be updated with additional information as available.
The O.Z. Tyler Distillery is owned by South Carolina-based Terressentia, and was known for decades as the Medley Distillery. Terressentia acquired the distillery in 2014 and renamed it in 2016 for scientist O.Z. Tyler, who invented the company's proprietary accelerated maturation process that uses ultrasonic sound waves to break down chemical compounds inside young whiskies. The company has not yet said how old the rickhouse is or when it was last inspected for potential structural issues.
The incident comes almost a year to the day after half of a Barton 1792 rickhouse collapsed on June 22, 2018 in Bardstown, Kentucky. The remaining half of the warehouse collapsed on July 4, 2018, affecting about 18,000 barrels of maturing whiskey. Sazerac, which owns Barton 1792, has not yet released the results of its investigation into the cause of that collapse.
Editor's note: This story was updated to include details on weather in the area before the collapse. 
Links: O.Z. Tyler Distillery