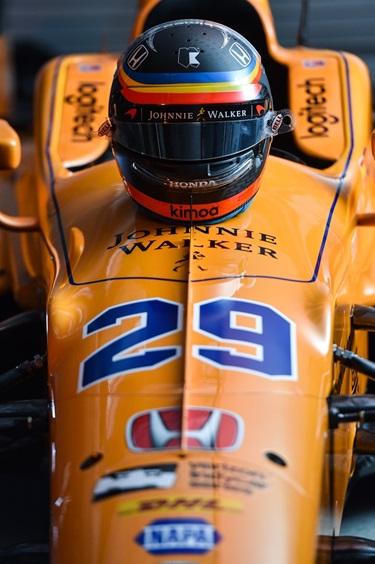 May 3, 2017 – When two-time Formula One World Champion Fernando Alonso took to the Indianapolis Motor Speedway today for his first testing session in preparation for the Indianapolis 500 May 28, one question on the minds of whisky-loving motorsports fans was answered: would Johnnie Walker be part of Alonso's sponsorship package? The Scotch Whisky brand has been one of McLaren's major sponsors for years, and when McLaren announced its partnership with Honda and Andretti Autosport to run Alonso at Indianapolis instead of F1's Monaco Grand Prix the same day, it was widely assumed that McLaren's F1 sponsors would be part of the effort. However, Andretti Autosport did not respond to a request for confirmation of those plans at the time.
The livery for Alonso's one-off entry was unveiled as Alonso's car was rolled out to the pits, and features the Johnnie Walker logo on the nose of the car just above Alonso's car number (#29), as well as on his helmet and fire suit.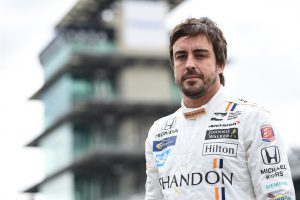 It is believed that this is the first time Johnnie Walker will be a sponsor for an Indianapolis 500 entry, though the brand sponsored McLaren's entries in 2006 and 2007 when the United States Grand Prix was held at the Speedway. Alonso's best finish at Indianapolis was a second-place run for McLaren in 2007, the final year that Formula One raced at the Speedway. He finished fifth in 2006 while driving for Renault, though he later won his second consecutive F1 title that season.
Whisky brands have played only a minor role in sponsoring cars at the Indianapolis 500 compared to other consumer brands, but have been successful when teaming with Andretti in recent years. Scotland's Dario Franchitti had Canadian Club as his primary sponsor in 2007, when he won the first of his three Indianapolis 500 victories for what was then known as Andretti Green Racing. In 2005, the late Dan Wheldon won with Jim Beam as one of his major sponsors for Andretti Green Racing. In between, team co-founder Michael Andretti finished third in 2006 with Jim Beam as the primary sponsor on his car.
In 1965, Jim Clark became the first driver to win the Indianapolis 500 after winning the F1 World Championship. Graham Hill repeated the rare accomplishment the following year, followed by Emerson Fittipaldi with Indy wins in 1989 and 1993. Mario Andretti won the F1 title in 1978 after winning the 500 in 1969, and Jacques Villeneuve won the F1 title in 1997 after winning Indy in 1995. He is also the last F1 World Champion to race in the Indianapolis 500, posting a 14th place finish in 2014.
Editor's note: Photos are courtesy of Indianapolis Motor Speedway and photographer Chris Owens.
Links: Johnnie Walker | McLaren Honda | Andretti Autosport | Indianapolis Motor Speedway