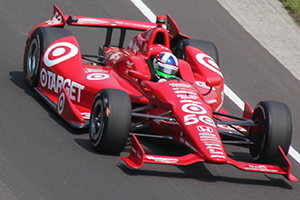 August 12, 2014 – The Balvenie is kicking off its second annual Rare Craft Collection tour in Carmel, California this weekend with a collection of handcrafted works curated by three-time Indianapolis 500 winner Dario Franchitti. The opening weekend is timed to coincide with the annual Rolex Monterey Motorsports Reunion at nearby Mazda Raceway Laguna Seca, which will feature more than 500 historic race and sports cars from the pre-1980 period.
For the collection, Franchitti selected a group of artisans working with everything from handmade guitars and glassblowing to custom furniture. In a telephone interview with WhiskyCast's Mark Gillespie, Franchitti described one of the exhibits that had special significance for him:
"The guys at Steelhead Studios did a table using bits of my old IndyCar," he said. "They used one of the manifolds from the engine, they used some gear ratios from the final drive, all kinds of things like that." Franchitti follows last year's debut curator, clothing designer Todd Snyder.
The collection will be on display at Carmel Plaza through August 16, followed by stops in eight other US cities through December.
Los Angeles: August 26–27
Seattle: September 9–10
Austin: September 16- 17
Chicago: September 30–October 1
Boston: October 7–8
Washington: October 21-22
New York: November 17–22
Aspen: December 5–7
Listen to Mark Gillespie's interview with Dario Franchitti:

The collection will be displayed in a gallery format, which will also include tastings of various Balvenie expressions. Franchitti recently visited the distillery and had a personal tasting session with longtime Balvenie Malt Master David Stewart. "What a nice person, an amazing man, but what a gift he has too…I could not believe the stuff he was detecting. When he says 'can you taste this, can you smell that', once he points it out to you, you can sort of get it, but before that it's a very difficult thing and it's definitely a gift that he has."
In addition to his three Indianapolis 500 victories in 2007, 2010, and 2012, Franchitti also won four IndyCar Series championships before a career-ending crash last year in Houston. He was awarded an MBE by Queen Elizabeth this past June.
Editor's note: This story was updated on August 15 following an interview with Dario Franchitti.