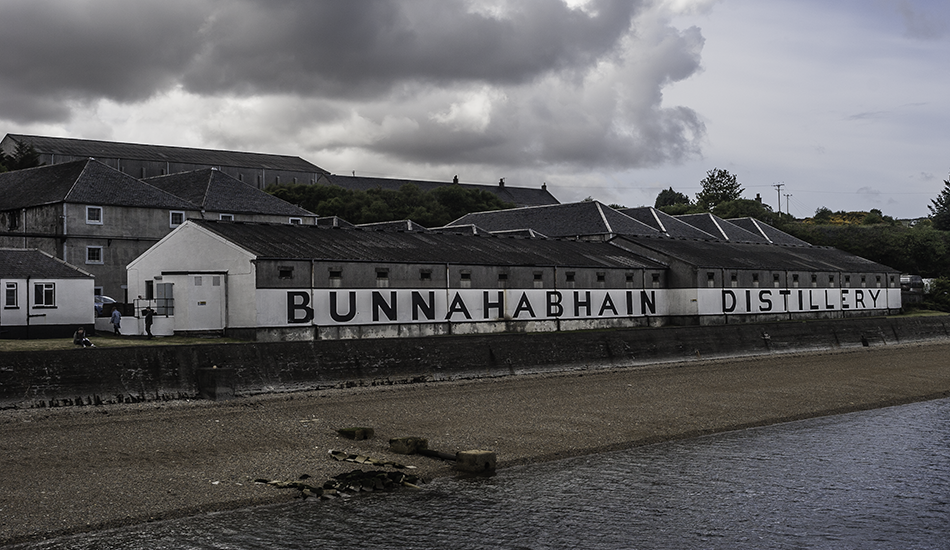 July 6, 2017 – Of Islay's eight working whisky distilleries, Bunnahabhain is the hardest to visit. To get there, one turns off A846, the road between Bridgend and Port Askaig, and negotiates a single-lane road offering the motorist challenges ranging from oncoming trucks leaving the distillery to flocks of sheep – who have the right of way. Add in the deep ditches on each side, and it's understandable why Bunnahabhain gets fewer visitors than Islay's other distilleries.
Upgrading that road is one of the first projects in Distell's three-year, £11 million ($14.2 million USD) capital spending project at Bunnahabhain, which it acquired in 2013 as part of its purchase of Burn Stewart Distillers. Most of the work will focus on demolishing and replacing existing warehouses and buildings, according to Distell's Derek Scott, who told WhiskyCast in a telephone interview that even the current distillery manager's house won't be spared from demolition.
"Andrew (Brown), our distillery manager will be getting a brand-new house in the best location on the site," Scott laughed. "I have to say I'm a little bit jealous, but he's in need of it. The house he's in now isn't up to scratch, so we're building him a brand-new house." The plans must still be submitted to local officials at Argyll and Bute Council for approval before work begins this autumn.
"Quite a lot of the buildings are no longer either fit for purpose or being used…some of them are relics from the 1960's and not terribly well built, and so what we'd like to do is clear up some of our property," Scott said. The plan is to consolidate Bunnahabhain's maturation warehouses at the ends of the distillery along the waterfront, while turning the existing Warehouse 9 into a new visitors center and lounge area with windows overlooking the Strait of Jura. The manager's house won't be the only housing at the distillery to be upgraded, as Distell plans to renovate the eight cottages along the beach next to the distillery. According to Scott, some of the cottages will remain available for overnight rentals, while several will be reserved for distillery guests and Distell employees.
In addition to the new visitors center and lounge, Distell also wants approval to add boat moorings to its pier extending into Bunnahabhainn Bay. The pier was originally designed to handle incoming grain shipments and outbound loads of whisky when the distillery opened in 1881, but Scott hopes to open it up for sailors to navigate practically to the distillery's front gate. "I have myself anchored off Bunnahabhain…the bay is absolutely stunning, you're looking at the Paps of Jura, and it's always occurred to me that it would be a great thing to have some moorings there…as a sailor, you sleep much better when you're at a mooring than at an anchor," he said.
Listen to Mark Gillespie's interview with Derek Scott:

The Bunnahabhain project is the second announced this year by Distell, which started work earlier this year on a large-scale expansion and upgrade project at Tobermory Distillery on the Isle of Mull. The distillery is scheduled to reopen in early 2019 following structural work and the completion of a still replacement and repair project, along with the construction of a new visitors center using the existing distillery manager's house.
Along with the announcement of the construction project, Distell unveiled a series of new Bunnahabhain whiskies, including the distillery's oldest bottling on record. The 46-year-old Eich Bhana Lìr gets its name from the Gaelic god Lìr, who was known as the "God of the Seas." 198 bottles from a second-fill ex-Sherry butt will be available worldwide at a recommended retail price of $7,000 each. In addition, the Bunnahabhain 1980 Canasta Finish is a 36-year-old single malt matured in second-fill Oloroso Sherry casks and finished for three months in ex-Canasta Sherry Casks, while the 2003 Pedro Ximénez Finish matured for 11 years in second-fill ex-Sherry butts and a final four years in Pedro Ximénez casks. The Canasta bottling will have a recommended retail price of £1,800 ($2,335 USD), while the PX finish will sell for around £80 ($110 USD). All three will be available beginning this month in Europe and later in the United States, while the 13-year-old Moine Brandy Finish will make its debut later this autumn worldwide.
Editor's note: Additional details on the new Bunnahabhain whiskies are available in our audio interview with Derek Scott.
Links: Bunnahabhain