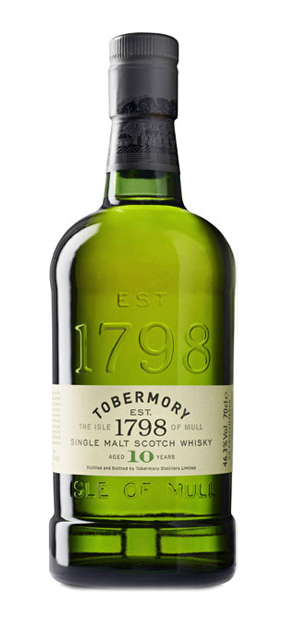 Updated February 3, 2017 – Tobermory Distillery on Scotland's Isle of Mull will shut down production on March 31 for up to two years as Distell plans a major upgrade project at the distillery and its visitor center, along with a revamping of the Tobermory single malt brand.
"This is about trying to make Tobermory going forward a more interesting, more special, more significant offering for the whisky public," Distell executive Alan Wright said in a telephone interview. "There's a lot that we're going to do in terms of the development of that brand…we're going to try and lift it from being what's probably been an entry-level malt into something a bit more special going forward."
The distillery upgrade will include completion of a still replacement and repair project that began two years ago, when one still was replaced completely and a second was partially replaced. The copper from those stills was cut into pieces and recycled as part of the Ledaig Dùsgadh 42-year-old expression. Wright said the upgrade will also include structural work on the main distillery buildings, some of which date back to Tobermory's opening in 1798. No price tag has been announced for the project, since preliminary architectural and engineering work is still being done.
Listen to Mark Gillespie's interview with Distell's Alan Wright:

The South Africa-based company will keep the Tobermory visitor center open during the project, which will idle the island's only distillery and one of its largest tourist attractions. There are plans for a new visitors center on land in front of the distillery utilizing the existing distillery manager's residence. "We're the only distillery on Mull, we've got a real jewel in the crown there…I call it the jewel of Mull, and I think we've got a real opportunity there," Wright said. Arrangements have been made to keep the distillery's staff working during the project, and Wright said the distillery has been producing extra spirit over the last 18 months to cover future needs for mature spirit that would have been produced during the two-year closure.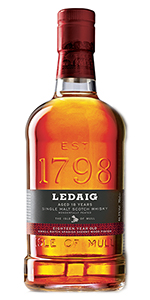 Tobermory is rare among Scottish distilleries in that it produces two different single malts in separate production cycles during the year. The distillery's unpeated malts are sold under the Tobermory label, while its peated malts are sold under the Ledaig label. While Tobermory's existing 10 and 15-year-old expressions have largely been removed from the market over the past 18 months, the 10-year-old malt will be available at the visitors center during the shutdown. Distell plans to keep the Ledaig 10 and 18-year-old malts on the market during the period. In addition, Wright says up to ten limited edition expressions from both brands are in the pipeline for release during the shutdown.
When the distillery reopens in 2019, Distell plans to unveil a new range under the Tobermory brand. Plans for that range are still being developed, with much of the work to be done by a newly-hired marketing manager for Distell's single malt portfolio, which also includes Bunnahabhain and Deanston single malts. That executive has not been named publicly, since the person is still working for another company and will not join Distell until March 1. Distell recently named Andy Watts, the longtime master distiller at its James Sedgwick Distillery in South Africa, as the company's new "head of whisky intrinsic excellence" with technical responsibility for the entire Distell whisky portfolio.
Distell acquired Tobermory in 2013 when it bought Burn Stewart Distillers from CL Financial for $245.4 million dollars. In addition to Bunnahabhain and Deanston, the deal also included the Black Bottle blended Scotch whisky brand. Last year, the Burn Stewart corporate name was officially replaced with Distell International Ltd.
Editor's note: This story has been updated following an interview with Distell Group General Manager for Operations Alan Wright to include audio from the interview.