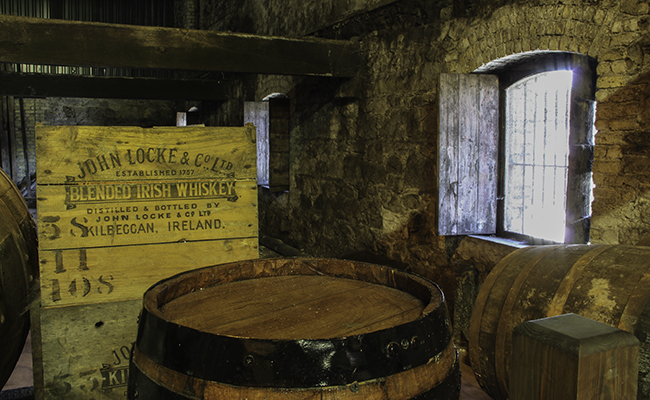 December 9, 2016 – Irish Whiskey has been one of the fastest-growing segments of the global whiskey market for the last several years, and Ireland's whiskey distillers are hoping to capitalize on that with a major tourism initiative. 653,000 tourists visited the five major distillery visitors centers around Ireland in 2015, and as more small-scale distillers open their own visitor experiences, that number is expected to grow significantly.
"Ireland has the potential to compete with Scotland and Kentucky to become the world's number one whiskey tourism destination," according to Irish Whiskey Association chairman Bernard Walsh. The founder of County Carlow's Walsh Whiskey Distillery, which began production earlier this year, hopes to attract as many as 75,000 visitors annually to his distillery. The association has begun working with Ireland's two major tourism agencies, Tourism Ireland and Fáilte Ireland, to develop joint promotion efforts aimed at reaching visitors to Ireland with an overall goal of tripping 2015's results to around 1.9 million tourists by 2025. 
Part of that growth would come from the creation of a series of regional "whisky trails" based on Tourism Ireland's existing "Wild Atlantic Way" and "Ireland's Ancient East" regional programs. In a telephone interview, Walsh cited the success of the Kentucky Bourbon Trail as a model, but noted that the concept would have to be adapted to fit Ireland's geography. "Five years ago, we had only four distilleries in the country…if you wanted to do a whiskey trail and you were at Bushmills and wanted to go to Midleton, it was a five-hour hike, so that's not going to encourage people to come here and properly discover Irish Whiskey." While that overall distance still remains, the growth of whiskey production in Ireland has resulted in more opportunities for visitors to stop along the way. "In the next couple of years, we'll have a distillery in every county…at the moment, we have a distillery in every other county," Walsh laughed, noting that cities such as Dublin and Cork will have multiple distilleries for people to visit. "What we want to develop is akin to Scotland in a way, where you've got the regions, and that fits in with Tourism Ireland."
That diversity of distilleries means options for regional whisky trails that could also include local pubs and historic sites, but Walsh notes that the industry would need government assistance in other areas to make the concept a success. The association has been working with Agriculture Minister Michael Creed to build support within the Irish government, with a wish list including infrastructure improvements near distilleries to support increased visitor traffic. However, one of the key goals on that wish list may be difficult to accomplish.
"We need the right regulatory environment," Walsh says. "If you opened your distillery here in Ireland, a little boutique distillery in the foothills of Donegal, you would have to apply for a full bar license in order for you to sell your small batch Irish whiskey at your farm gate. That costs about €100,000 ($105,500 USD), so that's just to be able to sell one bottle of your locally produced whiskey…if you want to encourage small distillers in the outer reaches of the country, that's a big priority in itself." Walsh also wants to see excise taxes on whiskey cut to make prices more competitive with what tourists can find at home. For instance, a bottle of his whiskey that sells for €42 ($44.30 USD) in Ireland is widely available in the U.S. for around €27 ($28.50 USD). "If you were visiting from the U.S., why would you bother buying a bottle of our whiskey at our farm gate…you could say 'well, it's nice at your distillery, but I'll wait until I get back to the U.S. where I can get it at the cheaper duty rates," Walsh said.
In addition, a bill pending in Ireland's Parliament would impose new public health requirements on alcohol producers and require Ireland-specific labeling. Walsh says that would force distillers to produce a special bottle for sale in Ireland, along with standard European Union packaging and the 750ml bottles required for the U.S. market. With 95 percent of all Irish Whiskey production destined for export, that would make it increasingly unprofitable to produce special bottles just to meet the domestic market's requirements. Debate on that legislation is not expected to resume until after the Christmas holidays.
While overall Irish whiskey tourism numbers have been increasing annually, 2016 is likely to be lower than 2015's record of 653,000 visitors. The Old Jameson Distillery in Dublin closed at the end of August for an €11 million ($11.6 million USD) redesign and upgrade project, and is not scheduled to reopen until March 2017 in time for St. Patrick's Day celebrations. That attraction draws around 300,000 visitors annually, and is the most popular whiskey attraction in Ireland.
The Irish Whiskey Association's tourism development plan is available for download (PDF).
Editor's note: This story was updated to correct the location of the Irish Whiskey Experience in Killarney, Ireland. 
Links: Irish Whiskey Association | Tourism Ireland | Fáilte Ireland | Old Jameson Distillery