March 27, 2018 – Whiskey lovers and whiskey makers often argue over how much difference the wood in a barrel can make in the taste of a whiskey. While there's no set answer, it's estimated by experts that the wood can be responsible for 70 percent or more of the flavor in a whiskey. During the maturation process, spirit soaks into the wood and extracts flavors created by the breakdown of cellular compounds in the staves, while the wood also removes less desirable flavors from the spirit over time. Rarely, though, do we get a chance to compare the actual differences wood can make in a single whiskey.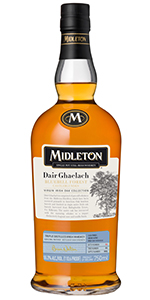 Midleton's Dair Ghaelach "Bluebell Forest" Irish Whiskeys give us the chance to do just that, though. As part of a long-term project to help restore Ireland's forests, Irish Distillers Pernod Ricard has been working with forestry experts to identify stands of sustainably managed Irish Oak that could be used to make whiskey barrels. The initial "Grinsell's Wood" 2015 release of Dair Ghaelach used ten specially selected trees to produce barrels that were used to mature the same Midleton single pot still spirit, with the wood from each tree kept separated from the others. At the time, the whiskey from each tree's barrels was destined for a separate market as well.
Just as with the first release, the wood from each of the six trees felled in the Bluebell Forest on the Castle Blunden Estate in County Kilkenny was kept separate during the coopering process and the whiskies from each tree's barrels was also kept separately from the others. However, the six bottlings in the Bluebell Forest release are all being distributed globally in limited amounts, making it possible for whiskey lovers to try more than one and see what difference the wood actually makes on the final whiskey.
Here are my tasting notes for all six of the Dair Ghaelach Bluebell Forest whiskies:
Tree #1: (Bottled at 55.3% ABV)
The nose has hints of lemon zest and butterscotch, along with straw, honey, and soft spices. The taste is tart with lemon pepper, while classic pot still spices of clove, cinnamon, and allspice develop slowly in the background along with touches of vanilla and straw. The finish gently fades away with a nice lingering tartness. Score: 92 points.
Tree #2: (Bottled at 56.2% ABV)
Much different than Tree #1, with a complex and slightly dry nose full of dark fruits, soft oak, honey, brown sugar, straw, and caramel candy. The taste is dark and spicy with notes of plums and raisins at first, followed by a crescendo of pot still spices and background notes of honey, vanilla, red grapes, and apples. The finish is very, very long with mouth-tingling spices that stick to the tongue. Wow! Score: 96 points.
Tree #3: (Bottled at 56.2% ABV)
This one has fresh-cut oak sawdust on the nose, along with honey, caramel candy, soft spices, and a hint of butterscotch candies. The taste starts off dry and oaky, then comes alive with clove, black pepper, cardamom, and allspice while honey, vanilla, straw, and a hint of dark chocolate add complexity. The finish is long –  it sits on the tongue for a while and long enough to think about charging it rent! Score: 95 points.
Tree #4: (Bottled at 56.2% ABV)
The nose has notes of pencil shavings, honey, plums, blackberries, and a hint of brandy. The taste is thick and mouthcoating with great pot still spices of clove, black pepper, and allspice balanced by honey, caramel candy, and blackberries in the background. There's a hint of anise that develops late and sticks around through the long finish with lingering spices, honey, and a soft hint of oak. Wow! Score: 95 points.
Tree #5: (Bottled at 56.3% ABV)
The nose on this bottling is soft and subtle with honey, oak sawdust, butterscotch, and a hint of lemon zest. Spices develop slowly on the palate and build to a peak with clove, white pepper and allspice complemented nicely by honey, linseed oil, and a hint of anise underneath. The spices provide a nice bite with good overall complexity. That spicy bite lasts through the finish with anise, honey, and butterscotch notes underneath. Score: 93 points.
Tree #6: (Bottled at 56.2% ABV)
The nose is very aromatic with hints of pine and cedar balanced nicely by honey, berry cobbler, and muted spices. The taste is mouth-coating, rich, and full of pot still spices that don't overpower the sweeter notes of honey, butterscotch, straw, and a hint of citrus tartness. The finish has that slight tartness with long, lingering spices. Score: 95 points.
While there's an overall consistency in many of the flavors between the six Dair Ghaelach Bluebell Forest bottlings, it's clear that each of the six trees helped contribute to the final whiskeys by playing up some flavors while downplaying others. Normally, these differences would never make it to the bottle. Not only would those differences have been minimized in blending, but the common practice of coopers to use staves from different trees when making barrels would have effectively negated the influence of a single tree on the whiskey.
That said…I found all six bottlings to be complex, well-rounded, and very, very drinkable. Give me a choice between them, though – and I'd have to pick the whiskies from #2 and #4, but not by very much.
Editor's note: Thanks to Irish Distillers Pernod Ricard for providing samples of all six Midleton Dair Ghaelach Bluebell Forest bottlings for this story.
Links: Midleton Dair Ghaelach