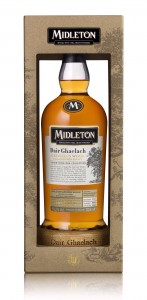 February 14, 2016 – In a few weeks, a team of foresters will visit a stand of trees at an undisclosed site near Dublin and select several mature Irish Oak trees to be felled. Those trees will make their way to a Spanish cooperage to be turned into barrels for use in maturing a future edition of Midleton Dair Ghaelach. The single pot still Irish whiskey made its debut in Ireland and Europe in early 2015, and has now been released in the US along with Green Spot Chateau Lèoville Barton, a version of the classic Green Spot finished in Bordeaux wine casks from the chateau in St. Julien, France.
Kevin O'Gorman is the Master of Maturation for Irish Distillers, based at Midleton Distillery in County Cork, and leads the Irish Oak project. Dair Ghaelach was the first whiskey to be matured in Irish Oak in at least a century, largely because of decades of deforestation during the Industrial Revolution in Ireland that left Ireland with little usable hardwood forests. Recent efforts to increase the amount of forest cover have now allowed for sustainable forestry practices such as the Dair Ghaelach project.
In Episode 576 of WhiskyCast, we briefly heard from Kevin O'Gorman about Dair Ghaelach and Irish Oak, but time constraints did not allow us to use the entire interview.
Listen to Mark Gillespie's interview with Kevin O'Gorman:
Tasting notes for Midleton Dair Ghaelach and Green Spot Chateau Lèoville Barton are available at the WhiskyCast web site.