By Mark Gillespie –
January 1, 2021 – One of the frequent comments seen on social media after the U.S. Food & Drug Administration announced plans to start charging a regulatory "user fee" to distilleries that produced hand sanitizer during the Covid-19 pandemic: "No good deed goes unpunished." In fact, we used that line in our original story Thursday about the backlash over the user fee.
Several hours after that story posted, and at an hour when most Washington bureaucrats would likely have already started their New Year's Eve dramming instead of cutting red tape, the chief of staff to Health and Human Services Secretary Alex Azar tweeted this announcement through the HHS Public Affairs Office.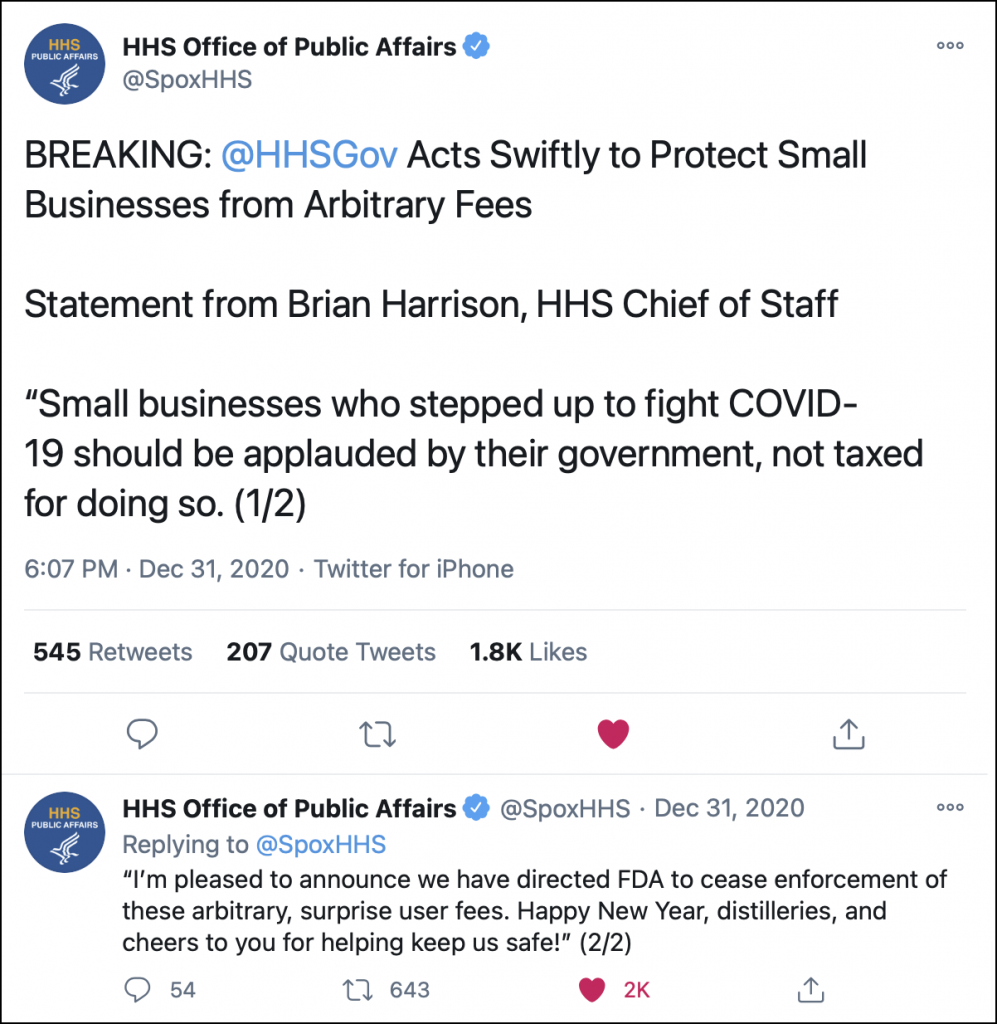 The FDA is part of the larger Health and Human Services Department, and issued its "user fee" schedule for makers of non-prescription health care products Tuesday in the Federal Register. The move was intended to implement a provision of the CARES Act pandemic relief legislation enacted by Congress last March that allows the agency to charge user fees to recover some of the costs of regulating non-prescription products. In a statement provided Thursday afternoon to WhiskyCast by the FDA, the agency stated that Congress did not give the agency any authority to waive the user fees and that only Congress could do so.
However, HHS officials overruled the FDA in less than 24 hours – what may be a new record for Washington, accusing the agency of overstepping its bounds.
"This action was not cleared by HHS leadership, who only learned of it through media reports late yesterday (December 30). HHS leadership convened an emergency meeting late last night to discuss the matter and requested an immediate legal review. The HHS Office of the General Counsel (OGC) has reviewed the matter and determined that the manner in which the fees were announced and issued has the force and effect of a legislative rule. Only the HHS Secretary has the authority to issue legislative rules, and he would never have authorized such an action during a time in which the Department is maximizing its regulatory flexibility to empower Americans to confront and defeat COVID-19. Because HHS OGC has determined the notice is really a legislative rule and that no one at FDA has been delegated authority to issue such a rule, the notice is void. HHS leadership, based on this legal opinion, has ordered the Federal Register Notice to be withdrawn from the Federal Register, meaning these surprise user fees will not need to be paid."
That decision means distillers who registered earlier this year with the FDA to make sure their hand sanitizer production complied with federal regulations will not be subject to a $14,060 fee due next month.
American Craft Spirits Association president Becky Harris of Catoctin Creek Distilling told WhiskyCast Thursday that HHS Chief of Staff Brian Harrison had already reached out to her that morning with word that "HHS was on it." While the user fee was intended to cover all manufacturers of "over the counter" health care products, Harris noted that neither the FDA nor distillers had worked closely together in the past.
"The challenge is that FDA is used to dealing with associations of drug manufacturers and people who are doing medical devices and things…they're not used to taking calls from a ragtag bunch of craft distillers," she said with a laugh. It should be noted that the same "ragtag bunch" had just successfully persuaded bipartisan majorities in both houses of Congress to make a federal excise tax break for small-scale distillers permanent just a week earlier, and was already starting to bring their friends on Capitol Hill into the discussion.
There are three types of phone calls many Washington bureaucrats would like to avoid at all costs, especially after issuing a schedule of user fees:
Members of the news media
Lobbyists and the people they represent
Members of Congress who have already heard from the media, lobbyists, and the people they represent
With the FDA's public affairs office being swamped on New Year's Eve with media calls and emails (such as ours), along with their colleagues elsewhere in the agency and at the HHS headquarters as word of the user fee spread through social media, there was pressure to get a decision made quickly.
In a statement after the HHS announcement, ACSA chief executive Margie Lehrman said "we are truly a community of craft distillers — who collectively sounded the alarm with legislators and local news outlets as ACSA worked around the clock to speak to regulators here in Washington — and that is more evident than ever tonight as we receive this news." Distilled Spirits Council CEO Chris Swonger issued a statement calling the decision a relief for the nation's distillers, saying "We want to thank HHS leadership for quickly intervening and protecting distillers from these unwarranted fees. Distillers were proud to help make hand sanitizer for their communities and first responders during their time of need."
The FDA, having received the bureaucratic equivalent of a jolt from a high-voltage cattle prod, issued its own statement as well:
"The FDA appreciates and understands the concerns raised by manufacturers, especially the small businesses that stepped up during the COVID-19 pandemic to help meet the increasing demand for alcohol-based hand sanitizers. The agency remains committed to working with all parties to ensure an adequate supply of this important public health tool to help all Americans practice good hand hygiene. With these concerns in mind, the FDA intends to appropriately and transparently implement the drug user fee program enacted by Congress and signed into law."
Loosely translated: "you won this round, but we still plan to implement the user fee at some point…we'll just make sure we get everyone on board first."
Links: Food & Drug Administration | Department of Health & Human Services | American Craft Spirits Association | Distilled Spirits Council of the United States