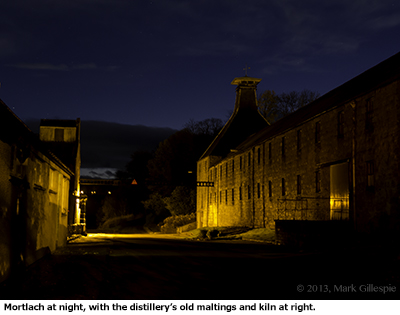 December 2, 2013 – Ask any member of Diageo's Scotch whisky team which distillery whisky lovers beg them to most to make available as a single malt, and the answer is likely to be Mortlach. The distillery is one of the legendary "Seven Stills of Dufftown", and its whisky has been prized by blenders for decades because of the muscular quality it gives their blends with its rich and beefy texture. While small amounts of Mortlach have been released as official distillery bottlings in the past, that is about to change.
Diageo's Scotch whisky team intends to make Mortlach a major competitor in the global market for single malts, and is announcing today that four Mortlach expressions will be available starting in July of 2014. The range will include Mortlach Rare Old, a no-age-statement single malt, 18 and 25-year-old expressions, and Rare Old Special Strength as an exclusive to the travel retail market. Rare Old, Mortlach 18, and Mortlach 25 will be available in North America, Northern Europe, and the Asia-Pacific region, along with the global travel retail market. Pricing has not been announced yet, but is expected to be competitive with similar malts.
"You think about how we've used Mortlach in blends, and how the Walkers and the blending houses going back hundreds of years will have used Mortlach in blends," Diageo whisky blender Dr. Matthew Crow said in an interview with WhiskyCast's Mark Gillespie. "It's used at different ages, it's used with different wood types trying to draw out different characters…and if you think about the possibility in terms of the options that opens up to you as someone who's going to try and create a single malt from there, it's just so much opportunity for working with flavor." Diageo executives describe the Mortlach launch as the company's most important Scotch whisky venture since the launch of the Singleton range 10 years ago and the original launch of the Classic Malts series 25 years ago.
Mortlach is known for its beefy, muscular character that can add texture and depth to a blend, but Crow and his colleagues used a variety of casks to bring out other elements of Mortlach while keeping the distillery's traditional strengths. The four expressions offer a varying palate of fruitiness, along with tropical touches of coconut, banana, and spices.
Crow and his colleagues are balancing their needs for Mortlach casks to be used in the various Johnnie Walker blends with the need for casks to be used in the new single malt expressions, but that will become less of a problem over time. Diageo managers are finishing plans for a multi-million dollar expansion at Mortlach that will double the distillery's annual production, with a second still house to be built starting later this year. The new still house will replicate the original set of six stills with the unique Mortlach method of distillation, which combines three different distilling streams using a complex series of still runs.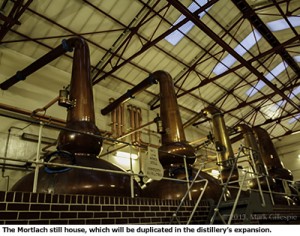 "It is really complex, and that's what the uniqueness is, as well as worm tubs…which we have going out the back as the way we cool the spirit also helps," Mortlach manager Sean Phillips said in an interview. "But the extra distillation process is one of the biggest keys." The new still house will be built next to the current one, on a site currently occupied by two maturation warehouses. Those warehouses are in the process of being demolished and recycled, with construction of the new distillery to begin in the fall of 2014 assuming that planning permission is received in time.
The original Mortlach distillery was licensed in 1823, and is the oldest licensed distillery in Dufftown. George Cowie, known for his engineering work in developing Great Britain's railway system, became the distillery's sole owner in 1867. His son Alexander later took over the distillery in 1896, and used his training in chemistry and medicine to create the "2.81 times distillation" technique that is still used today. Alexander Cowie later sold the distillery to John Walker & Sons in 1923, making Mortlach one of only two distilleries the Walker family owned (along with Cardhu) before merging their business into the Distillers Company Limited in 1925.
For more on this story, including a tour of Mortlach with Sean Phillips and Steve McGingle, listen to Episode 454 of WhiskyCast. Tasting notes for the four Mortlach expressions are available in the Tasting Notes section at WhiskyCast.com.
Editor's note: WhiskyCast's Mark Gillespie was one of a few whisky writers invited to visit Mortlach as a guest of Diageo for a preview of the plans for the Mortlach single malts in mid-November, and this story was subject to an embargo until December 2, 2013. However, WhiskyCast retained complete editorial control over all of the content in this story. For more details, please read our Statement of Principles. 
Links: Diageo